Iran's Water Scarcity Could Ignite Ethnic Tensions
Saturday, July 24, 2021 9:32
% of readers think this story is Fact. Add your two cents.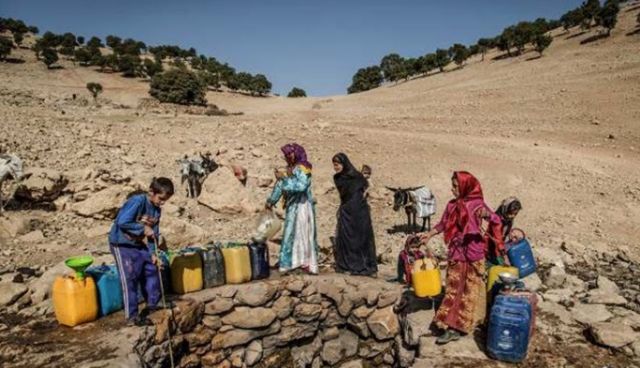 Iran's Water Scarcity Could Ignite Ethnic Tensions
Saturday, July 24, 2021
Paul Antonopoulos, independent geopolitical analyst
---
With Iran dealing with a severe drought, several regions are protesting against the government. Water scarcity however is the pretext for a deeper discontent, linked mostly to U.S.-led sanctions and the subsequent economic crisis. However, the ethnic foundations of these protests should not be underestimated either.
In many regions of the country, temperatures can reach 50°C, thus resulting in water stress that affects many cities and towns. Since July 15, people have been protesting every day in the southwestern province of Khuzestan, an area with a large Arab population on the Iraqi border. Clashes with police have already led to the deaths of three people, including a police officer.
Foreign media speak of government repression, but the governor of Khuzestan, Qasem Soleimani Dashtaki, insists that "security forces do not violently confront the population and do not open fire under any circumstances. The people are dear to us."
Iranians are complaining about the lack of clean water and farmers complain that they do not have enough water for irrigation. The crisis is exacerbated by water greed in the agricultural and oil industries. Iran's exponential population growth, which has seen a doubling of the population in only thirty years, has also led to increased water consumption.
Today, the amount of water per capita is estimated at 1,700 cubic meters, about four times less than the world average. According to some estimates, Iran will be one of the most water stressed countries in the world by 2040.
An unresolved water crisis will only worsen the domestic situation in the Middle Eastern country. Iran has been living under American sanctions since the success of the Islamic Revolution in 1979. The arrival of Donald Trump at the White House in 2016 marked a hardening of relations between Washington and Tehran. With Washington's exit from the Iran nuclear deal in 2018, the U.S. "intended to bring Iran's oil exports to zero, denying the regime its principal source of revenue." They were particularly keen to prohibit other countries from importing oil from Iran, the country's top export.
Along with the sanctions against oil, measures have also been taken against financial services and the minerals sector, and even against armaments and the aviation industry. The assets of certain Iranian officials or entities are frozen and any dollar transaction with Iran is prohibited. Because of these strong restrictions, Iran is struggling to attract foreign investors. These measures, which the U.S. continually claims is only directed against the Iranian government, has seen the local currency collapse against foreign currencies and the Middle Class sharply decline as poverty and unemployment increases.
The economic crisis, coupled with water scarcity, has seen protest movements across the country, especially in Khuzestan and Sistan-Balochistan, the poorest regions of the country that also have large ethnic and religious minorities. The ongoing protests are taking place in regions where Persians and Shi'ite Muslims are not the majority.
Khuzestan is home to a majority of Sunnis Arabs. Iran's Sistan-Balochistan Province is on the border of Pakistan's Balochistan Province. Millions of Sunni Baloch people reside on the borders of Iran and Pakistan and Iranian officials accuse the demonstrators of being the puppets of Zionists.
It has been alleged though that some organizations in Khuzestan have already received funds from Saudi Arabia. There are armed groups seeking independence from Iran, such as the Ahvaz Falcons militia in Khuzestan, which was formed in 2015 and claims responsibility for several attacks on government facilities. In Sistan-Balochistan, unrest in February left several dead and across the border in Pakistan, a decades long Baloch resistance to Pakistani rule has left thousands of people dead.
At the time of George W. Bush, Washington was hoping to fragment Iran because of its various Kurdish, Azeri, Baloch and Arab minorities – among many others. The central government remains extremely cautious and, above all, Iranian nationalism remains very strong, including among many minorities, especially since the Azeris (who were linguistically Turkified in the Middle Ages), Balochs and Kurds are Iranic peoples and the Arabs of Khuzestan were late arrivals to the region, especially compared to the Persians.
However, perceived persecution, economic decline and water scarcity are contributing to increased destabilization in Iran. Although the U.S. are undoubtedly the biggest reason for Iran's economic decline, many minorities and the diminishing Middle Class are questioning why the Islamic Republic continues to send billions of dollars to foreign militant groups like Hezbollah and Hamas when the money could be spent at home to improve the domestic situation. Iran has found itself in a difficult situation by being challenged by external and internal forces. The water crisis has only exacerbated the many other issues Iran is currently facing.
Source: InfoBrics
Before It's News®
is a community of individuals who report on what's going on around them, from all around the world.
Anyone can
join
.
Anyone can contribute.
Anyone can become informed about their world.
"United We Stand" Click Here To Create Your Personal Citizen Journalist Account Today, Be Sure To Invite Your Friends.