Louis Farrakhan Warns Africans Not To Take Bill Gates Vaccine
Wednesday, July 8, 2020 16:45
% of readers think this story is Fact. Add your two cents.

BATTLE FOR WORLD | July 8, 2020: Louis Farrakhan has become an important voice in Black America over the past decades. And the minister often speaks on subject matters avoided by most in media and when he does feathers are ruffled by those in decision making positions in the United States. In his latest appearance he said the following:
"Did you know that there was a policy in America – a policy to depopulate the Third World." How does that affect parts of the world? "Did you know Henry Kissinger wrote the memo that became policy and they said that they were going to use food as a weapon. And they sent that policy to the Department of Agriculture, to the Department of Defense, to the Department of CIA intelligence, so they are all in the world of the Third World. Setting the Third World up for internal strife and revolution and death.* Where does your food come from?" About how the US has been outsourcing food manufacturing, forcing developing countries to import much of their food products, discouraging local food production. "…And now you are dying of all these different cancers… They are killing us off. AIDS is a biological weapon. Ebola is a biological weapon. I read recently…that it has been patented. If you can patent a virus that means somebody made it. It ain't a natural thing. – They have to depopulate the Earth by two to three billion and you and I are in the crosshairs of the depopulation thrust of the policies of the American government. – Where do your vaccines come from? If you are not getting them from Cuba you need to look at them carefully. You are vaccinating your children but you do not know what's in the vial that they are putting in your children arm. All of a sudden they are suffering from autism. Then they tell you there's no connection between the vaccine and autism. Yeah tell that to somebody else. – See, this is the enemy. The same enemy that put smallpox in blankets to the native Americans to kill them off. The same enemy that was involved in the Tuskegee Experiment to fill black men with syphilis and give them the freedom to cohabitate with black women. …" Video, here1.
Regarding the coronavirus, July 4, 2020, he said: "…You are running trying to get a vaccine like you are really interested in saving the world from this virus. …" He advocates wearing masks and that doing so is very important. "I say to my brothers and sisters in Africa, if they come up with a vaccine be careful. Don't let them vaccinate you. With their history of treachery through vaccines, through medication… I say to the African presidents, do not take their medications… …We need to create something better. So my teacher told me, don't speak for some, speak for the whole, and now I'm speaking for black America, for Hispanic America, for the native Americans and for those who are desirous of life. They are making money now plotting to give 7,500,000 people a vaccination. Doctor Fauci, Bill Gates and Melinda, you wanna depopulate the Earth, what the hell gives you that right? Who are you to sit down with your billions and talk about who can live and who should die? That's why your world is coming to an end quickly, because you have sentenced billions to death…" Video, here2.
(BattleForWorld: *The United States has made it policy to use the study of ethnology to learn about people and cultures. The information is then studied by psychology experts and blueprints are created about those people and cultures, highlighting tension points, disagreements, grudges, etc. This information is then used at the appropriate time against the people to bring about flare-up incidents to have them feud with each other. The United States CIA, the British, etc. has used this science to create discord and trouble-making in Africa, South America, the Caribbean, etc.)
(BattleForWorld, Note: By no means the poster of this article agrees with Farrakhan's religious point-of-view. His analysis excerpts are included in the posting because they are thought provoking and normally not heard in regular media.)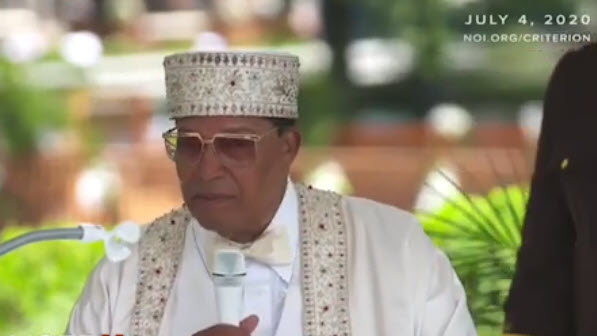 END
Before It's News®
is a community of individuals who report on what's going on around them, from all around the world.
Anyone can
join
.
Anyone can contribute.
Anyone can become informed about their world.
"United We Stand" Click Here To Create Your Personal Citizen Journalist Account Today, Be Sure To Invite Your Friends.