Nothing Will Be Wthheld From Us, If We Are Unified, Says Dr. Martin Katragadda
Saturday, March 18, 2023 4:34
% of readers think this story is Fact. Add your two cents.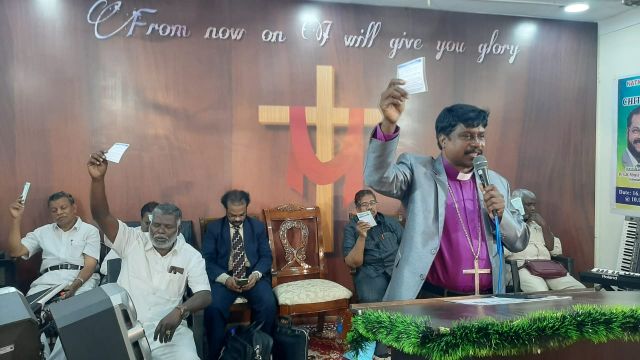 Dr. Martin Katragadda delivering the key-note address.
"Those that foster disunity should be eradicated at the outset"
"External enemies cannot prevail against us unless we have enemies within us"
Chittoor (BIN – IC): Nothing will be withheld from us, if we are unified having one language, one purpose and one direction, said Dr. Martin Katragadda, Chairman of National Independent Bishops' Council (NIBC). As a key-note speaker he delivered a message on 'Unity and Development' in one-day pastors' seminar held on Thursday in Chittoor.
Delivering the key-note address on the occasion, he emphasized the need for the unity and development in the present prevailing circumstances. He reiterated that if we are unified, we can effectively and easily face the spiritual, political and societal challenges. Explaining the importance of unity, he said that unity is not a random event, but it is intentionally created in our culture. Factors such as poor communication, gossip, unresolved agreements, lack of shared purpose and sanctioned incompetence are detrimental to the unity and development. Leadership needs to recognize and nip them in the bud ruthlessly. NIBC is working towards achieving this profound goal and conducting seminars in all districts across the state to educate the Christians and create a society that contributes to the unity and development, said Dr. Martin Katragadda.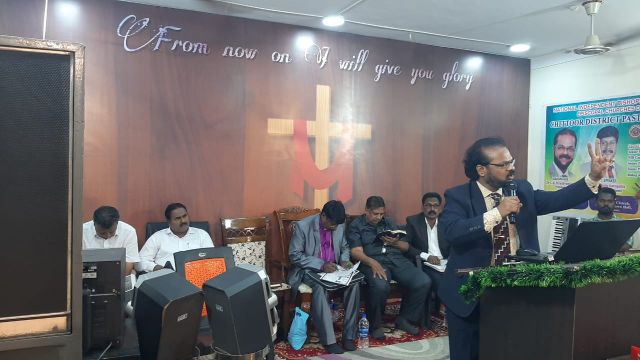 Dr. L K Mrutyunjaya addressing in the one-day seminar.
Speaking on the occasion, CCC President Dr. L K Mrutynjaya explained that … a Christian pastor is primarily a spiritualist who has put on Christ. He must have a considerable expertise in rightly dividing the word of truth and produce the spiritual fruit. Pastors, being the part of society, must use their spiritual influence to create a better society in all respects. All pastors across the state must ensure their participation in this one-day ' future seminars' to know the spiritual truths and implement them for the better society, because the meaningful participation is an essential pillar of unity and development. NIBC aims to provide the deep spiritual insights to engage and contribute to the unity and development despite hurdles everywhere. Together we can be stronger to face the challenges and resolve our issues. External enemy cannot invade us as long as we do not have internal enemies. "Every kingdom divided against itself is brought to desolation; and every city or house divided against itself shall not stand", Dr. L K Mrutyunjaya highlighted the truth of all-time.
Many Pastors, Christian representatives, evangelists across the district participated in the one-day seminar.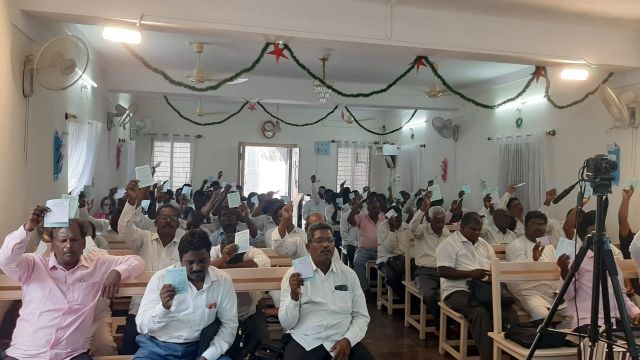 Christian representatives who attended the one-day seminar.
సమైక్యంగా ఉంటే మనకు ఏ ఆటంకముండదు: డాక్టర్ మార్టిన్‌ కాట్రగడ్డ
"అనైక్యతను పెంచి పోషించేవాటిని ఆదిలోనే చిదిమేయాలి"
"మనలో శత్రువులు లేనంతవరకు వెలుపటి శత్రువులకు మనపై విజయం దక్కదు"
చిత్తూరు (బిఫోర్ ఇట్స్ న్యూస్ – ఐసీ): ఒకే భాషతో, ఒకే భావంతో, ఒకే దిశతో సమైక్యంగా ఉంటే మనకు ఏ ఆటంకముండదని జాతీయ స్వతంత్ర బిషప్‌ కౌన్సిల్‌ (ఎన్ఐబీసీ) చైర్మన్‌ డాక్టర్‌ మార్టిన్‌ కాట్రగడ్డ అన్నారు. చిత్తూరులో గురువారం జరిగిన క్రైస్తవ సంఘాల ప్రతినిధుల ఒక్కరోజు సమావేశంలో ఆయన ముఖ్య వక్తగా 'ఐక్యత, అభివృద్ధి' అనే అంశంపై సందేశం ఇచ్చారు.
ఈ సందర్భంగా ఆయన కీలకోపన్యాసం చేస్తూ, ప్రస్తుత పరిస్థితుల్లో ఐక్యత, అభివృద్ధి ఆవశ్యకతను నొక్కి చెప్పారు. ఐక్యంగా ఉంటేనే ఆధ్యాత్మిక, రాజకీయ, సామాజిక సవాళ్లను సమర్ధవంతంగా, సులభంగా ఎదుర్కోగలమని పునరుద్ఘాటించారు. ఐక్యత ప్రాముఖ్యతను వివరిస్తూ ఐక్యత అనేది యాదృచ్ఛిక ఘటన కాదని, అది మన సంస్కృతిలో ఉద్దేశపూర్వకంగా సృష్టించబడిందన్నారు. సమాచార లోపం, అనౌసర గుసగుసలు, పరిష్కారానికి నోచుకోని ఒప్పందాలు, భాగస్వామ్య ప్రయోజన లోపాలు, అసమర్థతను సమర్థించి పోషించే తదితర అంశాలు ఐక్యతకు, అభివృద్ధికి గొడ్డలిపెట్టన్నారు. నాయకత్వం ఈ పెనుప్రమాద పోకడలను ఆదిలోనే గుర్తించి మొగ్గలోనే కర్కషంగా చిదిమేయాలన్నారు. ఐక్యతకు, అభివృద్ధికి దోహదపడే సమాజాన్ని రూపొందించేందుకు, ఈ గొప్ప లక్ష్యాన్ని సాధించేందుకు ఎన్ఐబీసీ కృషి చేస్తుందన్నారు. ఆ గొప్ప లక్ష్య సాధనలో భాగంగా రాష్ట్రవ్యాప్తంగా ప్రతి జిల్లాలో సదస్సులను నిర్వహిస్తూ క్రైస్తవులను విద్యావంతులను చేస్తుందని తెలిపారు.
సీసీసీ అధ్యక్షులు డాక్టర్ ఎల్ కే మృత్యుంజయ మాట్లాడుతూ… ఒక క్రైస్తవ సేవకుడు ప్రధానంగా క్రీస్తును ధరించిన ఆధ్యాత్మికవాది అన్నారు. సత్యవాక్యాన్ని సరిగ్గా విభజించడంలో గణనీయమైన నైపుణ్యం ఉండాలన్నారు. ఆధ్యాత్మిక ఫలాన్ని ఫలించాలన్నారు. దైవసేవకులు సమాజంలో అంతర్భాగమై అన్ని విధాలుగా మెరుగైన సమాజాన్ని సృష్టించేందుకు వారి ఆధ్యాత్మిక శక్తిని సద్వినియోగపరచాలన్నారు. రాష్ట్రవ్యాప్తంగా ఉన్న క్రైస్తవ ప్రతినిధులందరూ ఆధ్యాత్మిక సత్యాలను తెలుసుకొని మెరుగైన సమాజం కోసం వాటిని అమలు చేయాలని, ఈ ఒక్కరోజు భవిష్యత్ సదస్సుల్లో తప్పకుండా పాల్గొనాలని కోరారు. ఎందుకంటే అర్థవంతమైన భాగస్వామ్యం ఐక్యతకు, అభివృద్ధికి అత్యవసరమైన మూలస్తంభమన్నారు. ప్రతిచోటా అడ్డంకులు ఉన్నప్పటికీ ఐక్యతకు, అభివృద్ధికి దోహదపడే లోతైన ఆధ్యాత్మిక సత్యాలను అందించడమే లక్ష్యంగా ఎన్ఐబీసీ పని చేస్తుందన్నారు. సమైక్యంగా ఉంటే సవాళ్లను, సమస్యలను బలంగా ఆదిగమించగలమన్నారు. మనలో శత్రువులు లేనంతవరకు వెలుపటి శత్రువులకు మనపై విజయం దక్కదన్నారు. "తనకు తానే విరోధముగా వేరుపడిన ప్రతి రాజ్యము పాడైపోవును. తనకుతానే విరోధముగా వేరుపడిన యే పట్టణమైనను ఏ యిల్లయినను నిలువదు" అనే సర్వకాల సత్యాన్ని ఈ సందర్భంగా డాక్టర్ ఎల్ కే మృత్యుంజయ ప్రముఖంగా పేర్కొన్నారు.
జిల్లా వ్యాప్తంగా పలువురు క్రైస్తవ సంఘాల ప్రతినిధులు, కాపరులు, సువార్తికులు ఒక్కరోజు సదస్సులో పాల్గొన్నారు.
(Source: TYP/IAIJ/BIN/DPJB)
Before It's News®
is a community of individuals who report on what's going on around them, from all around the world.
Anyone can
join
.
Anyone can contribute.
Anyone can become informed about their world.
"United We Stand" Click Here To Create Your Personal Citizen Journalist Account Today, Be Sure To Invite Your Friends.