Biden to Face Several Unpleasant Issues Because of Pompeo's Moves in His Final Weeks in Office
Thursday, January 21, 2021 13:43
% of readers think this story is Fact. Add your two cents.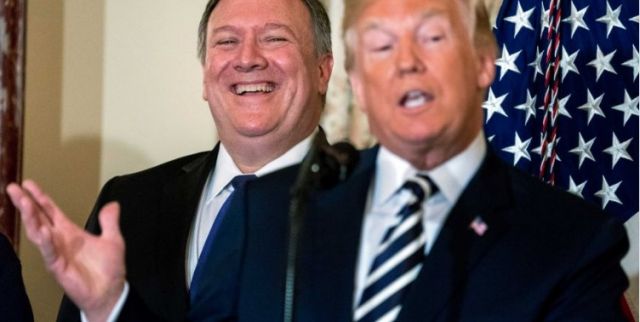 Biden to Face Several Unpleasant Issues Because of Pompeo's Moves in His Final Weeks in Office
Wednesday, January 20, 2021
by Paul Antonopoulos, independent geopolitical analyst
---
An official of President Joe Biden's team said to the Washington Post that the foreign policy decisions made by former U.S. President Donald Trump and his cabinet concerning the recognition of Moroccan sovereignty over Western Sahara, the labelling of Yemen's Houthis as a terrorist organization, Cuba's designation as a state sponsor of global terrorism and new sanctions against Iran, are still "being reviewed." The official made these comments on the condition of anonymity.
"We've taken note of these last-minute manoeuvres," said the senior official. The official also emphasized that "the incoming administration will render a verdict based exclusively on one criterion: the national interest."
The Washington Post believes that "all of those changes can be undone. But each complicates the challenges Biden will face in putting his own stamp on policy."
Former Secretary of State Mike Pompeo spent his final weeks in office in overdrive by announcing major foreign policy actions at a time when most other government department quietened and slowed down in preparation for the Biden administration. The official said many of Pompeo's foreign policy moves seemed to have been "designed to cement Trump priorities and create roadblocks to new directions charted by the incoming Biden team."
Regarding Morocco's sovereignty over Western Sahara, the Washington Post underlined that Trump's son-in-law and adviser for the Middle East, Jared Kushner, made the decision.
"Jared Kushner pushed for recent decisions on matters such as Morocco and arms sales to the United Arab Emirates and Saudi Arabia as part of the payoff for Arab countries that agreed to normalize relations with Israel," the newspaper wrote.
During the signing of the normalization agreement between Morocco and Israel on December 22 in the Moroccan capital of Rabat, the U.S., which recently recognized Morocco's sovereignty over the breakaway region of Western Sahara, pledged investments to the tune of $5 billion in the country.
Officials from Biden's team expressed little doubt that most, if not all, of the moves made by Pompeo in recent weeks are motivated by domestic politics, rather than the strategic interests of Washington. But they have not spoken out against the decisions, in part because of the "one president at a time" tradition regarding U.S. national security interests overseas, and in part to see whether these actions actually do serve the interests of Biden's foreign policy.
"I wouldn't dispute that there were a lot of domestic political incentives for Pompeo to give a final push on Cuba, Iran and Taiwan," said another person to the Washington Post who has direct knowledge of the policy process.
For example, regarding Cuba's designation as a state sponsor of terrorism, it is likely the decision was made to appease Cuban-Americans in Florida, where a strong diaspora community of 1.5 million Cubans exists. Cuban-Americans overwhelmingly oppose the communist government in Havana, and by adopting an aggressive stance against Cuba, the Republicans have been able to secure the Latino anti-socialist vote, which will be beneficial to their 2022 midterm election campaign. It comes as Biden has vowed to improve relations with Cuba again, a task made all the more difficult as Congress will have to approve removing the Caribbean country from the list of state sponsors of terrorism.
With Iran, it is part of Trump's continuous attempts to portray the country as the main instigator of instability in the Middle East. Biden wants to bring back to life the nuclear deal implemented by former U.S. President Barack Obama. Trump exited the deal in 2018. The main issue is that Tehran is demanding that the deal be reimplemented by early February or it will permanently leave the deal, a prospect made all the more difficult since Pompeo's declaration that Iran is the "new home base" and "operational headquarter" of Al-Qaeda. This will make convincing Congress to lift sanctions all the more difficult since inevitably there will be demands for lengthy investigations into whether Iran is indeed a hub for Al-Qaeda.
Biden said on December 28 that his transition team encountered political roadblocks from the Trump administration and called it irresponsible. Although Biden remained silent, lawmakers have spoken out against some of these latest foreign policy actions by Trump and Pompeo. Both Republicans and Democrats, as well as humanitarian organizations, have criticized the January 10 designation of the Houthis as a terrorist organization.
Republicans and Democrats with no sympathy for Iran or the Houthis have cited human rights concerns perpetrated by the Saudis in Yemen. Senate Foreign Relations Committee Chairman James E. Risch and House Foreign Affairs Committee ranking Republican Michael McCaul said Trump's action will have "devastating humanitarian impacts."
Yemen, with more than 24 million people, relies on outside assistance for 90% of its food. Under the terrorist designation, aid organizations helping starving Yemenis in Houthi-controlled areas could be charged with criminal acts for collaborating with a so-called terrorist organization. Although Biden has said he will reduce the U.S.' arms sales to Saudi Arabia and push for more humanitarian assistance to Yemen, reversing the Houthis designation as a terrorist organization will be difficult as it will have to pass Congress.
Although Biden wants to reverse many of Pompeo's foreign policy actions made in his final weeks in office so that the new administration can focus primarily on pressuring Russia, he will find this task extremely difficult due to the inevitable and vast opposition he will face in Congress. Many in Congress will be satisfied that Morocco normalized relations with Israel, that long-time enemy Cuba is once again being targeted, and that the Houthis and Iran are being linked to terrorism. It is unlikely that he will find any success regarding these issues in his first 100 days in office.
Source: InfoBrics
Before It's News®
is a community of individuals who report on what's going on around them, from all around the world.
Anyone can
join
.
Anyone can contribute.
Anyone can become informed about their world.
"United We Stand" Click Here To Create Your Personal Citizen Journalist Account Today, Be Sure To Invite Your Friends.