Florida: Gouverneur Ron DeSantis verkündet Begnadigungen für alle COVID-19-Regelverstöße
Saturday, May 15, 2021 14:31
% of readers think this story is Fact. Add your two cents.

15 Mai 2021
Der Gouverneur von Florida Ron DeSantis hat angekündigt, dass jeder Bürger Floridas begnadigt wird, der wegen eines Verstoßes gegen die COVID-19-Regeln in dem US-Bundesstaat angeklagt worden war. DeSantis ist bekannt für seine scharfe Kritik an den COVID-19-Maßnahmen.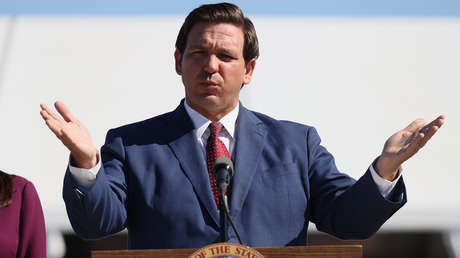 Quelle: Gettyimages.ru © Joe Raedle / Staff
Floridas Gouverneur Ron DeSantis spricht am 6. Januar 2021 auf einer Pressekonferenz über die Eröffnung einer COVID-19-Impfstelle im Hard Rock Stadium in Miami.
Der Gouverneur von Florida Ron DeSantis sagte am Donnerstag, dass er jeden im Bundesstaat begnadigen wird, der wegen der Missachtung von Schutzmaßnahmen wie Masken- und Abstandsgeboten angeklagt worden war. DeSantis äußerte sich im US-Nachrichtensender Fox News und erläuterte den Fall zweier Fitnessstudiobesitzer, die strafrechtlich angeklagt worden waren, weil sie sich geweigert hatten, Distanzierungs- und Maskenvorschriften in ihrem Unternehmen durchzusetzen.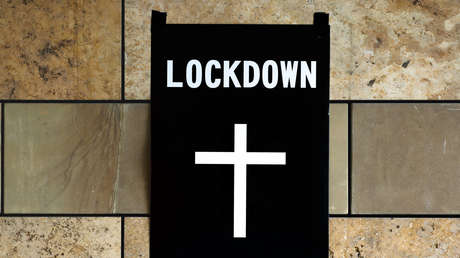 Bricht das Lockdown-Paradigma in den Vereinigten Staaten zusammen?
DeSantis sagte, er werde am Freitag eine Begnadigung unterschreiben, die das Verfahren gegen die Fitnessstudiobesitzer Mike und Jillian Carnevale um 60 Tage verzögere, und fügte hinzu, dass in dieser Zeit ein Gnadenausschuss zusammentreten wird, um Begnadigungen für sie und andere Bewohner Floridas auszusprechen. In dem Interview mit Fox News sagte DeSantis:
"Wenn sich unser Gnadenausschuss in den kommenden Wochen trifft, werden wir Begnadigungen aussprechen, nicht nur für Mike und Jillian, sondern für jeden Floridianer, der ausstehende Verstöße für solche Dinge wie Masken und soziale Distanzierung haben könnte. Diese gesundheitlichen Angelegenheiten sollten nur eine Empfehlung sein. Sie sollten nicht strafbar sein."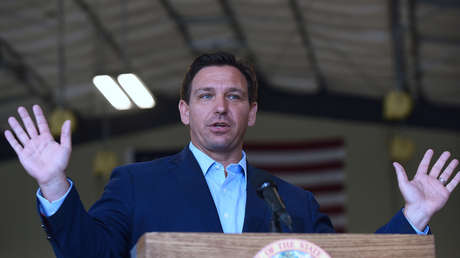 Floridas Gouverneur im Gespräch mit Epidemiologen: Lockdowns sind der größte Fehler
Die ehemaligen Besitzer des Broward-County-Fitnessstudios wurden im letzten Sommer bei drei verschiedenen Gelegenheiten verhaftet, weil sie gegen die COVID-19-Vorschriften verstoßen hatten, wie der South Florida Sun Sentinel berichtet. Das Paar schloss sein Fitnessstudio schließlich nach Verwarnungen der örtlichen Polizei. Im Juli 2020 reichte Mike eine Zivilklage gegen den Bezirk ein, um eine Aufhebung der Notverordnung zu erreichen. Die Anordnung verbot die meisten Versammlungen, verhängte eine Ausgangssperre und erzwang soziale Distanzierung, berichtete der Sentinel. In einem Tweet sprach DeSantis den Fall der Fitnessstudiobesitzer direkt an.
"Als ich efahren habe, dass Mike und Jillian Carnevale strafrechtliche Sanktionen drohen, wie z. B. eine mögliche Gefängnisstrafe, weil sie in ihrem Fitnessstudio keine Maskenpflicht eingeführt haben, bin ich eingeschritten, um sie vor dieser Übervorteilung durch die Kommunalregierung zu beschützen."
Die Ankündigung des Gouverneurs folgt auf seine Entscheidung von letzter Woche, alle kommunalen COVID-19-Notfallmaßnahmen im Bundesstaat sofort auszusetzen. DeSantis sagte auch, dass er die Maßnahmen ab dem 1. Juli verbieten wird. Er betonte weiter, dass seine Regierung möchte, dass die Menschen "frei im Staat Florida leben" und "sich amüsieren".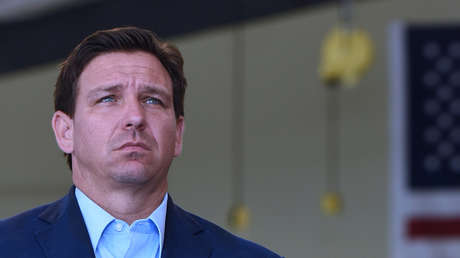 Florida-Gouverneur verbietet Ausstellung von Impfpässen: "Das führt zu zwei Klassen von Bürgen"
Im gesamten Verlauf der COVID-19-Pandemie war DeSantis stets eine der Stimmen, die sich gegen Maßnahmen aussprachen, die die bürgerlichen Freiheiten der Einwohner einschränkten. Er führte im März ein Gesetz ein, das Geldstrafen für diejenigen aufhebt, die gegen die COVID-19-Maßnahmen verstoßen haben, und nannte Lockdown-Maßnahmen "den größten Fehler der öffentlichen Gesundheit in der Geschichte".
Im April stellte er sich auch entschieden gegen die Einführung von Impfpässen und erklärte: "Es ist völlig inakzeptabel, dass die Regierung oder der private Sektor Ihnen die Anforderung auferlegt, dass Sie einen Impfnachweis vorzeigen müssen, um einfach nur ein Teil der normalen Gesellschaft zu sein."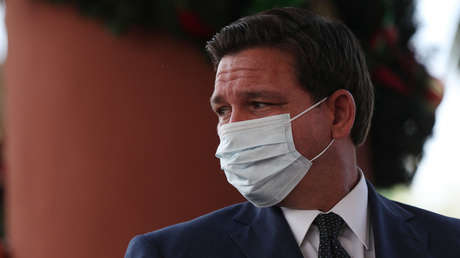 Verstoß gegen Richtlinien: YouTube löscht Video von Floridas Gouverneur mit Lockdown-Kritik
Im selben Monat hat YouTube ein Video einer Diskussionsrunde zum Thema COVID-19-Pandemie gelöscht, an der unter anderem DeSantis sowie mehrere Gesundheitsexperten teilgenommen hatten. Bei der Konferenz äußerten sich die Teilnehmer kritisch gegenüber Lockdowns.
Obwohl sich auch einige andere US-Gouverneure entschieden gegen Lockdown-Maßnahmen ausgesprochen hatten, ist DeSanits in den letzten Monaten der prominenteste Kritiker der COVID-19-Maßnahmen geworden. Der Bundesstaat Florida war auch der Erste, der die US-Zentren für Seuchenkontrolle (CDC) verklagt hatte, woraufhin sich ihm Alaska und Texas in der Klage anschlossen.
Mehr zum Thema - Texas schließt sich Floridas Klage gegen die Zentren für Seuchenkontrolle an
Quelle: https://de.rt.com
Before It's News®
is a community of individuals who report on what's going on around them, from all around the world.
Anyone can
join
.
Anyone can contribute.
Anyone can become informed about their world.
"United We Stand" Click Here To Create Your Personal Citizen Journalist Account Today, Be Sure To Invite Your Friends.