Dominic Cummings: The 'Political Anarchist' Out to Destroy Boris Johnson
Tuesday, July 27, 2021 2:52
% of readers think this story is Fact. Add your two cents.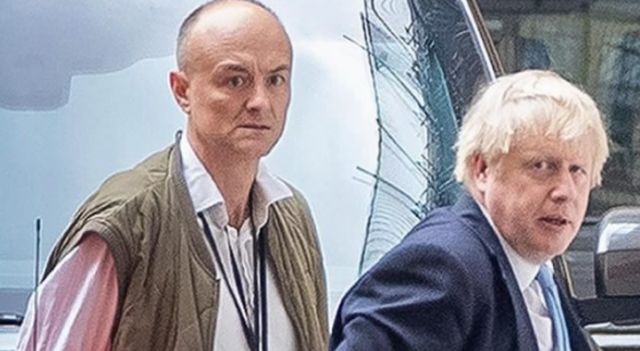 Dominic Cummings: The 'Political Anarchist' Out to Destroy Boris Johnson
Saturday, July 24, 2021
Johanna Ross is a journalist based in Edinburgh, Scotland.
---
You'd be forgiven for thinking Dominic Cummings had done enough damage to Britain when he almost single-handedly engineered Brexit. With the EU referendum came the most divisive period in modern British history, and as Leave campaign manager and then Boris Johnson's number one man in Downing Street, Dominic Cummings was undoubtedly the main protagonist in 'getting Brexit done'.
His propensity for destruction however is now being channeled into bringing down the very man he helped get elected. For, incredibly, even after leaving 10 Downing Street, the man who 'called all the shots' still appears to be determining Boris Johnson's fate. The ultimate control freak, it's as if he is saying 'I got you elected and I'll decide when your time's up'. Like a leech, Cummings has sunk his teeth into Johnson, and refuses to let go.
The ultimate Shakesperian anti-hero, Cummings makes no secret that he began plotting Johnson's demise within a few days of his election. Yet we knew little of the discord between the two till April this year (long after Cummings' resignation) when the former adviser published a blog post spilling the beans on many unsavory aspects of the Prime Minister's leadership. From the claim that Johnson wanted to have donors 'secretly pay' for his Downing Street renovation, to the apparent leaking of text messages in which the Prime Minister said he could 'fix' a tax issue for billionaire businessman James Dyson; Dominic Cummings unleashed his venom on his former boss like a spurned lover.
During the Commons inquiry into the government's handling of the coronavirus pandemic in May, Dominic Cummings showed not an ounce of loyalty to Boris Johnson, and seemed intent on dragging him through the mud. He would have us believe that he alone was the only one who understood the seriousness of Covid as the pandemic took hold in March 2020 and claimed that Johnson was prepared to let the over-eighties die from the disease. Indeed, despite being part of the government and claiming to have the Prime Minister's ear, at the same time Cummings speaks like a distant onlooker, taking no responsibility whatsoever for any of the decisions being made at that time. And therein lies the rub.
On the one hand he persuades us that he was calling all the shots in the government, and on the other hand he criticises almost every aspect of the Johnson administration. On the one hand he boasts that he got Johnson elected, and at the same time he decries him as an idiot that shouldn't have been in power. On the one hand, he persuaded the population to vote for Brexit, and on the other hand he now claims he doesn't know if it was such a good idea. He can't have it both ways. Cummings appears completely unaware of the massive contradiction in his testimony.
In his latest bombshell interview with the BBC's Laura Kuenssberg, we are presented with this egotistical maniac in full glory. Not expressing any regret for having hoodwinked the population into voting for Brexit on the basis of false promises, Cummings doesn't even conceal his smirks (though he tries, his hand covering his mouth) as he remembers how the infamous slogan of £350 million being sent to Europe every week duped the public into thinking EU membership cost too much. Asked how he felt on the night when the 'Leave' vote won, he shrugged his shoulders and indicated he wasn't bothered one way or the other. Dominic Cummings doesn't do 'emotions'.
On the other hand, the former adviser made sure he dropped several bombshells during the interview; that Johnson admitted it was 'ludicrous' for him to be Prime Minister; that he didn't want to implement the first lockdown; that Cummings and others were conspiring to oust the elected PM. Throughout the discussion with Kuenssberg he insisted others from the Leave campaign would vouch for the credibility of his assertions. However, The Times has since reported that several allies have denied they were plotting a 'coup' to get rid of Johnson, and branded the claims as 'total bollocks'. His friends have been apparently telling him for weeks to stop in his pursuit of revenge and thought the BBC interview was a mistake.
Not being a psychologist, I can't pretend to carry out a full assessment of Cummings' character. But the labels attributed to him by three former Prime Ministers: David Cameron – 'career psychopath', Tony Blair – 'dangerous' and John Major 'political anarchist' don't seem out of place here. In the Kuenssberg interview he comes across as a sociopath, detached from the emotions and feelings of the average human being, and driven instead by statistics and his beloved 'science'. In place of self-awareness and introspection we are overshadowed by his huge ego and ability to persuade us that he alone has the answer to the world's problems. Boris Johnson always came to him. Johnson always phoned Cummings. Johnson needed Cummings. No doubt because Johnson was duped, like many others, into believing that his man was the solution.
The reality is that Cummings was part of the problem. On his watch, we entered into a time of social division and chaos, of rules being broken, of key government institutions being attacked, of parliament being prorogued and MPs and even the monarch herself being lied to. This Rasputin, this anarchist, whose only interest is subverting the system, not improving it, was only detrimental to Boris Johnson's reputation (which was already damaged), not his saviour. And now, craving the media attention he lacked since his departure from government in November last year, he has revealed his true colours to us. He has admitted twisting the truth and not giving the full story on several occasions, so how can we possibly trust a word he is saying regarding Boris Johnson's conduct?
We mustn't be misled into thinking that Dominic Cummings is genuinely concerned about the way government is run and Johnson's handling of the pandemic. If he was perturbed by these questions he would have resigned much earlier, and not once he had finally fallen out of Johnson's favour. This is revenge, pure and simple. And also an inherent desire to be in control. Cummings' narcissism means that everything has to be about him. He is highly successful in stealing the limelight; even months after leaving his position he is still making the Johnson premiership more about Cummings than anyone else. He had the media playing to his tune when in Downing Street and still makes headlines today with his spilling of insider secrets, drip by drip.
Dominic Cummings is Iago in Shakespeare's 'Othello'. There's no point looking for his positive attributes because in this play (although Johnson is far from being squeaky clean himself) Cummings is the antagonist. The PM has attempted to rid himself of his machiavellian adviser, but the latter obviously has more up his sleeve. Let's see how the story ends, for it clearly isn't over yet…
You can follow the author on Twitter.
Source: InfoBrics
Before It's News®
is a community of individuals who report on what's going on around them, from all around the world.
Anyone can
join
.
Anyone can contribute.
Anyone can become informed about their world.
"United We Stand" Click Here To Create Your Personal Citizen Journalist Account Today, Be Sure To Invite Your Friends.