Baseball 'Legend' Abner Doubleday Also Served in the Union Army
Tuesday, June 2, 2020 17:02
% of readers think this story is Fact. Add your two cents.

June 2, 2020 |

BY David Vergun

, DOD News
Most sporting events have been postponed or cancelled due to the COVID-19 pandemic. Because many service members are sports fans and the games are mostly on hold, here's a look at a purported baseball legend who also served in the Army.
For a very long time, Abner Doubleday was widely thought to have invented the game in 1839 at age 20 in his hometown of Cooperstown, New York.
However, that year, Doubleday was a cadet at the U.S. Military Academy in West Point, New York, and permission to travel home was rarely granted to first-year cadets. Doubleday never claimed to have invented the sport; nonetheless, the claims were made by others after his death.
Although variations of baseball were thought to have existed as early as the Revolutionary War, no one knows exactly who created the game.
In 1907, the Mills Commission, composed of seven prominent baseball officials and former players, investigated the matter and deemed Doubleday was baseball's inventor. But sports historians later said the commission's findings were flawed due to lack of solid evidence.
Still, the findings were great news for the local businesses in Cooperstown and major league officials, who established the town's National Baseball Hall of Fame and Museum in 1939, which today is a major tourist attraction.
Another myth is that Doubleday invented San Francisco's cable cars. He did co-establish the city's first cable car company, however.
Aside from baseball and the cable car, Doubleday's life and illustrious military career were fascinating.
After graduating from West Point in 1842, he became an artillery officer with the 3rd Artillery Regiment. He and the regiment were deployed to Mexico from 1846 to 1848 during the Mexican-American War.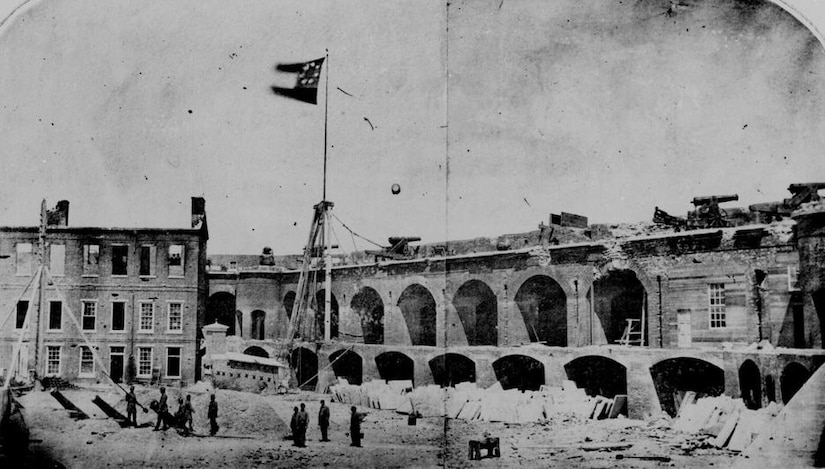 He later was assigned to Florida from 1855 to 1858 where he participated in the Third Seminole War.
The following year found Doubleday at Fort Moultrie on Sullivan's Island, South Carolina. Secessionist fervor was sweeping large areas of the South, and many officers resigned their commissions to join the rebellion.
In the face of growing hostility to Union soldiers, the garrison commander decided to move the garrison to nearby Fort Sumter, which was considered more defensible.
After a four-month standoff, the South Carolina militia attacked the fort with artillery. Doubleday is said to have aimed his battery to fire the first return shot. As a result, he and his gun crew were the Union soldiers who fired the first shot that started the Civil War on April 12, 1861.
With supplies and munitions low, after 34 hours of bombardment, the Union soldiers — led by Army Maj. Robert Anderson and second-in-command Doubleday — surrendered.
The garrison was allowed to depart and head north, since it was so early in the war and prisoners were not yet being taken. After a promotion to major, Doubleday commanded artillery defenses around Washington, D.C.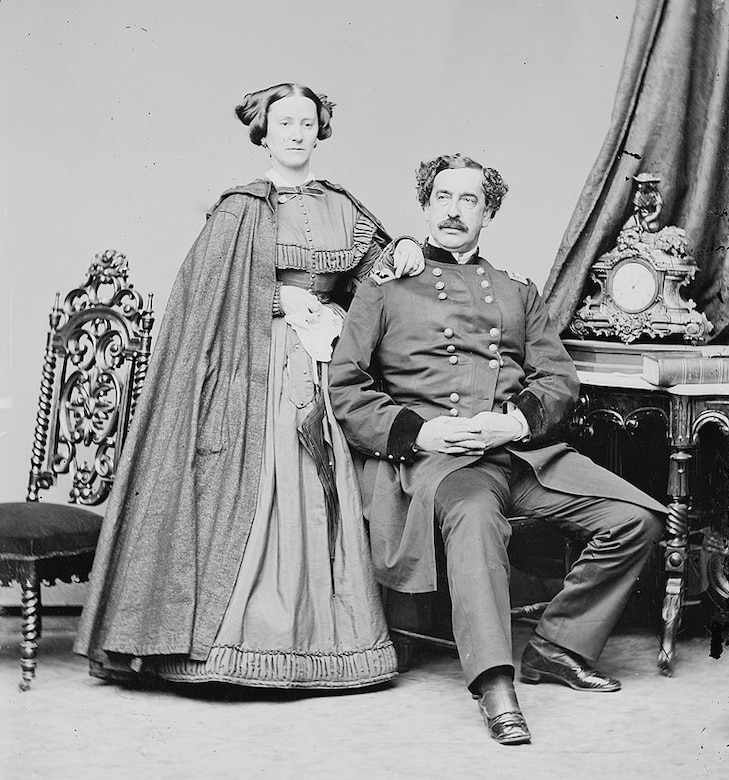 Following a rapid promotion to brigadier general, he was given command of a brigade, under Army Gen. Irvin McDowell. On Aug. 29-30, 1862, he led his men into combat at the Second Battle of Bull Run, which Southerners even today call the Battle of Second Manassas.
During the ensuing battle, his men helped hold the line against Confederate Maj. Gen. Thomas "Stonewall" Jackson's advance for a time. However, on Aug. 30, Confederate Maj. Gen. James Longstreet pushed back all the Union soldiers, including McDowell's.
Nonetheless, Doubleday is said to have conducted himself well during the battle.
Doubleday participated in many more battles, including the Battle of South Mountain, Sept. 14, 1862, near Boonsboro, Maryland. During the battle, Army Brig. Gen. John P. Hatch was wounded so Doubleday took command of I Corps and successfully blocked a Confederate assault.
At the Battle of Antietam on Sept. 17, 1862, near Sharpsburg, Maryland, Doubleday led a division assigned to I Corps. About 23,000 men on both sides were killed. He, again, did well leading men on the battlefield during the bloodiest day of battle in U.S. history. He was promoted to major general about two months later.
After leading his division again in combat during the Battle of Fredericksburg in Virginia on Dec. 11-15, 1862, Doubleday was assigned to command a new division.
From April 30 to May 6, 1863, Doubleday led this division at the Battle of Chancellorsville in Spotsylvania County, Virginia.
Perhaps Doubleday's biggest moment of glory, however, was at the Battle of Gettysburg in Pennsylvania on July 1-3, 1863.
On the first day of battle, I Corps commander, Army Maj. Gen. John F. Reynolds was killed, and Doubleday took his place. His 9,500 men held back more than 16,000 Confederate attackers.
Despite his unit's extraordinary heroism, Doubleday was relieved of command on day two of the battle by Army of the Potomac commander Maj. Gen. George G. Meade. It has been said that Meade personally disliked Doubleday. After having been relieved of command from I Corps, Doubleday again became a division commander for the remaining days of the battle.
Doubleday had a number of other assignments during the Civil War, and, unlike many of his fellow officers, he remained in the Army when the war ended.
In 1871, he commanded the 24th U.S. Infantry Regiment, an all African-American regiment headquartered at Fort McKavett, Texas. Doubleday requisitioned baseballs and baseball bats for his regiment, valuing sports as a camaraderie-building activity. It is said that he did this throughout his Army career.
Two years later Doubleday retired from the Army.
Other Interesting Facts
The baseball field at the U.S. Military Academy at West Point was named Doubleday Field in his honor in 1939, the same year the National Baseball Hall of Fame and Museum opened. Many baseball fields around the U.S. are also named Doubleday Field, including in Cooperstown, which opened in 1920.
Doubleday's father, Ulysses Doubleday, fought in the War of 1812 and was a U.S. congressman, representing the 24th District in New York. Doubleday's grandfather fought in the Revolutionary War at Bunker Hill, Stoney Point and at Valley Forge.
Abraham Gilbert Mills, who headed the Mills Commission which was to determine the origin of baseball, also has an interesting background. He enlisted in the 5th New York Volunteers in 1862 as a private. During the war, he was commissioned a second lieutenant and served for the duration of the war.
During World War II, the liberty ship SS Abner Doubleday was named in his honor.
Doubleday, who died in 1898 at age 73, is buried at Arlington National Cemetery in Section 1, Grave 61, very close to the James Tanner Amphitheater.
Source:
http://military-online.blogspot.com/2020/06/baseball-legend-abner-doubleday-also.html
Before It's News®
is a community of individuals who report on what's going on around them, from all around the world.
Anyone can
join
.
Anyone can contribute.
Anyone can become informed about their world.
"United We Stand" Click Here To Create Your Personal Citizen Journalist Account Today, Be Sure To Invite Your Friends.