Admiral Byrd And The Invasion Of The Nazi Base At Antarctica
Saturday, December 3, 2022 21:33
% of readers think this story is Fact. Add your two cents.

IN 1947 ADMIRAL BYRD WENT ON A MISSION TO DESTROY THE NAZI GERMAN BASE ( Base 211 ) AT ANTARCTICA.
The picture below, retrieved from Google Earth, is a 40 meters wide cavern in Antarctica, and you may be surprised of what is inside. Keep reading:
The records of this expedition is still Sealed and marked "TOP SECRET", and no one is supposed to be able to read it. WHY !!! Now, 71 years later – what is to super secret ?? It must be very important for mankind, so they do not want mankind to know. This is one of the best written renditions of what happened at Antarctica, and I am reprinting what I found on: www.bibliotecapleyades.net – – it is an interesting web site. You should visit it.
In 1947, Admiral Richard E. Byrd led 4,000 military troops from the U.S., Britain and Australia in an invasion of Antarctica called "Operation Highjump", and at least one follow-up expedition.
That is fact. It is undeniable. But… the part of the story that is seldom told, at least in "official" circles, is that Byrd and his forces encountered heavy resistance to their Antarctic venture from "flying saucers" and had to call off the invasion.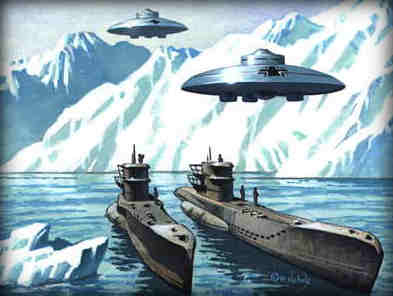 This aspect of the story was pushed forward, again, a few years ago, when a retired Rear Admiral, allegedly living in Texas, who had been involved in the "invasion", said he was "shocked" when he read material from a documentary, entitled "Rire from the Sky".
He allegedly claimed that he knew there had been "a lot of aircraft and rocket shoot-downs", but did not realize the situation was as serious as the documentary presented it.
Operation "High Jump", which was, basically an invasion of the Antarctic, consisted of three Naval battle groups, which departed Norfolk, VA, on 2 December 1946. They were led by Admiral Richard E. Byrd's command ship, the ice-breaker "Northwind," and consisted of the catapult ship "Pine Island," the destroyer "Brownsen," the aircraft-carrier "Phillipines Sea," the U.S. submarine "Sennet," two support vessels "Yankee" and "Merrick," and two tankers "Canisted" and "Capacan," the destroyer "Henderson" and a floatplane ship "Currituck."
A British-Norwegian force and a Russian force, and I believe some Australian and Canadian forces were also involved.
Interestingly, the Pine Island (AV-12), one of the seaplane tenders involved in the expedition, has a rather colorful history. The USS Pine Island, a Currituck Class Seaplane Tender, was laid down, 16 November 1942, at Todd Shipyard Corporation, in San Pedro, California. It was launched, 26 February 1944, and given the commissioned name, USS Pine Island on 26 April 1945.
The ship served through the final months of the Second World War, and the immediate post-war period, but was decommissioned on 1 May 1950 When the Korean War broke out, the ship was re-commissioned, on 7 October 1950, at Alameda, California. She was finally decommissioned, for good, on 16 June 1967 and laid up in the Reserve Fleet.
But… here's where the story gets interesting… The USS Pine Island was struck from the Naval Register, on an unknown date… Her title was transferred to the Maritime Administration for lay up in the National Defense Reserve Fleet… on an unknown date… and… the ship's final disposition is unknown… Now… how does one go about "losing" a major surface ship, over 640 feet long, almost seventy feet wide, with a displacement of over 15,000 tons? [see Rejoinder below]
Rejoinder:

As a federal employee with immediate access to the NDRF (National Defense Reserve Fleet) archives, which are all unclassified, let me provide additional information as it relates to the subject story of 3/15.Mr. Choron states:"The USS Pine Island was struck from the Naval Register, on an unknown date… Her title was transferred to the Maritime Administration for lay up in the National Defense Reserve Fleet… on an unknown date… and… the ship's final disposition is unknown… "Here's what I can tell you: PINE ISLAND was delivered to Zidell Explorations in Portland, OR (now Zidell Marine) on 3/7/72 under a standard scrapping contract. Zidell paid $166K for the ship, which would be typical. In 1971 PINE ISLAND was towed to Bremerton to be stripped out by the Navy, which is not uncommon for a ship to be scrapped. The fact that she (nor the other AVs) is not listed on the Naval Vessel Register is strange, but probably just an oversight on the Navy's part (as is not uncommon). Should you E-mail the nice folks running the NVR today, they would probably thank you for pointing out the ommission and add the missing ships.Now, all this is not a refutation of OPERATION HIGHJUMP; that will be left up to others.
The story, of course, gets stranger, still. The Pine Island is not the only ship involved in "Antarctic Research" or "exploration" to have disappeared. There were numerous others. The question is not so much "how many", that is fairly well established.
The question is "how and why"… particularly "why"…
On 5 March, 1947 the "El Mercurio" newspaper of Santiago, Chile, had a headline article "On Board the Mount Olympus on the High Seas" which quoted Byrd in an interview with Lee van Atta:
"Adm. Byrd declared today that it was imperative for the United States to initiate immediate defense measures against hostile regions. Furthermore, Byrd stated that he "didn't want to frighten anyone unduly" but that it was "a bitter reality that in case of a new war the continental United States would be attacked by flying objects which could fly from pole to pole at incredible speeds".
Interestingly, not long before he made these comments, the Admiral had recommended defense bases AT the North Pole.
These were not "isolated" remarks… Admiral Byrd later repeated the each of these points of view, resulting from he described as his "personal knowledge" gathered both at the north and south poles, before a news conference held for International News Service.
He was hospitalized and was not allowed to hold any more press conferences. Still, in March 1955, he was placed in charge of Operation Deepfreeze which was part of the International Geophysical Year, 1957-1958, exploration of the Antarctic. He died, shortly thereafter… in 1957… many have suggested he was murdered…
So… who was the enemy that owned or flew these flying objects? Germany was apparently defeated, and there was no evidence that the new emerging enemy, Russia, certainly had such superior technologies. They were, like the United States, only on the verge of the "rocket age", and totally dependent upon technology, and expertise captured from Germany at the end of the War. There was no other known threat could that could account for the United States' invasion of Antarctica nor for the development of any craft that could fly "fly from Pole to pole with incredible speeds."
Of course, the Roswell Incident had been in the news the past summer, but… it had been "officially" explained, and hushed up by the time Highjump began.
SEE THE REST OF THE STORY HERE>> ADMIRAL BYRD AND THE INVASION OF THE NAZI BASE AT ANTARCTICA | The Universal Consciousness Show (universal-consciousness-show.com)
KENS NOTE: My father Earl Pfeifer was on the Carrier Philippines Sea during this mission to the South Pole in 1947. He served earlier on the attack Carrier Bennington during the Iwo Jima and Okinawa campaign. He never spoke about the High Jump operation.
KEN PFEIFER WORLD UFO PHOTOS AND NEWS
HTTP://WWW.WORLDUFOPHOTOSANDNEWS.ORG
GOOGLE…..KEN PFEIFER RADIO
DUCK DUCK GO……KEN PFEIFER UFO
Source:
http://worldufophotosandnews.org/?p=35284
Before It's News®
is a community of individuals who report on what's going on around them, from all around the world.
Anyone can
join
.
Anyone can contribute.
Anyone can become informed about their world.
"United We Stand" Click Here To Create Your Personal Citizen Journalist Account Today, Be Sure To Invite Your Friends.