Biden Administration Begins New Witch Hunt Searching for "Extremists" Among the Military
Wednesday, February 10, 2021 15:11
% of readers think this story is Fact. Add your two cents.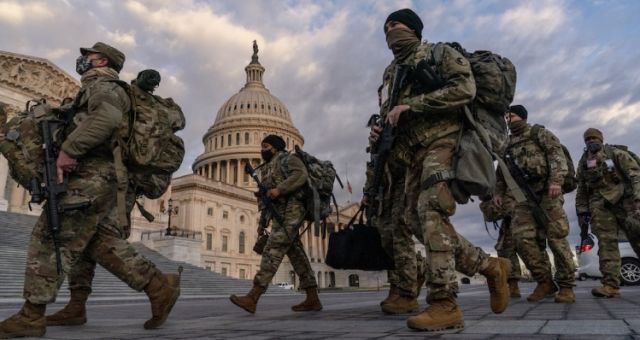 Biden Administration Begins New Witch Hunt Searching for "Extremists" Among the Military
Monday, February 8, 2021
Lucas Leiroz, research fellow in international law at the Federal University of Rio de Janeiro.
---
Washington is determined to ban 'extremism' among the military. To this end, the Pentagon will take a series of measures, the first of which has already been announced: a "standstill" across the army. Lloyd Austin ordered each department in the army to take a hiatus for one day to hold awareness and reflection events. Over the next 60 days, at least one sector of the armed forces will be inactive each day. Other measures will be taken in the near future and severe sanctions are planned for military personnel who fall into "extremist" categories. However, what the Biden Administration considers "extremist" is merely a pro-Trump political stance. In addition, racism, xenophobia, and other problems appear to be structurally integrated into American society, both among civilians and among the military, and will certainly not disappear with such measures, and may even worsen. Biden may be on his way to a collective dissatisfaction of the American military with the new administration and this can lead to several problems both within and outside the US.
Since the election period, Joe Biden has made it clear that one of his government's greatest concerns would be the advancement of progressive and globalist agendas, being a candidate committed to combating extremist thoughts such as racism, xenophobia and white supremacism. Biden's defenders accuse the Trump administration of encouraging these crimes in American society with its nationalist and anti-immigration speech based on the "American First" principle. For this reason, Trump supporters, like the Capitol invaders, have been commonly classified as "extremists", albeit without any evidence that each of them is in fact racist or xenophobic.
Lloyd Austin, the new US first secretary of defense, is the first African American to take office and is obviously rightly committed to anti-racist agendas. However, prioritizing such guidelines to the good organization of the armed forces can be very detrimental to the function of Austin's position, which is precisely to cherish the maintenance of the defense forces.
The fact that many military personnel support Trump is prompting the Biden Administration to spread the discourse that there is a "racist infiltration into the armed forces", when, in fact, the problems may be different. The reasons why the military tend to support Trump indicate that, acting rationally and in defense of their interests, the military see in Trump a representative more appropriate to their agendas – in the same way that ethnic minorities, journalists, lawyers, and several others tend to support Biden for seeing him as a representative of their principles.
Trump is supported by the military simply for extolling patriotic values historically defended by the defense forces, but also for alleviating decades of an aggressive and pro-war foreign policy that has always hurt the military. By decreasing the number of combatants in the Middle East, regressing tensions with different nations, and promising to end the "world police" policy, Trump obtained enormous approval among the military because he embraced the agendas demanded by this class for decades. Even though the American generals are part of the Deep State networks and want to provoke wars around the world, the low-ranking soldiers, who are sent to combat, are not interested in this, wanting to enjoy peace – something that the US has not had in a long time. And it is precisely these low-ranking military men who support Trump, take to the streets in protests, and invade the Capitol.
Certainly, racism and xenophobia exist structurally among these military personnel, as well as among high-ranking military personnel and among all sectors of American society. Racism, despite being a hate crime, is ingrained within the US. This nation was one of the last in the world to abandon racial segregation and the privileges officially granted to whites. Racism is not an exclusively military phenomenon or a particular feature of the armed forces, but a national problem with historical roots that is unlikely to be reversed in the short term.
When Biden and Austin create such measures to combat racism and impose severe sanctions – including exoneration – specifically against the low-ranking military, the new Administration is just increasing the distance of interests between government and military, creating more tensions, fomenting more rivalries, and generating more hatred and instability. Why start to punish racism among low-ranking soldiers and not among the big decision makers, generals, and the rich class? This will be the perfect justification for strengthening Trump's speech as a "savior" of the white working class, which will weaken Biden in the first months of his government.
In fact, nothing good can come out of the rivalry between the military and the government. Mobilizations, violent demonstrations, and riots are some examples of what happens when the military has its interests undermined. Biden, not satisfied with trying to resume a policy of war and intervention, which has killed thousands of American military personnel for decades, still wants to classify his troops as "extremists" who need to be "educated" and "made aware". This only tends to generate antipathy when Biden most needs the support of the military – this government in its early days proved to be extremely militarized, as we saw in Biden's inauguration ceremony.
"Extremist" for Biden is becoming what "terrorist" has meant in the past for some Republican governments: a vague category that can be applied to anyone confronting government agendas. However, categorizing the military is a terrible choice.
Source: InfoBrics
Before It's News®
is a community of individuals who report on what's going on around them, from all around the world.
Anyone can
join
.
Anyone can contribute.
Anyone can become informed about their world.
"United We Stand" Click Here To Create Your Personal Citizen Journalist Account Today, Be Sure To Invite Your Friends.