Racist Killing and Impunity
Saturday, May 30, 2020 7:43
% of readers think this story is Fact. Add your two cents.

Former Ambassador, Human Rights Activist
A social culture where perception of others is not conditioned by skin tone is obtainable. In the process of getting there, a system of law with no impunity for racism and with examplary punishment for agents of the state in contravention is essential.
A court will judge whether there was intent to kill George Floyd; what is absolutely apparent is there was certainly no intent by the police to preserve his life or health. It is also plain that the force used was wildly disproportionate for the alleged offence. It is further undeniable that police violence in the USA impacts particularly on black people, and that in dealing with black people the police act with an arrogance founded on anticipated impunity. The societal change whereby the majority of adults have camera phones at the ready has given a new power of resistance to the public in this regard. That must be reinforced by exemplary sentencing.
The law currently takes the opposite approach:
If a police officer unlawfully harms a citizen, the officer is subject to assault or homicide charges—no different than if the officer committed these crimes off duty. [2] However, if a citizen unlawfully harms a police officer, the citizen is automatically subject to aggravated assault or aggravated homicide charges, which carry more severe punishment. [3] In fact, some states make the intentional killing of an on-duty officer a capital offense. [4] Enhanced charges in police encounters are thus asymmetrical. They only apply if a citizen harms an officer but not if an officer harms a citizen.
Police who kill in the course of their duties are given every latitude by the courts and far lower sentences than others who kill. That attitude needs to reverse. Police need to understand that their duty to protect and deal fairly embraces both the alleged victim and the alleged criminal. Breach of this public duty to protect should be an aggravating factor when the police kill, and sentences should be stiffer than for the general public. There are moments in public discourse where you need to come down off the fence and decide which side you are on; I am on the side of Black Lives Matter.
Here are two murdered men who have even less chance of receiving justice than George Floyd.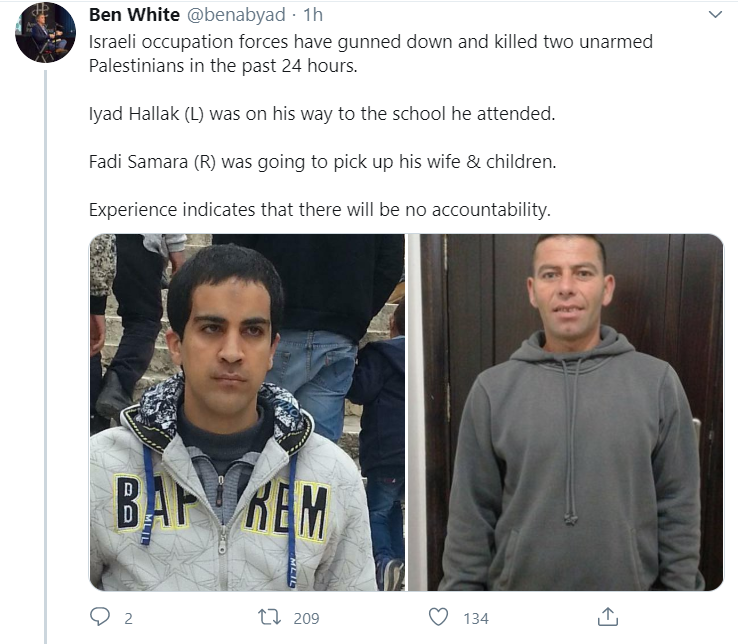 There is a stark contrast between the justified international outrage at Floyd's death, and the unremarked killing of just a couple more Palestinians. I recommend this twitter thread by the ever excellent Ben White, and the links it gives. Ben does not mention that Iyad, on the left, was on his way to classes for those with special needs when he was chased and gunned down by Israeli soldiers.
This may surprise you. The police in the USA have less impunity for killings than the police in the UK.
Even as straightforward a case as the murder of Jean Charles De Menezes, who did nothing wrong whatsoever, brought no action against the police in the UK. The killing of Sheku Bayoh in Fife had obvious parallels with that of George Floyd, yet nobody was charged. 457 people have died in police custody since 1998, from all causes. From 2005-2015 10% of 294 deaths were "restraint related". Assuming that proportion holds, that is 30 people in the UK who have died at the hands of police in much the same way George Floyd died. That figure excludes those shot by the police.
Not one British policeman has been convicted of an unlawful killing in all these deaths. – not one. The last British policeman convicted was in 1969. That is what I call real impunity.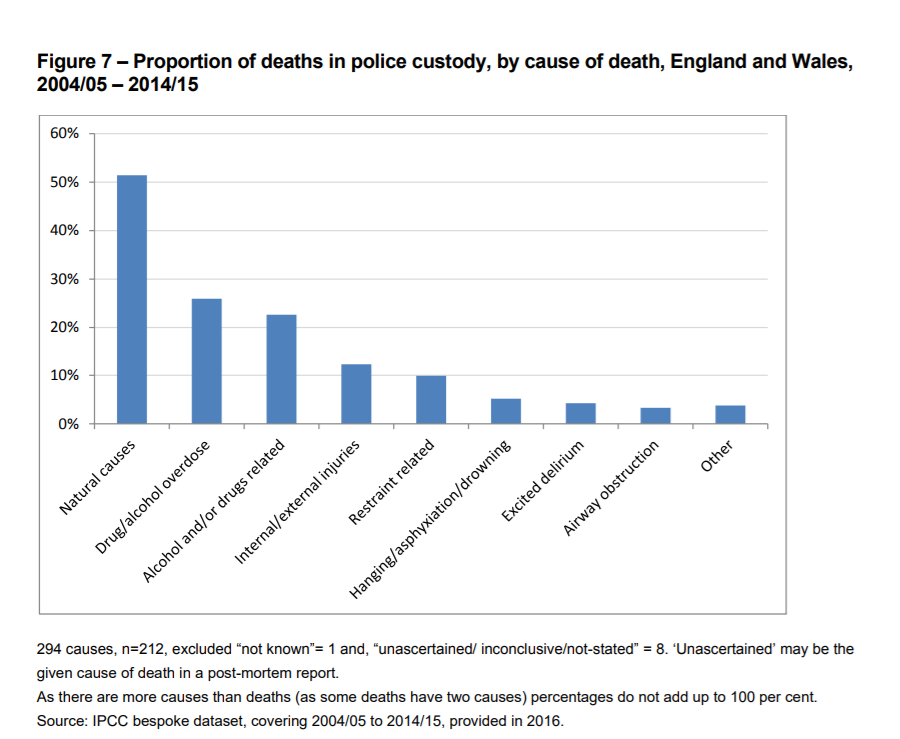 Source: https://assets.publishing.service.gov.uk/government/uploads/system/uploads/attachment_data/file/655710/Deaths_in_police_custody_A_review_of_the_international_evidence.pdf
And that is without examining the similar impunity enjoyed even by private contractors in the UK responsible for the many deaths in the prison system and in immigration detention.
Impunity is a major problem all round the world, and everywhere it enables disproportionate use of state violence against minorities. But it is most sinister in a state like the United Kingdom, where the support of the prosecutorial and judicial institutions of the state for those who enforce the state's monopoly of violence is absolute, and where the public are so conditioned to the power of the state they do not even notice the impunity.
The United Kingdom is full of people, right now, looking at the images of unrest from the USA and telling each other that the way the police kill black people in the USA is terrible. We do not process that in the UK law enforcement officers enjoy still greater impunity than in the USA.
——————————————
Unlike our adversaries including the Integrity Initiative, the 77th Brigade, Bellingcat, the Atlantic Council and hundreds of other warmongering propaganda operations, this blog has no source of state, corporate or institutional finance whatsoever. It runs entirely on voluntary subscriptions from its readers – many of whom do not necessarily agree with the every article, but welcome the alternative voice, insider information and debate.
Subscriptions to keep this blog going are gratefully received.
Choose subscription amount from dropdown box:
Paypal address for one-off donations: [email protected]
Alternatively:
Account name
MURRAY CJ
Account number 3 2 1 5 0 9 6 2
Sort code 6 0 – 4 0 – 0 5
IBAN GB98NWBK60400532150962
BIC NWBKGB2L
Bank address Natwest, PO Box 414, 38 Strand, London, WC2H 5JB
Subscriptions are still preferred to donations as I can't run the blog without some certainty of future income, but I understand why some people prefer not to commit to that.
The post Racist Killing and Impunity appeared first on Craig Murray.
Source:
https://www.craigmurray.org.uk/archives/2020/05/racist-killing-and-impunity/
Before It's News®
is a community of individuals who report on what's going on around them, from all around the world.
Anyone can
join
.
Anyone can contribute.
Anyone can become informed about their world.
"United We Stand" Click Here To Create Your Personal Citizen Journalist Account Today, Be Sure To Invite Your Friends.