Are Maxwell & Epstein Sacrificial Lambs Like Joseph McCarthy & The Rosenbergs? Intel Is Dead, Taiwan Semi-Conductor In The Sights Of The CCP. Deadly Enemies & The Fed Crypto App - Did Israel, China And Russia Co-Operate On Covid-19. Awesome Videos By Brendon O'Connell.
Friday, July 31, 2020 8:23
% of readers think this story is Fact. Add your two cents.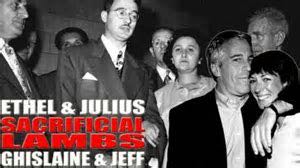 46. JOSEPH MCCARTHY, ROSENBERG'S & MAXWELL & EPSTEIN | ESPIONAGE & SACRIFICIAL LAMBS
It's time for a Hollywood repair of the reputation of Joseph McCarthy. He was not just right, he was damned right, and nothing has changed, it just got worse. In 1947-48, as the espionage rings of Communist sympathizers attached to the Roosevelt administration were rounded up, a new rat line began via Israel to shift technology to the Soviet Union and Red China. It's worse than you know. Intel, the greatest American technology success story has been destroyed from within. It will lose much of it's value over the next 12 to 18 months. It will specialize in self driving vehicles, iOT and 5G wireless. Taiwan Semiconductor will be forced to move it's most advanced fabrication facility to mainland USA. Xi JinPing appears on the outer and facing division from within. Alot of Generals are worried about their Swiss bank accounts. Perhaps war will be avoided with the complete capitulation of the CCP. The parallel's between Maxwell and Epstein and the Rosenberg's, put to death for their role in getting nuclear bomb secrets to the USSR are many. All low end smurfs, the big enchiladas continue to avoid the noose. When we see "bankers" being led to the gallows, we'll know something has changed.
47. INTEL IS DEAD, TAIWAN SEMI-CONDUCTOR (TSMC) IN THE SIGHTS OF THE CCP
Intel CEO Ben Swan just admitted – what we already knew – Intel is basically dead, with no product to sell. What does that mean? Get out of Intel immediately…there is your first task. Intel Corp.'s outsourcing plans cast shadow over fate of Israeli operations https://www.timesofisrael.com/intel-c… The Intel 10 and 7nm design and fabrication process is a disater. As TSMC and AMD streak ahead, 100 miles off the coast of China, Intel Israel tries a nervous chuckle.
*Intel CEO: We think of ourselves as an Israeli company as much as a US company* "I just want to say that it will be centered here in Jerusalem." https://www.jpost.com/israel-news/int… The disaster is a pure Israel affair.
75. DEADLY ENEMIES & THE FED CRYPTO APP – DID ISRAEL, CHINA AND RUSSIA CO-OPERATE ON COVID-19
People question America and Fort Dietrich. The U.S government blames China with the help of the mysterious "deep state". But no one has asked the deeper questions, who benefits?
*Central Bank Digital Currencies (CBDCs): A Crisis Recovery Tool For Governments*
Policymakers, including central banks and governments, are uncertain where, how, and what tools to use to save their economies as they grapple with the crisis and prepare for the next. As a result, it has increased the interest in digital currency innovation for the decade to come.
https://www.forbes.com/sites/pawelkuskowski/2020/06/07/central-bank-digital-currencies-cbdc-a-crisis-recovery-tool-for-governments/
After the introduction is the hard to get documentary on biological warfare, "Deadly Enemies".
The Soviet Union had some of the best biological warfare scientists in the world. They all emigrated to the United States and Israel. Many went from the United States to Israel. Now we see Israel deep in bed with China and Russia on The Belt and Road program. Why is Israel and its vast Soviet era scientists absorption program, and deep ties to China, not coming under scrutiny?
Rothschild kills multiple birds with one Covid-19 stone. He facilitates apparent war with China leading to the break up of his world wide East India Trading company. Israel, Russia and China form their Eurasian trading alliance. The United States retreats to North and South America where it develops trade and infrastructure readying that part of the Grand chessboard for the UN Smart cities 5G surveillance grid gulag system.
https://www.bitchute.com/video/TxSrN1hJK6ky/
The Fourth Protocol (1987)
The Fourth Protocol is a 1987 British Cold War spy film featuring Michael Caine and Pierce Brosnan, based on the novel The Fourth Protocol by Frederick Forsyth. In 1968, an East-West agreement is established to halt nuclear proliferation. One of its clauses, the Fourth Protocol, forbids the non-conventional delivery of a nuclear weapon to a target.
See link to Major Jordan Diaries:
Major Jordan Wrote Down All The Explosive Deep State Secrets In His Diaries – He Was Instrumental As A Witness To The Communist Theft And Acts Of Treason Of America Transferring American Arms And Technology To The USSR During WWII. One Of The Best Whistleblower Videos Ever.
/prophecy/2020/07/major-jordan-wrote-down-all-the-explosive-deep-state-secrets-in-his-diaries-he-was-instrumental-as-a-witness-to-the-communist-theft-and-acts-of-treason-of-america-transferring-american-arms-and-tec-2512993.html
Before It's News®
is a community of individuals who report on what's going on around them, from all around the world.
Anyone can
join
.
Anyone can contribute.
Anyone can become informed about their world.
"United We Stand" Click Here To Create Your Personal Citizen Journalist Account Today, Be Sure To Invite Your Friends.