EXPOSED: Obama's 3 Head Scars and Hillary's 9/11 Seizure: The Beast Has Its Head Wound Healed - Revelation 13:3. Great Video.
Friday, August 7, 2020 18:38
% of readers think this story is Fact. Add your two cents.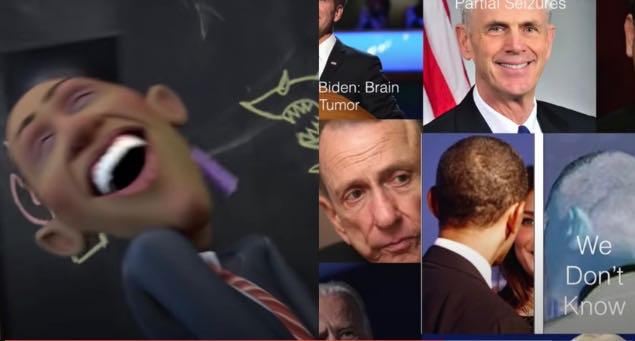 EXPOSED Obama's 3 Head Scars and Hillary's 9/11 Seizure: The Beast Has Its Head Wounded
If we look at Hillary alongside some of her colleagues in the Senate, her fellow secretaries and diplomats, we can see that several individuals who worked for or with Obama have developed brain anomalies including brain tumors/cancer, dementia, and seizure disorders. Joe Biden has a history of brain aneurysms and has had brain surgery to correct them, his son Beau Biden just died of a brain tumor. Beau Biden was an up-and-coming politician in the Democrat Party. Arlen Specter, a Republican, had a previous bout of brain cancer and ended up dying of a third bout of cancer in 2012. Obama's former secretary of commerce, John Bryson, who was responsible for promoting the market concept behind Obamacare (a role of the commerce secretary, not the HHS secretary), suffered a seizure while driving, crashed his car, and was later diagnosed with "complex partial seizures" in 2012. This was the same diagnosis as Hillary Clinton, who fell and hit her head in 2012. John Roberts, the Chief Justice and Jesuit who stunned the world after passing Obamacare on two occasions, suffers from Epilepsy. While the Vatican has denied rumors by one of Italy's largest newspapers that Pope Francis is suffering from benign brain tumors, it appears that Francis has fallen on multiple occasions and something is indeed wrong with him. It was leaked that Francis was being treated for his brain tumors by a Dr. Fukushima. Jimmy Carter, who called everybody racist who opposed Obama's initiatives after Freemason Joe Wilson interrupted Obama during a key speech on the Obamacare health initiative, has a secondary metastatic brain tumor. Edward Kennedy, a primary proponent of early Obamacare initiative in the Senate in 2009, received a diagnosis of a Glioblastoma. He is now dead.
Obama himself has been the subject of a barrage of rumors about his own head scar, which looks like he had an operation called a Craniotomy done. Craniotomy's often involve a bone flap is made to allow the brain to swell, and after this is done, the bone is put back into the incision, but sometime the bone can't be reinserted and is replaced with titanium plates. Obama has three head scars on the right temporal parietal frontal area, the left temporal parietal incision, and a large occipital incision that extends up to the parietal bone. Whatever he had done, it was not to one region of his brain, but performed to the entirety of his skull.
Revelation 13:3 And His Deadly Wound Was Healed
By Dr. Luke Prophet
And I saw one of his heads as it were wounded to death; and his deadly wound was healed: and all the world wondered after the beast. (Revelation 13:3 KJV)
Further to my earlier article, I discussed how the Papacy's head wound was healed in 1929 with the Laterean Treaty. See my article below.
The Deadly Head Wound Healed, the Papacy's Political Power Restored and the Rise of the Little Horn. The Mark of the Beast of the Catholic Church Revealed. Revelation 13 and Daniel Deciphered.
/christian-news/2020/01/the-deadly-head-wound-healed-the-papacys-political-power-restored-and-the-rise-of-the-little-horn-the-mark-of-the-beast-of-the-catholic-church-revealed-revelation-13-2584038.html
Notice that there are two "his" in Revelation 13:3.
And I saw one of his heads as it were wounded to death; and his deadly wound was healed: and all the world wondered after the beast. (Revelation 13:3 KJV)
Note the word "his" in Revelation 13:3 above is mentioned twice and therefore we are looking for two head wounds. I believe only the Papal head wound has occurred to date so another fatal head wound will be healed in the future.
I believe there are three candidates currently in the running for their head wound to be healed.
1) John F Kennedy
2) Donald Trump after he is assassinated
3) Barack Obama
Time will tell.
Before It's News®
is a community of individuals who report on what's going on around them, from all around the world.
Anyone can
join
.
Anyone can contribute.
Anyone can become informed about their world.
"United We Stand" Click Here To Create Your Personal Citizen Journalist Account Today, Be Sure To Invite Your Friends.