Prophecy News - 'Everything that glitters is not gold, so is the lawless one', given to McKana, September 25th, 2023
Thursday, September 28, 2023 10:32
% of readers think this story is Fact. Add your two cents.

This one attracted me because the earthly christ/antichrist has already made himself known in a documentary from 2020. So I've put up a picture of the antichrist and one of Jesus. McKana, whose message this is, points us to a two hour video of Ken Peters speaking to the Prophecy Club in America about his 1980 dream of the tribulation.. It's titled, 'I saw the Tribulation'. As I read before, the elite of this world are not going to give up, they will fight every inch of the way, to bring humanity under their control and away from God.. Away from the teachings of Jesus, whose goal was to re-empower the humanity, not take away their power as the elite are want to do.. Ken's description of the tribulation is riveting/revealing. The only thing to do while going through it is to keep your own integrity intact if you can. Do not move away from what your conscience tells you.
Everything that glitters is not gold, so is the lawless one.
September 25, 2023 2:20 PM
McKana
September 25, 2023
Matthew 24:24(KJV)
For there shall arise false Christs, and false prophets, and shall shew great signs and wonders; insomuch that, if it were possible, they shall deceive the very elect.
In the last post, as reveled to me, I described the look of the lawless one as: "I see a sharp, crisp, good looking person. He is dressed in three pieces, like a business man and has nothing on his head. He is in complete control of the train. I saw the face of the person for a split of a second. He has a good charismatic, attractive look. In that very short moment, what I saw is a beautiful person with mesmerizing look."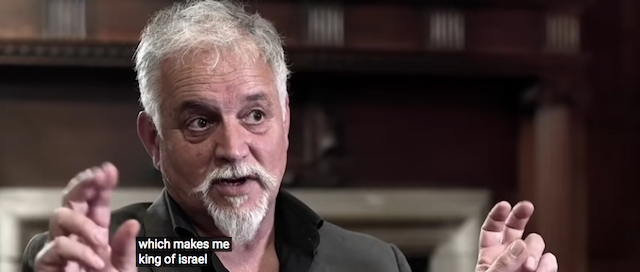 I could have said more but reserved for concern of sending a wrong message of advertising an evil one as good. As Jesus is the manifestation of our heavenly father, the master cloner is manifested in his son, the son of perdition.
Jesus in his life time on earth didn't have a good physical look but He is holy, sinless, pure and rejected of men "2 For he shall grow up before him as a tender plant, and as a root out of a dry ground: he hath no form nor comeliness; and when we shall see him, there is no beauty that we should desire him. 3 He is despised and rejected of men; a man of sorrows, and acquainted with grief: and we hid as it were our faces from him; he was despised, and we esteemed him not" Isaiah 53:2-3(KJV)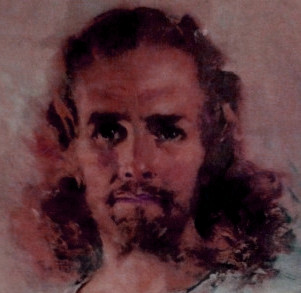 a portrait made in Italy
The son of perdition comes "shining" with good looks, but spiritually he is the manifestation of his evil father the devil but will deceive many in grand scale to gain wide acceptance.
Jesus-no beauty, holy and rejected by men. The counterfeit-Lawless one, good look, evil, to be accepted by countless many.
The good of the Lord as always is in giving messages to two or more of his loyal messengers to ascertain the truth of His word.
Here is our brother Ken Peters giving us the details, as he saw the lawless one.
It is good to invest our time in what matters most. See what is reveled in the time points given below but watch the whole scenario of the time of Tribulation as given to Ken Peters.
Some important description of "the qualities" of the lawless one. Time point 29:25-35:00
Detailed looks and characters of the lawless one as described by Ken Peters from his explicit clear vision- Time points 41:20-44:00:-
"I will never forget his face, ever, as long as I live I will never forget his face" "I will never forget this individual's face"
"His face was supernatural in appearance"
"He is almost too perfect"
"He was the most handsome man I had ever seen" ("beautiful" from lack of terms–)
"This man has everything going together for him"
"He has like a chiseled look to his face"
"Everything about his appearance is almost perfect'
"When he speaks, he has a strange quality about him"
"He is the antithesis to Jesus… Just the opposite of Jesus"
"He has the ability and charisma"
Ken Peters – I Saw The Tribulation (Full Version)
youtube.com/watch?v=EHtSCWCSe2Q
https://444prophecynews.com/i-saw-the-tribulation-ken-peters/
The massage is clear- DO NOT BE DECIEVED!!!
links-
Everything that glitters is not gold, so is the lawless one
https://444prophecynews.com/everything-that-glitters-is-not-gold-so-is-the-lawless-one-mckana/
I saw the Tribulation
https://www.youtube.com/watch?v=EHtSCWCSe2Q
The Hidden King, documentary (2020)
https://www.youtube.com/watch?v=Fu7k-SoBl5U
Antichrist eastern
https://fatherofloveandmercy.wordpress.com/2013/04/26/the-antichrist-will-be-from-the-east-not-the-west/
Antichrist from the southern Hemisphere
http://www.apelosurgentes.com.br/pt-br/mensagens/3276
"Chegará o dia em que um homem com aparência de bom e justo surgirá. Enganará a muitos, pois realizará grandes prodígios. Virá do hemisfério sul e muitos o terão como um salvador. Estai atentos para não serdes enganados."
The Crucifixion of Jesus reenacted
https://fatherofloveandmercy.wordpress.com/2014/11/13/i-was-deemed-to-be-a-wicked-man-and-a-false-prophet-and-so-they-scourged-me-2/
"The sequence of events leading up to the last day, is akin to My Crucifixion, which will be re-enacted in every stage, right up to the day when I will come again, to salvage the world."
"How heartbroken I was when the evil one showed Me how the world would end."
description of His crucifixion from the video- –7m58s-9m53s–.
Death will no longer have power, over those of God's children who love Him, in My New Paradise
https://fatherofloveandmercy.wordpress.com/2013/05/19/and-then-just-as-they-will-have-forgotten-me-my-church-will-rise-from-the-dead-just-as-i-did/
"These Messages, sadly, will bring unnecessary fear, to those who believe that when this Earth is discarded in favour of the New Heaven and Earth, that they will face death. This is not true. Those who find favour with Me and who accept My Hand of Mercy will be given the Gift of life. Even atheists, non-believers, non-Christians and those of every faith will turn to Me and accept My Gift, after The Warning takes place. This is when I will defeat the beast,"
When Heaven and the Earth will become one
https://fatherofloveandmercy.wordpress.com/2013/10/12/once-the-heavens-and-earth-become-one-there-will-be-no-purgatory/
Our bodies will be composed mostly of air
https://ramalacentre.com/TheVisionOfRamala.pdf
pg. 59 – "You will not be able to survive the changes that are to come simply by adapting physically, for the physical body that you are seeking to protect will not exist in the New Age. The physical structure of the human beings that will dwell in the New Age will have changed radically. Whereas, now, a large percentage of your body is water, in the New Age it will be air."
Archangel Michael: the sun will become a "red giantesse".
O.M. Aivanhov: The Earth will expand from 7000 – 1000 kilometers.
Mary's Messages
/spirit/2020/05/marys-messages-to-help-us-during-tribulation-period-2517355.html
Before It's News®
is a community of individuals who report on what's going on around them, from all around the world.
Anyone can
join
.
Anyone can contribute.
Anyone can become informed about their world.
"United We Stand" Click Here To Create Your Personal Citizen Journalist Account Today, Be Sure To Invite Your Friends.