Story Views

Now:
Last Hour:
Last 24 Hours:
Total:
Triangle of 7 Lights on the Moon Baffles Astronomers, and Scientists Fear A Coming Mini Ice Age! (Shocking Video)
Saturday, January 18, 2014 2:25
% of readers think this story is Fact. Add your two cents.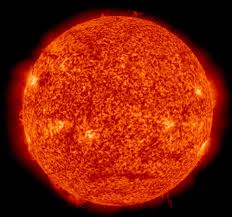 Luke 21:25-26

25 And there shall be signs in the sun, and in the moon, and in the stars; and upon the earth distress of nations, with perplexity; the sea and the waves roaring;

26 Men's hearts failing them for fear, and for looking after those things which are coming on the earth: for the powers of heaven shall be shaken.
Is a mini ice age on the way? Scientists warn the Sun has 'gone to sleep' and say it could cause temperatures to plunge
2013 was supposed to be the year of increased solar activity, including sunspots and solar flares. It was reported over and over again by NASA, yet it never happened. And scientists at NASA are alarmed, fearing a mini-ice age comparable to the Maunder Minimum.
According to Daily Mail:
'Whatever measure you use, solar peaks are coming down,' Richard Harrison of the Rutherford Appleton Laboratory in Oxfordshire told the BBC.

'I've been a solar physicist for 30 years, and I've never seen anything like this.'

He says the phenomenon could lead to colder winters similar to those during the Maunder Minimum.

'There were cold winters, almost a mini ice age.

'You had a period when the River Thames froze.'
And, the space agency commented:
'Sunspot numbers are well below their values from 2011, and strong solar flares have been infrequent,' the space agency says.

The image above shows the Earth-facing surface of the Sun on February 28, 2013, as observed by the Helioseismic and Magnetic Imager (HMI) on NASA's Solar Dynamics Observatory.

It observed just a few small sunspots on an otherwise clean face, which is usually riddled with many spots during peak solar activity.

Experts have been baffled by the apparent lack of activity – with many wondering if NASA simply got it wrong.
Will it happen? Experts admit they do not know. Only time will tell!
But, there is also something going on with the moon!
What is this mystery object spotted on Google Moon? Bizarre wedge-shaped 'craft' appears on the lunar surface?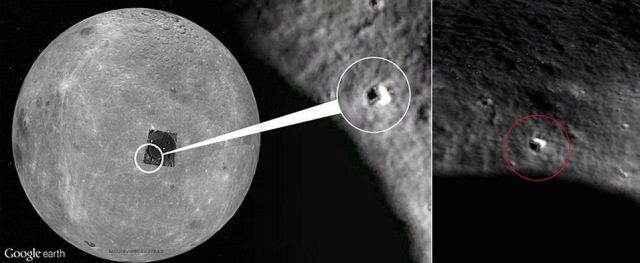 So let me get this straight. First, they are talking about a possible mini-ice age, and now there is evidence of an object that appears as an alien spaceship, or alien base, in the shape of a triangle, on the moon?
Oh, but wait! It gets even better. The mystery object also has SEVEN 'mystery' lights?
The triangular anomaly has rows of seven light-like dots along its edge

UFO websites have likened it to an alien lunar base or spaceship

It can be found on the Google Moon viewer at coordinates 22042'38.46N and 142034'44.52E

Finder claims to have spotted similar mystery structure in Antarctica
Daily Mail states:
Is it part of an alien spaceship nestled under the dust of the moon, or a secret moonbase occupied by humans?

Speculation has exploded over these controversial images which appear to show something unexplained on the surface of the moon.

The triangular anomaly, spotted on Google's map of the moon, has rows of seven light-like dots along its edge that have been likened to an alien base or spaceship.

According to website Tech and Gadget News: 'The gigantic shape actually looks like the leading edge of an immense, triangular space ship, similar to, so far, super secret stealth aircraft technology, but is much larger than any airplane ever built on Earth.
It could be that, once again, we are being given a message. The number 7 in Illuminati symbolism means perfection, completion, and death. When I think of death, I think of Satan, or Abaddon! To the Illuminati, our death would be the perfection and the completion of their ultimate plan—Satan's ultimate plan!
What is coming to us? Will the Antichrist soon be revealed? Will people be fooled into thinking that he is an "alien" Messiah, as Cris Putnam and Tom Horn have concluded in their book, "Exo Vaticana"?
And what about death and destruction, as I have mentioned in previous posts regarding the coming economic collapse, martial law, civil war, and rioting?
Worse—what if it is both?