Story Views

Now:
Last Hour:
Last 24 Hours:
Total:
Head Mothership Above Earth! Several Messages Incoming From The Commander Himself! You Know Who He Is And You're Gonna Love Him Even More This Time Around!
Wednesday, December 20, 2017 13:27
% of readers think this story is Fact. Add your two cents.


Head Mothership Above Earth! Several Messages Incoming From The Commander Himself! You Know Who He Is And You're Gonna Love Him Even More This Time Around!
A truly conscious person will be wise, powerful and loving… which includes getting updated… continuously… in spirit… it has nothing to do with believing a lie… and limiting other beings… beings of light… light that cannot be thunk by the heavy dulled mind… earth is being visited by the highest light… it is bathing us now… we only need to be open to it… for the light cannot force itself upon us… rather, we join up and meet it's power…. so effort is involved… effort that perhaps will give the noodle in the skull a bit of a twist… but it's good to know who the head commander is, is it not? How can humanity ignore the MILLIONS OF SPACESHIPS IN OUR SECTOR, and act like we're all alone? The time for that is over… don't be that skeptic that misses out on all the god stuff… joy to us all…
There is a need for humanity to be on better behaviour… already we have jumped the timeline of the apocalypse, and are on a peaceful timeline… the planet will still shake but it will be more gentler too…
Remember… the more you unify with all other lifeforms… that's when world peace triggers all sorts of 'strength in numbers' with our species…. as we compete we don't benefit from collective harmonious thoughts.
O.N.E. NEWS: PROUD TO FEATURE OUR BROTHER SANANDA… THE SUPREME COMMANDER OF PROJECT TRANSITION EARTH, WHO ELSE KNOWS MORE ABOUT WHAT IS GOING ON?????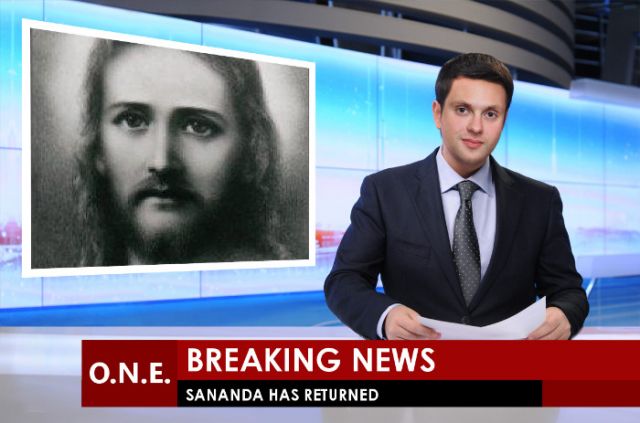 Humanity… the real news involves the loving news. Earth Entering Crucial Final Phase!! Supreme Commander Sananda "Jesus" (From The Bible,) Returns To Live Radio With Update Galactics Taking Control Of Earth! Cabal In Last Dying Breath, "They Have Not Surrendered But We Are Taking Over", Says Sananda, Supreme ET Commander Of All Visitors To Earth, Under Direction Of Prime Creator Sananda And Galactic Federation Of Light On Final Steps Towards New World Financial System And Prosperity
There are a leader of all those spaceships…. it's Sananda…
With Christ mass coming up… does it matter what the christ says???? I would think so!
Great Teaching From Ashtar And Sananda: Forgiveness Is The Absence Of Judgment!!!
Special Message!!! Jesus Returns As Top Extraterrestrial Commander, "Sananda"… Religions Duped, Thus Destined To Evolve, Or Fail… Christ Consciousness Is "Wisdom, Power And Love"
Undeclared! Civil War in America! Mass Arrests of Khazarian Gangsters! Lasers Used in California Confirmed by Officials! Ongoing Hunt for Flesh Eaters and Torturers! Sellers of Human Flesh Under Investigation! Ben's Update Says it All! You Are the Light Says Sananda!
World Leaders Must Become Aware Of Sananda, The Supreme Commander Of Project Transition Earth
When Trump Meets Sananda, Supreme Commander Of Project Transition Earth… Dreaming Of A Future That Has Already Happened
Pleiadian Prince Sends Special Broadcast To Earth Mentioning Significant September 23 Event… Connect With Angelic Supreme Commander, Sananda And Christ Consciousness Within
Sananda: Immortality In Five Years! Three Waves Of Ascension Update August 2017!
Sananda: Grand Time To Be On Earth… Big Moment For Whole Universe
Sananda: Mass Arrests Imminent… Cabal Dismantled Emotionally, Religiously, Militarily, All Of It Is Coming Down
Jesus is back bearing a new name, Sananda. These are his words
Sananda: Arrests Taking Place, Many Taken Off-World, Replaced With Deprogrammed Holograms