Story Views

Now:
Last Hour:
Last 24 Hours:
Total:
US Migrant Children Policy Reversal, Still 'Fails' Thousands of Detained Youngsters: 11 UN Human Rights Experts
Saturday, June 23, 2018 0:02
% of readers think this story is Fact. Add your two cents.

Human Wrongs Watch
The United States government decision to end its border policy of forcibly separating migrant children from their parents, does not help thousands of youngsters already in detention, who should be released and reunited with their families, a group of UN human rights experts on 22 June 2018 said.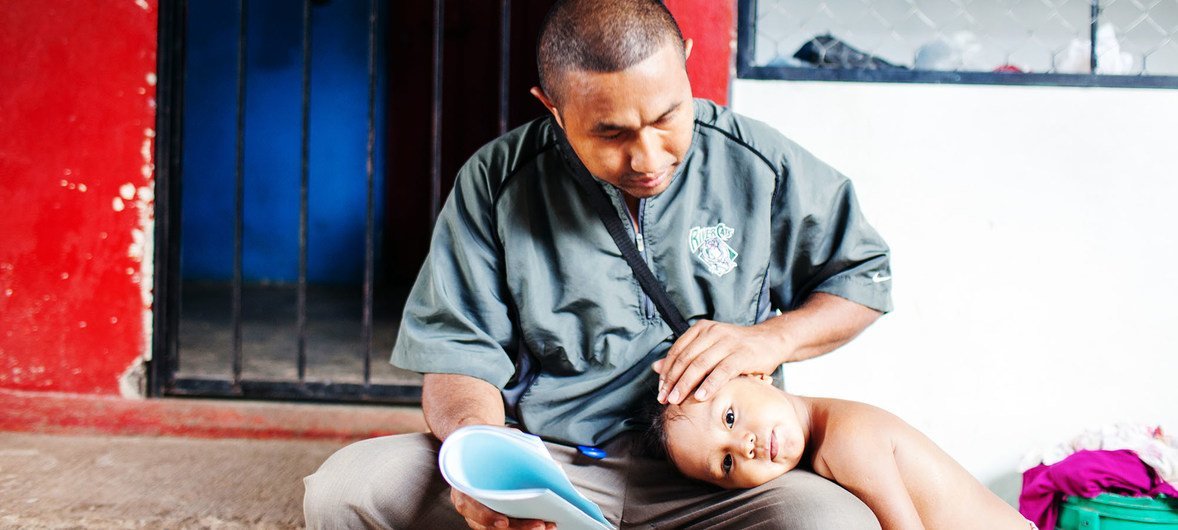 UNHCR/Markel Redondo |
Eduardo, 31, with his daughter Sara at his house in Chiapas, Mexico. Eduardo together with his wife and four daughters, escaped increasing gang violence from El Salvador and have been recognized as refugees in Mexico.
The group of 11 independent Special Rapporteurs, and other experts, insist that the detention of the migrant children – "most" of whom are asylum-seekers from Guatemala, El Salvador and Honduras – inside the US, "severely hampers their development and in some cases, may amount to torture".
Their statementissued to reporters in Geneva, follows President Donald Trump's decision to sign an Executive Order ending the practice of forcible separation on Wednesday, two months after the so-called "zero-tolerance" policy was introduced.
The order calls for detaining family members together, who are caught attempting to enter the US, mostly at the southern border with Mexico.
We call on the Government of the US to release these children from immigrant detention and to reunite them with their families – UN human rights experts
The experts, appointed by the Human Rights Councilin Geneva, said that the Order simply "does not address the situation of those children who have already been pulled away from their parents."
"We call on the Government of the US to release these children from immigrant detention and to reunite them with their families based on the best interests of the child, and the rights of the child to liberty and family unity," the statement added.
The group of experts had already expressed their grave concerns to the US government over the impact of the zero-tolerance policy in early April. The policy made all adults and children trying to cross the border liable to criminal prosecution as a punitive deterrent, the experts noted.
"The separations have been conducted without notice, information, or the opportunity to challenge them. The parents and children have been unable to communicate with each other," said the statement, adding: "The parents have had no information about the whereabouts of their children, which is a cause of great distress."
"Moreover, we are deeply concerned at the long-term impact and trauma, including irreparable harm that these forcible separations will have on children."
Echoing that point of view, the UN Children's Fund(UNICEF) said on Friday that it was opposed to separating children from their families for the purposes of migration control.
Spokesperson Christophe Boulierac, added that the agency would also be opposed to unconfirmed media reports that children could stay with their families if all of them had to remain in detention.
An alternative would be to take a non-custodial community approach, Mr. Boulierac added.
Last Monday, the UN Secretary-General, António Guterres, said in a statement that "as a matter of principle" refugees and migrants should always be "treated with respect and dignity, and in accordance with existing international law," although he did not single out the US in this regard.
UN Human Rights chief, Zeid Ra'ad Al Hussein told the opening of the Human Rights Council in Geneva on Monday, that the practice of child migrant separation, amounted to "government-sanctioned child abuse" which may cause "irreparable harm" with "lifelong consequences".
Special Rapporteurs address either specific country situations or thematic issues, across all parts of the world, and work on a voluntary basis, without any salary or remuneration for their work. (SOURCE: UN).
Source:
https://human-wrongs-watch.net/2018/06/23/us-migrant-children-policy-reversal-still-fails-thousands-of-detained-youngsters-11-un-human-rights-experts/