Story Views

Now:
Last Hour:
Last 24 Hours:
Total:
Uncle Sam's Snuff Factory Survivor Speaks Out! She Says it Is in Central Texas and it Sounds Very Busy! Dear God (Within Each Human), Help the American Children...There Is Literally a Child Snuff Industry!
Thursday, August 9, 2018 10:51
% of readers think this story is Fact. Add your two cents.

Uncle Sam's Snuff Factory Survivor Speaks Out!! She Says it Is in Central Texas and it Sounds Very Busy!!! Dear God (Within Each Human), Help the American Children…There Is Literally a Child Snuff Industry!!!!
Man… THIS PISSES ME OFF… WHERE ARE THE OTHER ADULTS OF THIS HUMAN SPECIES???? WHERE ARE THE MEN? WHERE ARE THE COURAGEOUS? WHERE ARE THE BRAVE????? AND THE WORST QUESTION OF ALL… WHY DO SO MANY ADULTS WANT TO LOOK GOOD, BUT DON'T WANT TO DO GOOD, LIKE HELPING TRAFFICKED CHILDREN???
IN THE TITLE I SAID 'DEAR GOD'… AND I AM REFERRING TO THE GOD WITHIN YOU… HELP THE CHILDREN NOW…. I SAID, NOW, AND I AM ASKING, NOT DEMANDING! DO NOT HESITATE WHILE THOUSANDS OF CHILDREN ARE LOCKED IN CAGES, AND FED DIETS TO FATTEN THEN UP LIKE HANSEL AND GRETEL… DO NOT DELAY YOUR ABILITY TO BE A MORE LOVING BEING, MORE KINDER, MORE GENTLER… DO NOT DELAY SENDING OUT LOVE TO THE UNIVERSE… EVERYDAY…. YOU CAN DO ALL THESE THINGS AND MORE… I BELIEVE IN YOUR POWER TO FREE THE CHILDREN OF THE WORLD FROM SLAVERY AND THUS, FREE OURSELVES. IF YOU WERE LOCKED IN A CAGE, KNOW THAT I AS YOUR BROTHER, WOULD ASSIST YOU… AND THAT MAKES SENSE… AND IT ALSO MAKES SENSE THAT THOSE CHILDREN LOCKED IN THOSE CAGES ARE NO LESS THAN YOU ARE I… THEY ARE AN EXPRESSION OF HOW LOW OUR SPECIES HAS SUNK… AND ARE WE DONE YET?
She witnessed thousands of children killed in this manner…
Ordering L-I-V-I-N-G children of colour, on menus, to be served dead on a platter!!!
Children boiled alive in shit and piss!
Children cut apart and fed to other children!
Katy Groves Thank you for joining with the world, to send love to Katy Groves… our sweet sister… our brave sister… who has seen so much, I couldn't even imagine… and yet has the power to transform her world… our world… into something better… something that involves humanity assisting each other to free ourselves from all that holds us back… she's done a lot of videos… and has already shared much…
Know that this is God's planet, and God is in charge… anything contrary is simply a massive collective illlusion.
Know that you are on God's planet as his servant…. anything contrary is your illusion.
Know that you are on mother earth, who is a loving mother… anything contrary is illusion.
Know that our mother wants everyone living on her skin, to respect other life forms… all else is illusion.
Know that the grand tranformation of earth from 3D to 5D is in process… humans have suddently realized darkness is not their true nature… and are thus, waking up from the illusion… and gaining immortality in a physical body… not something granted all the time… this is a special occasion to release all negativity… it's in progress and cannot be stopped by anyone…
At the soul level, we know these words to be truth.
what to do now? what about the great invocation if you're tired of this shit?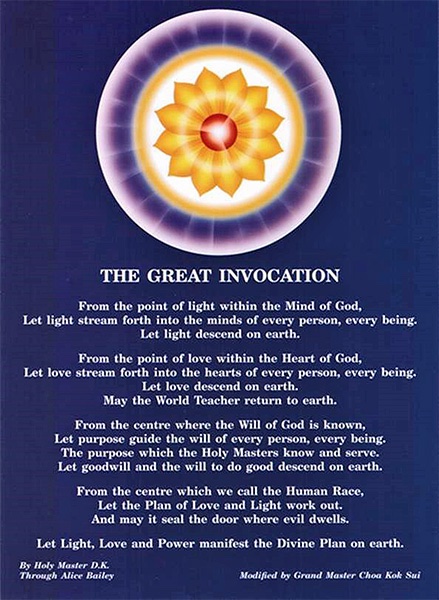 The Great Invocation is a mantra given in 1937 to Alice Bailey by the Holy Master Djwal Khul. as an instrument to help the Divine Plan fulfill on earth. Regular practice of this prayer is also believed to be a great act of service to humanity.
The importance of this invocation is to the extent that Holy Master Djwhal Khul calls on people of all nationalities to recite this prayer˜aloud, thus making a volume of sound of real potency, and to say it with all the power of their wills behind it. It is a world prayer, translated into almost 70 languages and dialects. It is an instrument of power to aid the Plan of God find full expression on Earth. To use it is an act of service to humanity.
Regular practice of the Great Invocation has also been highly recommended by Master Choa Kok Sui, the founder of Modern Pranic Healing andArhatic Yoga.
As the spiritual evolution of the Earth accelerating, so are the physical changes. There is hardly a week going by without the news of another natural disaster as well as acts of terrorism, crime, military conflicts, poverty etc. At this time Mother Earth needs tremendous amount of blessings, healing and protection. The Great Invocation, recited with humility and reverence, releases and harmonizes the Light, Love and Will aspect of God manifested through Humanity. The Great Invocation has enormous healing and protection power. It is one of the most effective ways to harmonize and re-orient humanity toward Unconditional Love, Intelligent Mind and Common Goals of spiritual evolution according to the Divine Plan.
The modified version of The Great Invocation by Master Choa Kok Sui can be used as a simple meditation by The Pranic Healers and non-pranic healers since this invocation belongs to all humanity.
Simple Meditation:
Do simple physical exercises for about 5 minutes.
Invoke for Divine help and protection.
Please raise your hands and imagine the earth as a small ball in front of you to release the excess energy. Be aware of your crown, your hands and your feet. Recite the GreatInvocation 3 times.
"From the point of Light within the Mind of God
Let light stream forth into the minds of every person every being.
Let Light descend on Earth.
From the point of Love within the Heart of God
Let love stream forth into the hearts of every person every being.
Let Love descend on Earth.
May the Great Messenger of God returns to Earth.
From the center where the Will of God is known
Let purpose guide the wills of every person every being.
The purpose which the Holy Masters know and serve.
Let goodwill and the will to do good descend on Earth.
From the center which we call the Human Race,
Let the Plan of Love and Light work out.
And may it seal the door where evil dwells.

Let Light and Love and Power descend on Earth Manifest the Divine Plan on Earth."
Master Choa Kok Sui
- Close by saying Thanksgiving
- Do physical exercises to release excessive energy
Please do the Great Invocation daily and get involved in Service to further maximize the opportunity for deep peace, healing and purification. (By using the Invocation and encouraging others to use it, no particular group or organization is sponsored. It belongs to all humanity).