Story Views

Now:
Last Hour:
Last 24 Hours:
Total:
Consider Yourself Warned...The Great Day & Terrible Day Is Coming!
Monday, January 7, 2019 15:20
% of readers think this story is Fact. Add your two cents.

Natural Disasters…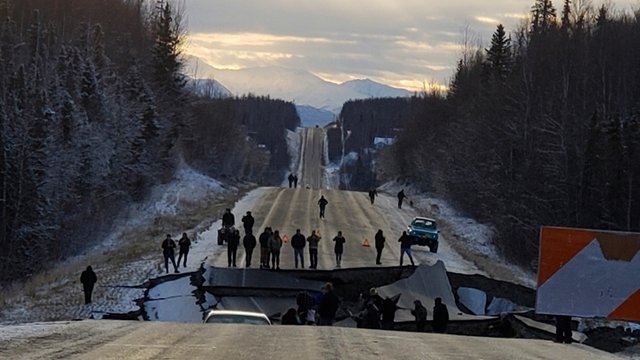 Source
Earthquakes are a destructive force of nature and we have been seeing a lot of BIG rumbles lately. We know from Matthew 24:7 that we' be seeing earthquakes as signs.
7For nation will arise against nation, and Kingdom against Kingdom, and there will be famines and plagues and EARTHQUAKES in various places.
Wars and rumors of wars are certainly something we have been seeing on the rise as well, but back to the natural disaster topic. Remember how back in November, Alaska was hit with a 7.0 magnitude earthquake? They are still feeling lots of rumbles. Well, it's rather normal for an affected area with such a strong magnitude of an earthquake to experience aftershocks in the range of ~3.0-5.0 magnitude for weeks or even months after the initial quake according to this article…
However, there is one fly in the ointment: the 7.0 may not be the main shock, but rather a foreshock – akin to an 'appetizer' preceding a larger earthquake, but the odds are low. Romanowicz warns that 'while another large earthquake is improbable in the near future, it could still happen.' It's impossible to know for sure that the 7.0 was the main shock, and not a precursor to a larger slip along the fault.
Of course, Alaska is known for their never-ending earthquakes, but according to this website, it seems the earthquakes, globally, have been trending upward over the years.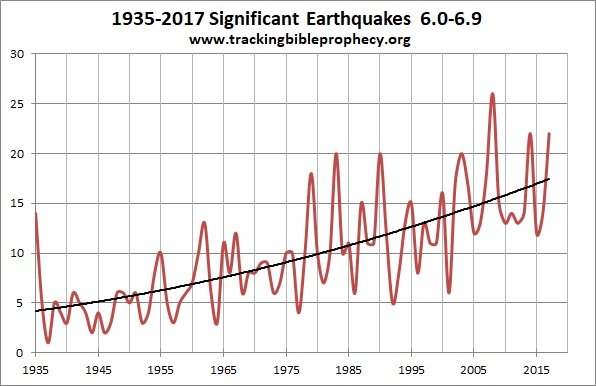 Source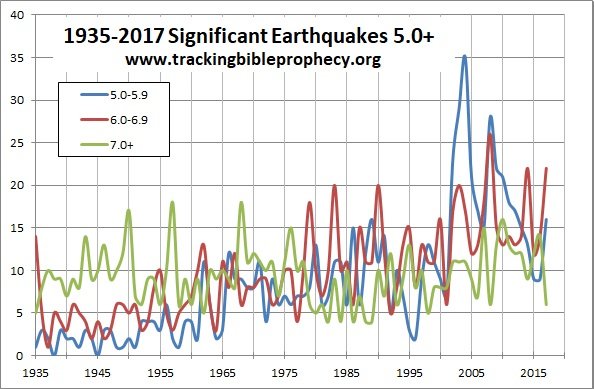 Source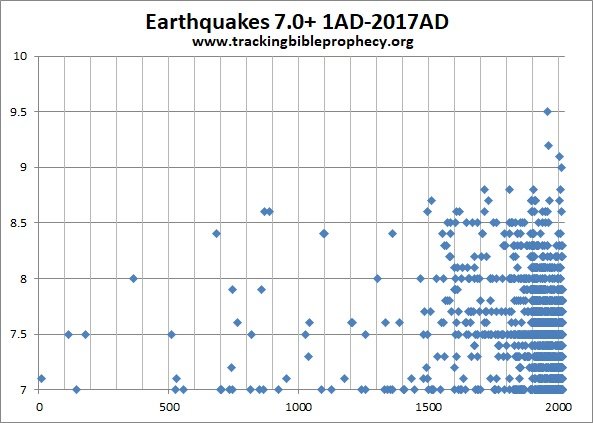 Source
Here is another website that tracked this information.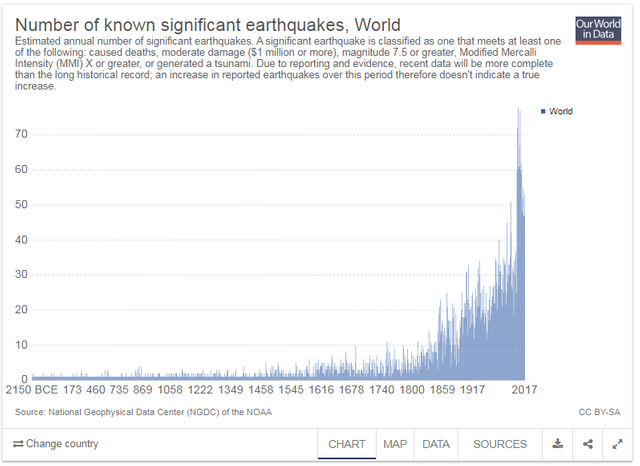 Source
As their disclaimer suggests, it isn't a perfect graph because data in the past may not have been recorded accurately if at all, etc. Although, it still goes to show that it has been increasing in frequency. No updated graphs were available yet for including the year 2018, but Wikipedia did list some of the major ones and gave a small comparison.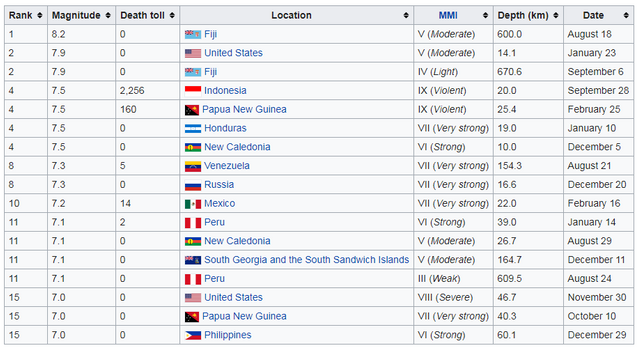 Source
It is clear that from 2000 onward we have been seeing a lot of earthquakes whether you want to think of it as prophetic or not! Ironically, the year Christ's Spirit returned [2011] it shows the largest number of earthquakes in nearly all of the categories! Let that sink in for a moment…


Source
If earthquakes aren't enough, check out this graph I found from the same site as the last image above.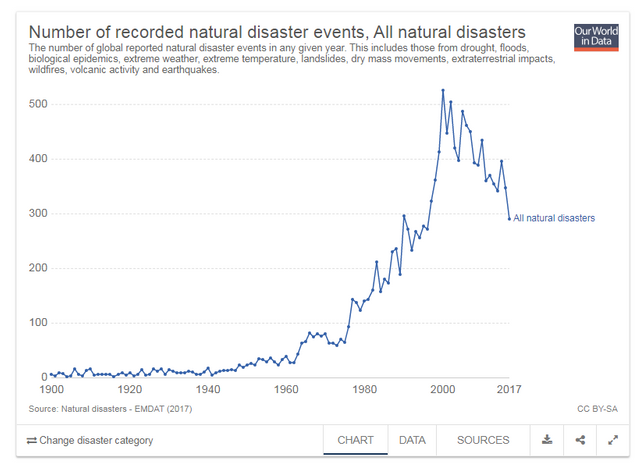 Source
It seems that from the year 2000 onward, we are seeing an exponential increase in natural disasters. Sure, due to the increased population and other environmental factors we could say that may be relative, but overall, what's the bigger picture? We were warned in the Bible, other religious and even secular texts about these signs we have been seeing on a more consistent basis. Just today, the Imperial Regent of Lord RayEl posted the video below showing Elysium being captured!
Elysium is REAL! Hollywood does a good job of showing some hidden truths throughout their films. From ABN:
As we've said many times, Hollywood gives you glimpses of the hidden truth, to prepare you for what is coming, and the 2013 movie 'Elysium' is one of the best examples.

The ancient people were very aware of where The Lord and the lesser gods dwelt, and those who were allowed to see it, wrote many stories of the paradise of Elysium, also known as 'The White Island in the Black Sea', because all of its inhabitants were white, and it floated in the black sea of space.

http://www.theoi.com/Kosmos/Elysion.html

The movie 'Elysium' showed this utopian paradise above, a place where bodies are 'perfected', and life is beautiful. It also showed the dystopian Earth below, after it had become 'the outer darkness, where there will be weeping and gnashing of teeth' (Matthew 25:30). You of course noticed in the movie that almost all of Elysium's inhabitants were 'white' (The White Island), with some Asian people, and a few exceptional people from other races, while Earth was almost entirely Hispanic, with a few black people, and white criminals… This is the result of New Kingdom Epistle 1: 'Determination of Nations'.

Elysium is the 'Kingdom of Heaven', but there shall be an earthly kingdom as well, as New Jerusalem will land and become the capital city of Earth… And though The Lord's Throne is in Elysium, he will live among his subjects on Earth, in New Jerusalem. (Psalm 132:13 For the LORD has chosen Jerusalem; he has desired it for his home.).

Now you know the truth.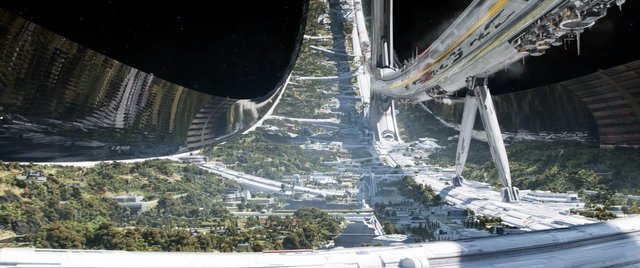 Source
So, if we are seeing Elysium in the sky, so close, that means the GREAT AND TERRIBLE DAY OF THE LORD IS IMMINENT! He will be sitting on his throne very soon so it is best to be prepared physically, mentally, and spiritually. Vicar General Cardinal Kelly Patrick had a prophetic dream recently with an urgent message. Please watch and heed the warning!
Don't think this timing isn't God's timing! We clearly don't know what exact day everything will be revealed and completed, but we do know it is nearing expeditiously. Are you doing all you can to be prepared? You can't say you weren't warned…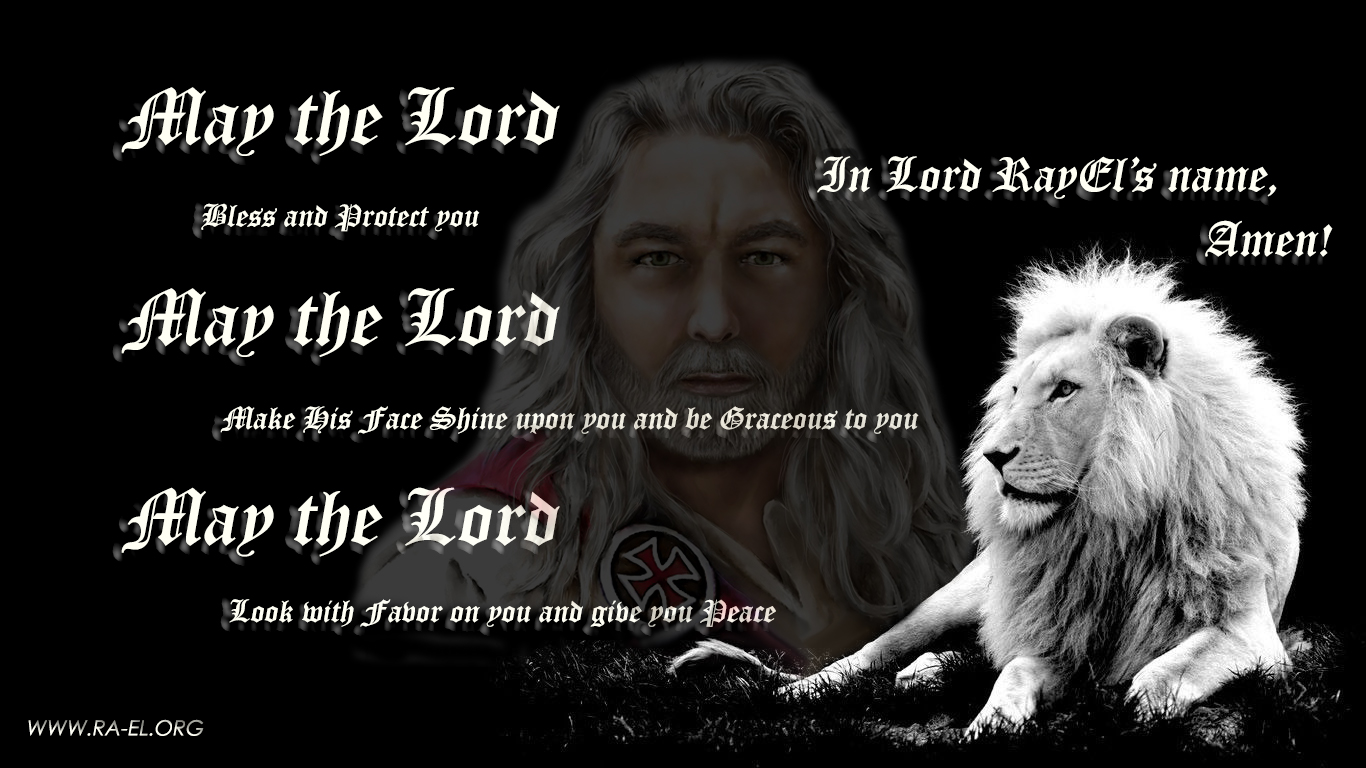 Note: All images not cited are my own or created by me.
Be well!
---

Be sure to support my article on STEEMIT!
For more information and truths about End Times check out Sanctuary-Interfaith, ABN, and The Coming of the Messiah
If you enjoy the work you see, consider donating, using this link, or donate to the Head of the EOC with this e-mail address: [email protected]