Story Views

Now:
Last Hour:
Last 24 Hours:
Total:
Shocking Longevity Miracles Of Qi Gong Masters
Sunday, April 29, 2012 3:54
% of readers think this story is Fact. Add your two cents.

Longevity miracle – Devraha Baba 250+ years old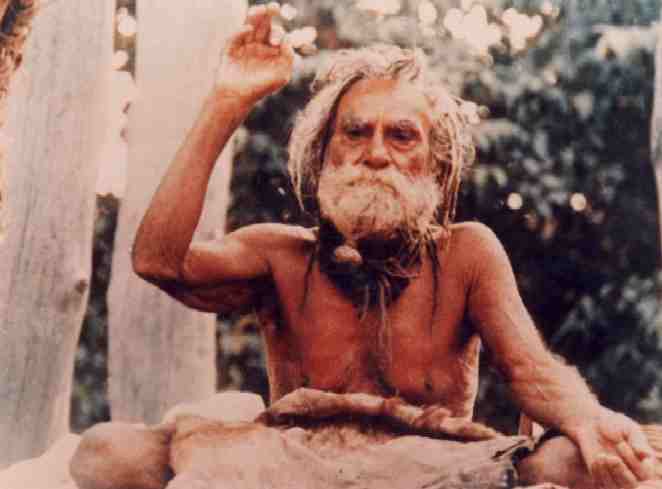 Longevity Miracle – Devraha Baba at 250+ Years Old
What if a person does not eat at all, but is able to switch his body metabolism into living directly off of sunshine, can he prolong his life? Recent studies made on behalf of NASA, as well as other prior scientific research studies, have proven that humans can live without food. They do not understand why or how, only that it is possible for humans to do so. One such recorded case is of Giri Bala, a woman who had not eaten for 56 years.
Among Christian Saints who lived without eating may be mentioned St. Lidwina of Schiedam, Blessed Elizabeth of Rent, St. Catherine of Siena, Dominica Lazarri, Blessed Angela of Feligno, and the 19th century Louise Lateau. St. Nicholas of Flue (Bruder Klaus, the 15th century hermit whose impassioned plea for union saved the Swiss Confederation) was an abstainer from food for twenty years.
An Indian saint named Devraha Baba, who passed away in 1989, was a yogi who lived just such a lifestyle. Devraha Baba was from the spiritual heritage of the Avatar Ramanandacharya, and lived beside the Yamuna river in Mathura. He lived on a 12-foot-high wooden platform where he usually remained stark naked. He never ate food. He only drank water from the Yamuna river. He claimed he could be in two places simultaneously (a siddhi described in Patanjali's Yoga Sutras). He was observed to have stayed underwater unaided for half an hour. He always radiated love. He gave darshan (spiritual blessing) to devotees who came to pay homage. Many came to visit this great illustrious saint. People came from all over India and from all walks of life. He was a favorite among India's senior politicians, and was visited by Mrs. Indira and Mr. Rajiv Gandhi. Ministers, saints, yogis, priests, rich and poor all came for Baba's darshan.
It was rumored that Devraha Baba claimed that he had lived for over 700 years. Until I can substantiate this rumor I need to consider it just a rumor. Nevertheless, I make mention of this rumor because Devraha Baba's family tree records place his age to be at least 250 years when he took mahasamadhi (relinquished his body) in 1989. If he was able to live to be 250, then it is possible that he lived for 700 years as well. Baba was called, "The Ageless Yogi." Devraha Baba gained mastery over the khecheri state of yoga whereby he was able to control his hunger and the time of his death. Dr. Rajendra Prashad, who was the first president of India, verified Devraha Baba's old age. He said that he personally attests to Devraha Baba being at least 150 years old. He said that when he was 73 years old, his father took him to see Baba, who was a very old man, and that his father already had known Baba for many years before that. An Allahabad High Court Barrister had stated that seven generations of his family had sat at the feet of Devraha Baba. Incidentally, Devraha Baba had predicted the time of his death five years in advance.
The Chinese, in addition to Indians, also have a traditional pre-historic culture that has also been passed down called qigong. Qigong has many similarities to yoga.
Qi Gong Grand Master Li Hongzhi in his "Zhuan Falun" taught that:
Qigong practice is just the opposite of physical training, and it does not require violent movements. Its movements are unhurried, slow and round. They are very slow to the extent that they become motionless and come to a standstill. It is known that in such a cultivation way as meditation one stays in the state of tranquillity, and one's heart beating as well as blood circulation etc. all will be slowed down. In India there are many Yoga masters who can sit in water or be buried under the ground for many days. They make themselves completely tranquilized, and can even control their heart beats. Suppose that one's cells divide once a day. A practitioner may make the cells in the human body divide once every two days, once every week, once every half a month, or even once in a longer period of time. Thus, he has already extended his life. This only refers to those cultivation systems which cultivate nature without cultivating life. They can also reach this step, and prolong their own lives. Some people may think: Aren't one's life and lifetime pre-determined? How could one live much longer without cultivating his life? Yes, because the life of the practitioner will be extended by reaching the level beyond the Three Realms though he will look quite old from his appearance.
Zhuan Falun, Lecture Nine, Part 1, paragraph 4
Another account of a practitioner who can live over 250 years:
Li Ching-Yuen or Li Ching-Yun 李清雲 (1677 or 1683 – May 6, 1933)

Li Ching-Yuen at the age of 250
One of the most famous tales in all of Chinese medicine is that of a master herbalist, healer and mountain man known as Li Ching-Yuen. His death in 1933 was reported in newspapers across the world, including obituaries that ran in both Time magazine and the New York Times. He was said to have buried 23 wives and had been living with his 24th, a woman of 60, and had 180 descendants stretching back eleven generations. The fingernails of his venerable right hand were six inches long, yet he appeared to be man somewhere in his 60's. A posthumous account written three years after his death by Chinese General Yang Sen entitled "A Factual Account of the 250 Year-Old Good-Luck Man.", described him as having stood seven feet tall with good eyesight, a brisk stride and a ruddy complexion. Li Ching-Yuen was 256 years old.
Imperial records indicate Li Chung Yun was born in 1677 in Chyi Jiang Hsie, Szechuan province. He spent most of his life in the mountain ranges gathering herbs and knowledge of longevity methods. In 1748, when he was 71 years old, he moved to Kai Hsien to join the Chinese army as teacher of the martial arts and as a tactical advisor. Records state that the Imperial Chinese government congratulated him both on his 150th and 200th birthdays. Correspondents from the New York Times in 1928 reported that the oldest residents in Szechuan claimed that their grandfathers had known him when they were children, and looked much the same as he had upon his death.
Biography
Some claim that Li Ching-Yuen was born in 1677 in Qi Jiang Xian, Szechuan province. By his own account, he was born in 1736. However, in a 1930 New York Times article, Professor Wu Chung-chieh of the University of Chengdu discovered Imperial Chinese government records from 1827, congratulating one Li Ching-Yuen on his 150th birthday, and further documents later congratulating him on his 200th birthday in 1877. In 1928, a New York Times correspondent wrote that many of the old men in Li's neighborhood asserted that their grandfathers knew him when they were boys, and that he at that time was a grown man.
He began gathering herbs in the mountain ranges at the age of ten, and also began learning of longevity methods, surviving on a diet of herbs and rice wine. He lived this way for the first 40 years of his life. In 1749, when he was 71 years old, he moved to Kai Xian to join the Chinese army as a teacher of the martial arts and as a tactical advisor.
One of his disciples, the Taijiquan Master Da Liu told of Master Li's story: at 130 years old Master Li encountered an older hermit, over 500 years old, in the mountains who taught him Baguazhang and a set of Qigong with breathing instructions, movements training coordinated with specific sounds, and dietary recommendations. Da Liu reports that his master said that his longevity "is due to the fact that I performed the exercises every day – regularly, correctly, and with sincerity – for 120 years."
In 1927, Li Ching Yuen was invited by General Yang Sen to visit him in Wan Xian, Szechuan where his famous portrait was photographed. The general was fascinated by his youthfulness, strength and prowess in spite of his advanced age. Returning home, he died a year later, some say of natural causes; others claim that he told friends that "I have done all I have to do in this world. I will now go home." After Li's death, General Yang Sen investigated the truth about his claimed background and age and wrote a report about his findings that was later published.
He worked as a herbalist, promoting the use of wild reishi, goji berry, wild ginseng, he shou wu and gotu kola along with other Chinese herbs. Li had also supposedly produced over 200 descendents during his life span, surviving 23 wives.

Li Ching Yuenat his young age
References about Qi Gong Master Li Ching Yuen
Dr. Yang Jwing-Ming, in his book "Muscle/Tendon Changing and Marrow/Brain Washing Qigong", says that Li Ching-Yuen was a Chinese herbalist skilled in Qigong who spent most of his life in the mountains. In 1927, the National Revolutionary Army General Yang Sen (揚森), invited him to his residence in Wann Hsien, Szechuan province, where the picture shown in this article was taken.
Chinese General Yang Sen wrote a report about him, "A Factual Account of the 250 Year-Old Good-Luck Man", where he described Li Ching Yuen's appearance: "He has good eyesight and a brisk stride; Li stands seven feet tall, has very long fingernails, and a ruddy complexion."
Stuart Alve Olson's 2002 book "Qigong Teachings of a Taoist Immortal: The Eight Essential Exercises of Master Li Ching Yuen" teaches the practice of the "Eight Brocade Qigong" learned with the Taijiquan Master T. T. Liang (Liang Tung Tsai), who learned it from the General Yang Sen.
According to legend, Li Ching Yuen was the creator of Jiulong Baguazhang (or Nine Dragons Baguazhang).
The Taoist Master Liu Pai Lin (劉百齡), who lived in São Paulo, Brazil from 1975 until 2000, had in his classroom another photograph of Master Li Ching Yuen unknown to the West. In this photo his face is clearly visible, as are his long and curled fingernails. Master Liu had met him personally in China, and considered him as one of his Masters. He used to say that Master Li answered to him that the fundamental taoist practice is to learn to keep the "Emptiness" (Wuji). Master Liu's son, Master Liu Chih Ming, teaches the 12 Silks Qigong in CEMETRAC, as transmitted by Master Li.
Some theories say that there may be "transfer" of parent-child roles, son, grandson, thus explaining their longevity
Many cultures around the world, particularly in India, Tibet and China, tell of remarkable longevity achieved by spiritual (yogic and taoist) adepts. Yogananda's "Autobiography of a Yogi" with Immortal sage, Babaji and Peter Kelder's "The Ancient Secret of the Fountain of Youth" being examples.
———–oOo———–
But 250 years reached the longevity limit of humanity? As a authentic Qigong practitioner myself, I can say: that's far from reaching the limit. Because in fact, there is no limit.
To know much more wonderful miracles of some other junior Qi Gong masters, please read:
/story/1993/368/Supernatural_Abilities_Of_Qi_Gong_Masters.html
Check out the life changing BeforeitsNews natural health products! Join our affiliate program to earn with them too!
APeX
- Far superior to colloidal silver in destroying viruses, bacteria and other pathogens. See the videos and 50 page report!
Ultimate Curcumin
- Most powerful natural pain relief you can buy. Reduce inflammation, depression, arthritis and so much more!
Supreme Fulvic
- Nature's most important supplement! Read our amazing testimonials and experience vivid dreams again!
MitoCopper
- First bioavailable copper cleans up your blood from pathogens and gives you more energy! Watch all videos on our website!

Prodovite - The Secret To Healing is in the Blood! Our nutrition is absorbed in 5 minutes! See the proof!