Story Views

Now:
Last Hour:
Last 24 Hours:
Total:
Harvested Alive -10 Years Investigation Of Forced Organ Harvesting
Sunday, January 6, 2019 12:13
% of readers think this story is Fact. Add your two cents.

Harvested Alive -10 Years Investigation Of
Forced Organ Harvesting
(Note :The tag along video player and/or randomly inserted ad blocks are not part of this article. They are aggravating and a hindrance to the continuity of the article. I apologize for the aggravation. I have no control over their placement in the body of this article.)
Published on May 27, 2017
Harvested Alive -Ten year's investigate of force organ harvesting As a doctor, Zhiyuan Wang spent 30 years studying how to save lives. He never imagined that he would spend another 10 years investigating how doctors killing innocent lives……
As a doctor, Zhiyuan Wang spent 30 years studying how to save lives. He never imagined that he would spend another 10 years investigating how Chinese doctors take innocent lives.
95% of his evidence comes directly from China. His sources are Chinese doctors, judges, legislators, military officials, government officials, the media, and hospital websites. His research reveals an inconceivable truth – China's hospitals, judiciary, and military worked together under the authority of the previous Chinese president Jiang Zemin to mercilessly slaughter a large number of Falun Gong practitioners through the harvesting of their organs.
Today in a time of peace, it is difficult for people to believe that such a large-scale massacre has been silently taking place in China. But the truth shows that this frenzied killing machine, driven by huge profits, is still running rampant in society.
---
Photo of Peng Ming. (Network picture)
Today, I am filled with emotion on a live Webcast about the memorial documentary of a Chinese democratic personality, a Christian named Peng Ming.
Again, it's a sudden death, another forced organ harvesting. Peng Ming 's family wrote in an open letter, "Without the consent of any person, Peng Ming's heart and brain were forcibly harvested. I have already run out of tears. Apart from the grief, I am thinking about when the Chinese people will wake up to see that the CCP is the devil that consumes people."
Many people do not believe that the CCP is forcibly harvesting organs from China's own people. In fact, many times, I have understood that it is because the party is evil that goes beyond the limits of human ethics. From history through today, from the Three-Anti and Five-Anti campaigns, the Cultural Revolution, the Massacre in Tiananmen Square in 1989, and the persecution of Falun Gong since 1999, which one is not challenging the baseline of human morality?
Many people keep silent because its not related to them. I remembered an incident of late, during the premiere of《Harvested Alive – Ten Years of Investigation》, an audience member told me that he knew of a case in Tianjin where an innocent child was arrested and his kidney was cut out. So, if today you do not step out to stop this, tomorrow will you be able to step out? Are you waiting until this murder machine comes to you and your family? Won't it be too late then? Today it is Peng Ming, who will it be tomorrow?
How many innocent families have been run out of tears! Facing this kind of evil, every Chinese citizen who is human should stand out against it, shouldn't we?
Some people may say, I don't know about it, and I don't believe that organ harvesting from live people is happening. Then please take a look at the documentary 《Harvested Alive – Ten Years of Investigation》https://youtu.be/0s84avaf0l4
After seeing it, all intelligent people will understand what is happening in China. For the future of all Chinese people, please say no to live organ harvesting!
December 18, 2016, New York
Producer: Li Jun
Other ways to watch: https://www.harvestedalive.com
or visit the portal: https://github.com/ogate/ogate/blob/master/README.md?web
By Chen Li, Epochtimes, Washington DC. June 25, 2017
"These are not doctors acting in their individual capacity, but the entire state apparatus that is committing this heinous crime."
Due to the urgency of the situation, "Every day was a race against time. I used the fastest method possible to produce this film."
Those were the heartfelt words from Jun Li, the director of the documentary film "Harvested Alive – Ten Years of Investigation". On June 23, the English version of the film premiered in Rayburn Building of the US Congress, Washington DC, leaving the audience shocked after watching this documentary. According to sources, it has already been awarded the most outstanding foreign language film and best director awards during the Hollywood International Independent Documentary Festival.
This film summarizes the results of ten years of work done by members of the "World Organization to Investigate the Persecution of Falun Gong (WOIPFG)" in investigating the truth behind the harvesting of organs from living Falun Gong practitioners by the Chinese Communist Party (CCP). 95% of the evidence presented comes directly from mainland China, and the sources include Chinese doctors, reports from the Chinese media, official websites of Chinese hospitals, Chinese courts of law, the CCP's Politics and Law Committee, the "610″ office (the institution illegally set up by the CCP for the sole purpose of persecuting Falun Gong), the former Central Defense Minister and 5 members from the Politburo Standing Committee.
On June 23, at the documentary's premiere at the US Congress building, director Jun Li said in an onsite interview that what made this documentary different from all previous documentaries on live organ harvesting, was that nearly one-third of the film's duration was spent explaining how this is a crime that is committed by the country itself – a crime that is committed by the ruling regime – and a crime that is directly instigated by the CCP's highest level of authority.
He said: "It is not an issue about just hospitals competing for more business amongst themselves, this issue involves the entire government, from Jiang Zemin to the Politics and Law Committee, the police, the army, the local '610' officials, the court, and down to the hospitals – it is the entire state apparatus that is involved. This is not done by individuals alone, this is done by the regime itself, it is a crime committed by the state. A regime that harvests organs from its own citizens while they are still alive, and done in massive quantities during a time of peace – I think this is evil that is unprecedented in human history. What kind of government would harvest organs from its own citizens during peacetime?
On September 13, 2006, when the then-minister of commerce Bo Xilai accompanied the then-premier Wen Jiabao on a visit to Hamburg, Germany, in a recorded conversation, Bo personally admitted that "Chairman Jiang (Zemin) issued the order of live organ harvesting from Falun Gong practitioners".
Bai Shuzhong, an ex-general overseeing the health department in the People's Liberation Army, also admitted in a recorded conversation that ex-leader of the CCP, Jiang Zemin, personally instructed that organs be harvested from Falun Gong practitioners for use in transplantation.
WOIPFG president, Wang Zhiyuan, said that an official from the US Congress and Administration's Chinese Committee (CECC) said to him that they have been monitoring the issue of live organ harvesting by the CCP over the years, and after watching the documentary, he was shocked. He expressed his thanks to WOIPFG for spending ten years to investigate this issue with such startling results.
Mr. Roberson Korger, who watched the film in Congress on the same day, said he was shocked. "This documentary widens one's perspective," he said. "Forced organ harvesting is shocking. This is genocide, and the scale at which it is done, is equivalent to mass murder, this is appalling. "
"We should increase public awareness of this matter, so that more people can take part. This is a horrible atrocity, I believe any American who understands the situation should support the abolishment of forced organ harvesting."
"The Communist Party is very authoritarian and I believe that an authoritarian political party will do such a thing. This has changed my view of China, I think this issue is something that should not happen in 2017, our present day and age" he said.
Another member of the audience, Russell King, said: "There is no doubt that this is a tragedy." He believes that the US government can provide assistance at many levels; regarding the incident where an American student died after returning from North Korea, to the US, it also served as a warning on how it should handle US-China relations, as many similar tragedies have occurred in China.
According to sources, "Harvested Alive – Ten Years of Investigation" has been translated into more than 10 languages, including English, French, Spanish, Japanese, and Korean. Readers can also visit the official website www.harvestedalive.com, to watch this documentary.
Editor: Su Yang
---
September 21, 2018 |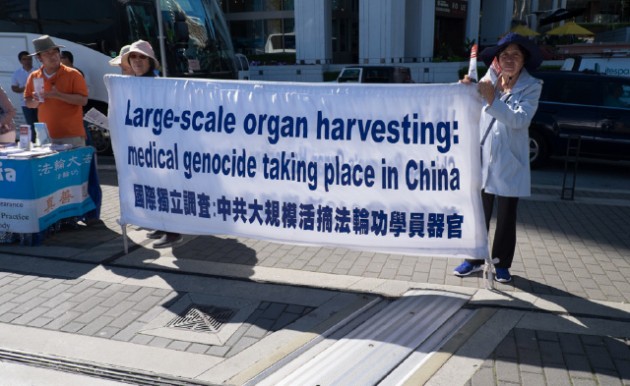 Johann Knox / Shutterstock.com
Hataru Nomura
Journalist
Born in 1963, Nomura graduated from Rikkyo University in Tokyo. After serving as editor-in-chief for a magazine aimed at a global readership, he eventually became a freelance journalist. He has numerous publications in Japanese.
Under the Xi Jinping autocracy China has been intensifying persecutions of Christians and ethnic minority groups such as those in Tibet and Xinjiang. Meanwhile, an airport in Xinjiang Uyghur Autonomous Region has installed an absurd priority lane sign. The photograph to the below shows a priority lane sign marked "Special Passengers, Human Organ Exportation Lane," that was installed in Kashgar Airport located in Xinjing Uyghur Autonomous Region – an area in the westernmost region of China that lies in a strategically important place along the Silk Road.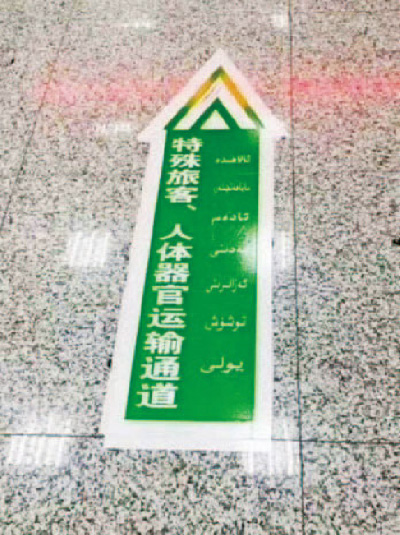 A priority lane sign installed in kashgar airport
The sign is written in simplified Chinese and Arabic. "Special Passengers" obviously refers to diplomats, Party officials and state guests; but why does it also have the words "Human Organ Exportation Lane"?
This lane is a lane that must be kept open for the speedy transportation of recently extracted organs for implants. The sign is so explicit that when the photo first went viral, many people thought it was a fake. When Japanese travellers landed in Kashgar Airport in January this year, however, they confirmed that it was real and took photos themselves.
The Chinese Communist Party's persecution of Uyghurs is getting worse by the day. Since last year many regulations have been imposed to end the religious, traditional and cultural heritage of the Uyghur people: prohibition of schools teaching in the Uyghur language, prohibition of Muslim rites and Koran readings at home and prohibition of under-18s entering Mosques, to name a few.
Even before the "Human Organ" priority lane was installed Beijing authorities mandated a medical examination for all citizens aged between 12 and 65 to collect blood types, DNA, fingerprints, eye colour, and other physiological information.
Investigations by Human Rights Watch last December revealed that the Beijing government has collected the data of 19 million Uyghurs. The government has a database of private information belonging to a total of 40 million people from groups known for their anti-government stance – such as Uyghurs, Tibetan pro-independence minorities, pro-democracy and anti-Establishment groups, detained Qigong and Falun Gong believers and Christians.
Blood type and DNA information is crucial for organ transplants, and the government would harass those refusing to take a medical examination. But why is this colossal database so important?
The Devil's Business Model
In 2015 China announced that it was abolishing its practice of extracting organs from executed criminals and switching to a fully voluntary organ donor system. In 2018, however, the China Organ Harvest Research Center based in New York published a detailed report showing that China has been lying. The Research Center states that the voluntary organ donor system exists in China, but it exists in name only and is barely operating.
Mystery shopping conducted on the phone over a period ending in June 2017 revealed that most hospitals undertaking transplant operations have not been in contact with the voluntary donor foundations. While China boasts that they will "surpass the U.S. in 2020 to become the world's greatest transplant nation" (Huang Jiefu, former Vice-Minister of Health), it is clear that the organs they use do not come through the official donor system.
China's major rise in transplant surgeries, which started in 2000, is unmistakably connected to the Falun Gong persecutions that began the previous year. In April 1999, around 10,000 Falun Gong practitioners who resisted the mass arrests in Tianjin gathered to protest in Zhongnanhai, Beijing. Around the time of this incident Falun Gong practitioners numbered over 70 million, exceeding the number of Communist Party members.
Feeling threatened, the then-General Secretary Jiang Zemin ordered Falun Gong practitioners to be extinguished. Thus Falun Gong persecutions commenced throughout the whole of China. We have no accurate estimate of the number of arrests, but analysts suggest that, at the time, at least 1 million people were arrested of whom several hundred thousand were sent to concentration camps.
Detained Falun Gong practitioners are either sent to Laogai (penal labour farms) or prison, which is operating as the world's greatest organ harvesting center. The extracted organs – hearts, lungs, livers, kidneys, etc. – are used in transplant operations for the wealthy class. Specialists estimate that these operations number over 100,000 per year, and bring in over $10 billion in profits to the industry.
Given there is this level of profit, it implicitly means that somewhere the government is committing murder, or execution. In other words, the dictatorial communist regime is killing people who hinder their supreme authority, at the same time turning it into a huge profitable business. This is none other than the devil's business model.
Underground Christians Targeted
The level of profit probably means that the government is unable to balance supply with rapidly expanding market demands and their inventories are emptying out. The above photo signifies that the people targeted for organ harvesting has extended to include the Uyghurs as well.
The fact that an airport frequented by foreign travellers is blatantly using a priority sign for human organs tells us that the authorities have no conscience. Not all Uyghurs are Muslims. According to New York-based Christian human rights organization China Aid, the 120 million Christians in China are now having to endure fierce harassment from Chinese police. 200,000 Christians were persecuted in last year alone, of whom 3700 were arrested.
Persecutions are especially intense towards members of the House Church, an underground church that operates without government permission. There are currently around 2000 such House Churches with 90 million believers. Among them the greatest damage has been done to members of the Church of Almighty God, a Christian new religious movement known for their strong critical stance against the government.
Many members have sought political asylum for fear of their lives, to the extent that in Japan the number of residents increased ten-fold in the past year from 30 to over 300. Many of them have therefore become refugees.
It is easy to guess that these 90 million underground Christians are the Beijing government's third target for organ harvesting, after the Falun Gong and Uyghur people. In addition to these horrors, however, China seems to be trying to export their devil's business model to the world as the "China standard".
Last November, the China Organ Transplant Development Foundation (COTDF) signed an agreement on organ distribution with Macau's health bureau. Since January, Macau has been importing organs from China and has even been recruiting transplant staff to comply with the China model. Hong Kong has also joined the COTDF agreement.
But China's ambitions don't just stop here. At the organ donation and transplant conference held in Kunming last year, former Chinese Vice Minister of health Huang Jiefu announced organ exportation as a part of the "One Belt, One Road" strategy. In other words, they have a frightening blueprint of the future where the devil's business model will spread throughout Eurasia, Africa, and Oceania as the world standard.
The U.S.-China "Human Rights War" Has Begun
With his recently unwavering hardline stance against China, U.S. President Donald Trump has commenced another attack, this time in the area of human rights. Vice President Mike Pence said in Washington on July 26th that, "Beijing is holding hundreds of thousands, and possibly millions, of Uyghur Muslims in so-called "re-education camps," where they're forced to endure around-the-clock political indoctrination and to denounce their religious beliefs and their cultural identity as the goal."
The previous day, U.S. Representative to the Economic and Social Council of the UN, Kelley E. Currie, spoke at the hearing: "Since April 2017 the Xi Jinping leadership, under the guise of fighting 'terrorism,' 'secession,' and 'religious extremism,' has greatly intensified the Chinese Communist Party's long-standing repressive policies against mainstream, non-violent Muslim cultural and religious practices in Xinjiang."
She expressed her concern that "over the past year, hundreds of thousands of law-abiding Uyghur citizens of China – men, women and even children – have disappeared into state custody, with barely any notice from the international community."
China responded immediately in a press conference the next day with the Press Secretary demanding that the U.S. stop using religion as an opportunity to intervene in China's domestic issues. Already we can see that a human rights war is about to follow the recent commencement of a trade war.
While China speaks of intervention in domestic affairs, the international community does not consider intervention in matters of human rights to be equated with intervention in domestic affairs.
If anything, it is the international community's duty to intervene when a dictatorial regime causes human rights concerns through inhumane actions.
"All human rights and basic freedoms are universal values," says Japan's Ministry of Foreign Affairs on the issue of human rights diplomacy and intervention in domestic affairs. "The situation on human rights in each country is a matter of concern for the whole international community, and must not be regarded as intervention in domestic affairs". (From Ministry of Foreign Affairs website.)
If this is so, the Japanese government must speak out against China's oppression of the Uyghur minority, and their international organ harvesting crimes targeting Uyghurs and Falun Gong practitioners.
China's Explanation
Specialists' Inspection Results
Number of Transplants
Until 2000s: Under 10,000 / year
Until 2010s: 10,000-15,000 / year
60,000-100,000/year
Organ Sources
Until 2015: Executed criminals
2013 onwards: National donor system
2015: 100% donors
At most, 5000 executions/year
→does not match no. of transplants
Donor system would only provide under 100 donors/year with their current members (37,000 in 2017)
Hospitals That Conduct Transplants
2007: 164 hospitals officially permitted
2017: increased permits to 173 hospitals (plans to increase to 300 by 2020)
Over 1000 hospitals were conducting transplant operations
Transplant Methods
2017: 70% from brain dead patients, 30% from post-brain dead patients
90% of China's doctors do not acknowledge the criteria for brain death. →
abuse of brain death criteria is spreading
based on data published by the China Organ Harvest Research Center
End of article.
---
Note:
I do not necessarily endorse any products or services mentioned in these videos, on this web site or in any subsequent written material by the original authors of the presented material or this web site. I do not condone the use of any type of "inserted" advertising or p/u players into the body of an article, that is the site owner's practice, not mine. I do not intend to, nor do I, derive any profits or income from posting this material.
I may not agree with everything presented in this material , however I have probably found that there is sufficient valuable information to justify bringing it forward for you to sift through in order to expand your awareness and to trigger your desire to dig deeper to learn more about the subject matter presented.
My posts are not meant to be polished works of art, they are more utilitarian, meant to be a gathering of data/info loosely pulled together to become a starting point for further investigation and research. Consider it more like semi-processed mined dirt, something still requiring further sifting to extract it's wealth.
I present this material for informational, research and educational purposes only. It is not my intent to maliciously attack nor offend anybody (unless you are a Luciferian Swamp Dweller), so please develop a thicker skin, realize it is not my intent to insult, forgive me, shed it like water off a duck's back and move on, a better person. The material is presented for your edification, you filter as you see fit according to your perspective. May God's blessings and wisdom be upon you.
Check out the life changing BeforeitsNews natural health products! Join our affiliate program to earn with them too!
APeX
- Far superior to colloidal silver in destroying viruses, bacteria and other pathogens. See the videos and 50 page report!
Ultimate Curcumin
- Most powerful natural pain relief you can buy. Reduce inflammation, depression, arthritis and so much more!
Supreme Fulvic
- Nature's most important supplement! Read our amazing testimonials and experience vivid dreams again!
MitoCopper
- First bioavailable copper cleans up your blood from pathogens and gives you more energy! Watch all videos on our website!

Prodovite - The Secret To Healing is in the Blood! Our nutrition is absorbed in 5 minutes! See the proof!