Story Views

Now:
Last Hour:
Last 24 Hours:
Total:
Small Cap Value Report (Thu 7 Feb 2019) - FDEV, IRV, ACSO, DPP, SDRY, GATC, OTB
Thursday, March 14, 2019 5:33
% of readers think this story is Fact. Add your two cents.

Good afternoon, it's Paul here. I'm running late today, apologies. This article should be complete by tea time. See the header for the companies I'll be reviewing.
To start with, here are some comments on a company which reported interim results yesterday.
Frontier Developments (LON:FDEV)
Share price: 1000p (up 12.4% yesterday, at market close)
No. shares: 38.7m
Market cap: £387m
Frontier Developments plc (AIM: FDEV, "Frontier", the "Company"), a leading developer and publisher of video games based in Cambridge, UK has published its interim results for the 6 months to 30 November 2018.
Clearly the market likes this announcement, as the share price has risen 12%.
I don't know where to start with this company, so am really just flagging what seem to be a fantastic set of results, and then readers can research more if it looks of interest to you.
Revenue growth of 240% – wow!
Revenue increased by 240% to £64.7 million for H1 FY19 (the 6 months ended 30 November 2018) compared to £19.0 million for H1 FY18. The significant growth reflects the success of Jurassic World Evolution together with the ongoing performance of Elite Dangerous and Planet Coaster, in line with the Company's strategy.
From what I can gather, games have a short burst of high sales after launch, but the best games become "franchises" – with repeated releases of updated versions, giving multiple bites of the same cake.
Operating profit has gone through the roof;
Operating profit of £17.2 million at a margin of 27% (H1 FY18: £3.0 million, 16%), with the growth in the percentage margin reflecting the substantial growth in revenue, albeit at lower gross profit margins.
Current Trading and Outlook
All three game franchises continue to perform well, following good trading performance during the competitive Holiday period incorporating Black Friday and Christmas price promotions. The Board is comfortable with analysts' revenue projections of £79 million to £88 million for the current financial year (FY19, the year ending 31 May 2019).
Frontier's strategy of continuing to grow its portfolio whilst supporting existing game franchises is delivering well. The development of Frontier's fourth game franchise, based on the Company's own un-announced IP, is on track, with release planned for later in calendar year 2019.
Balance sheet – no issues here, it looks strong.
Cash has risen strongly, and is healthy at £39.5m, with no bank debt.
Cashflow statement – looks healthy. The only unusual item is £4.9m outflow called "Employee Benefit Trust net investment".
My opinion – I don't have a view on this, as it's not a company I'm familiar with.
I just wanted to flag these superb results to readers, as some of you might want to take a closer look.
Looking at the chart, I'm wondering if this might be the type of share that sold off indiscriminately, despite good trading, and could therefore be lined up to recover in price?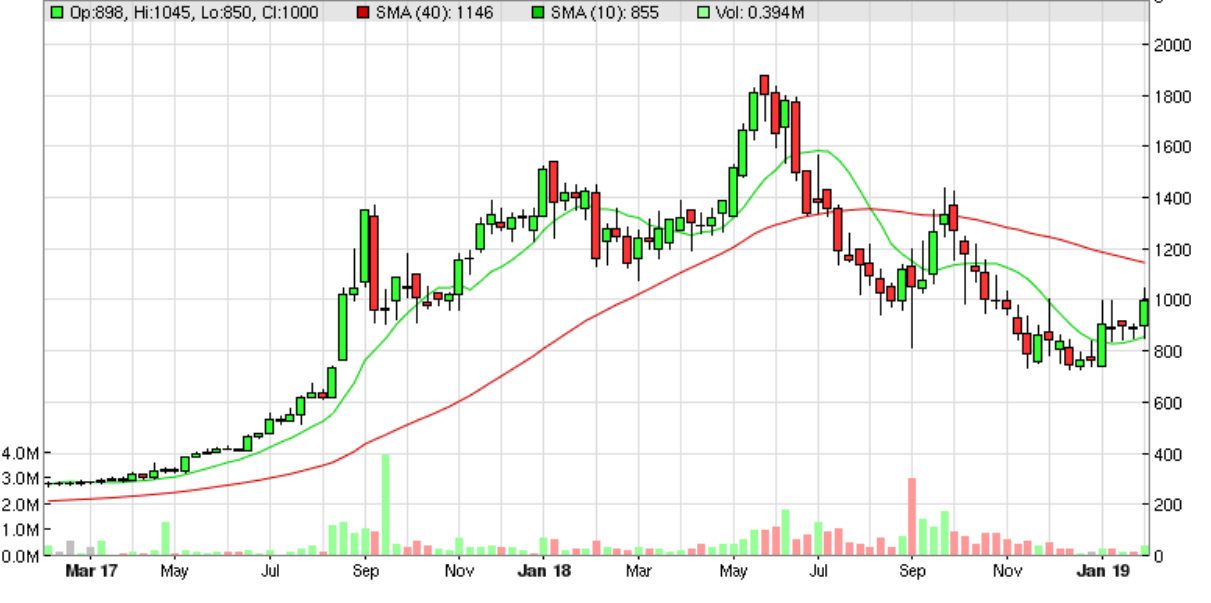 ---
Interserve
(LON:IRV)
I'm not going to waste time going through the details of the company's debt for equity swap.
Other than to emphasise again how important it is to avoid companies with obviously terrible balance sheets. Carillion was glaringly obviously a disaster in the making, as was Interserve. It seems to have only narrowly avoided insolvency.
Graham and I both warned SCVR readers about Interserve's precarious balance sheet, indeed my report on 14 Sep 2017 gave a crystal clear warning of the problems amp; likely outcome, when the share price was 83p (it's now 13p);
"There might be a case for looking at this share again, once it's done a (necessary) big equity fundraising (probably at a discount). At the moment though, it looks too precarious for my liking. So definitely a bargepole job for me. Why take the risk when you don't have to?" (SCVR, 14 Sep 2017)
Graham and I don't get everything right, by any means (nobody does, as predicting the future is necessarily just educated guesswork), but I think we provide a pretty good service to warn readers away from foreseeable disasters like this one.
---
accesso Technology
(LON:ACSO)
Share price: 945p (down 37% today, at 14:18)
No. shares: 27.3m
Market cap: £258m
Trading update amp; Director change
The Board of accesso Technology Group plc (AIM: ACSO), the premier technology solutions provider to leisure, entertainment, hospitality and cultural markets, provides the following update on trading for the financial year ended 31 December 2018 and Board composition.
Shareholders have really taken a battering here, with a savage market reaction today to a slightly below expectations trading update. Today's brutal 37% share price fall, comes on top of the big, widespread price falls that this, and many other highly rated tech stocks have seen since the widespread sell-off, or correction maybe, began c.May 2018.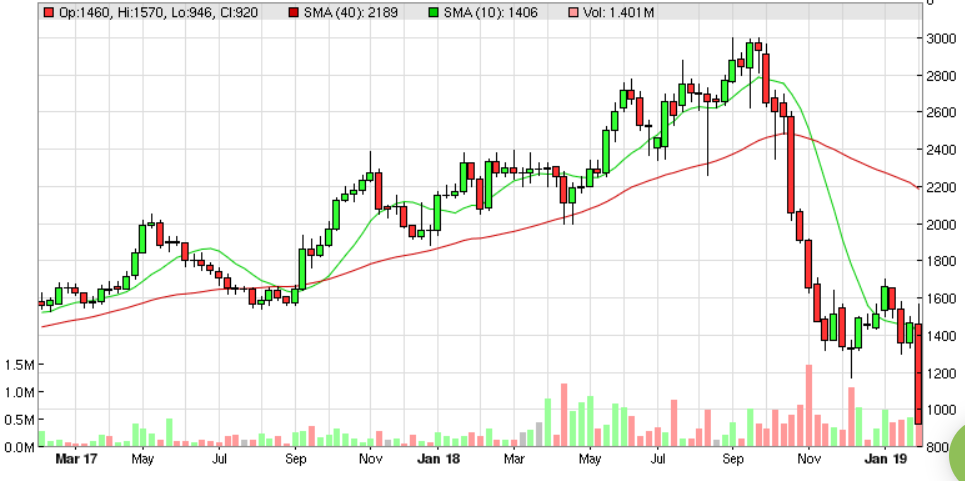 What's gone wrong?
2018 was a year where the Group continued to make good progress. Full year results are expected to be broadly in line with market expectations for FY18.

These results are before taking account of one-off exceptional costs of approximately $1.7m, relating to professional fees associated with a significant and well-advanced acquisition opportunity, which was ultimately terminated by the Board of accesso in October 2018.
That's mildly disappointing on trading, but hardly a disaster. The exceptional, abortive deal costs, are a one-off, and not a huge amount, so the above doesn't justify anywhere near a 37% fall in share price, in my view. What else is there?
Review of investment priorities -
… following a sustained period of growth, the Board has recently initiated a review of the Group's investment priorities in the context of the significant future opportunities available to it and the current areas of business momentum.
This is not helpful. It's far too vague, and introduces doubt – is there a shortage of cash (which would require scaling back development spending)? Companies don't usually do such reviews when things are steaming ahead well, do they?
This next bit also raises questions amp; uncertainty -
The Board expects to provide an update on this review and the Group's outlook as part of the full year results announcement on 27 March 2019, which will also set out a number of new enhanced disclosures relating to the Group's operational and financial performance.
What disclosures, and why? How has the outlook changed? In a nervous market, vague talk like this is going to set off panic in some investors, which is clearly what's happened today. Is this warming us up for more bad news? Inevitably some people will look at it that way.
Tom Burnet stepping down - this is also price-sensitive, since I know the Exec Chairman, Tom Burnet, is very highly regarded by private investors, and in the city. He's certainly delivered remarkable shareholder value, from the days when the share price was a fraction of its current level. He's dropping down to a Non-Exec role;
The Group also announces today that Executive Chairman, Tom Burnet, will move to a Non-Executive Director role at the Group with effect from 1 March 2019. The Group is pleased to announce that Bill Russell has been appointed as the Group's new Non-Executive Chairman, effective concurrently with Tom Burnet's move to the Non-Executive Director position.
Taken together with the uninspiring trading update, and the uncertainty of a strategic review, I'm guessing that the market is viewing Tom Burnet's reduced role as a further negative.
My opinion – I think this is a very poorly handled update. Investors are always reading between the lines of all trading updates, and with 3 negatives, it's no wonder that some people must have concluded that more bad news could be in the pipeline. It's got that feel to it;
Slightly below expectations trading
Strategic review
Key Director stepping down
As regards how to value this company? I honestly don't know. I've mentioned before that I have concerns over the lack of free cashflow generation. Also capitalised development spend is absolutely huge. A group which has been growing strongly for many years, and making acquisitions, should have begun throwing off free cashflow some time ago, but it hasn't really.
On the plus side, Accesso seems to have cornered an interesting niche, globally, and has good recurring revenues. I could imagine it becoming a takeover target at some point too.
Therefore it's a question of how you view it. If you like the company amp; its potential, then being able to buy now, at a discount of two thirds of the peak share price could be a bargain, who knows?
Overall, for me, my concerns over cashflow rule it out. It will be interesting to see what the next results say, and the conclusion of its review. Gut feel suggests to me that the group may have expanded too fast, and needs to rein in the rampant development spending, perhaps? Time will tell. An interesting one to watch from the sidelines, for me. Good luck to holders – quite a few of my friends are in this one, so I hope for their sake that today's mess of an RNS is just a blip. Today's update reads like a series of own goals. I imagine management will have spent most of today on the telephone to investors, trying to reassure them. So perhaps there could be a bounce from that effect?
---
DP Poland
(LON:DPP)
Share price: 8.6p (down 40% today, at 15:10)
No. shares: 152.8m existing + 88.33m placing + 8.33 broker option = 249.5m
Market cap: £13.1m before placing, £21.5m after placing
This company is UK listed, but operates in Poland, as an owner amp; franchisor of Dominos Pizza restaurants. The company has been offering pizzas today, and jam tomorrow, for many years. It has never made a profit.
The investing story has always been that it is sub-scale, and growing LFL sales fast, so there should be a tipping point when it moves into profit in future. This is now the 9th year of the company being listed, promising better things to come, which just haven't happened, as you can see from the repeated losses;

Does it make sense to keep opening more stores, when the figures look like this? Obviously not, I would say, but DPP has somehow managed to persuade investors to stump up more cash, to continue funding its losses, and open more shops.
Trading in 2018 – the key measure is LFL sales growth, which was positive at +6%. Although that's down considerably from previous growth rate of c.20-30%. Blaming the weather seems a lame excuse, but this is the claim made. Competitive pressures are also mentioned, indirectly, and that's the real problem. I go to Poland a couple of times each year, and when I ask locals about Dominos, they say the product is nice, but too expensive. There are loads of cheaper alternatives.
Guidance – it's still 3 years away from breakeven, which is joke considering how long the company has been trading;
As at 31 December 2018, the Company had cash of £1.8 million. The Group is targeting positive EBITDA in 2022 and targeting to be cash flow neutral in 2022.
Placing – as shown above, 88.33 placing shares, and another "broker option" shares of 8.33 will be issued at just 6p. Raising (before costs) £5.3m + £0.53m.
This is a 63% increase in share count, so existing shareholders not participating in the placing, get heavily diluted.
Discount – the market price was 14.35p per share, so this 6p placing is a massive 58% discount. That tells us everything we need to know – that there was very little appetite to invest. I imagine that Peel Hunt probably had to pull in some favours to find buyers at any price.
Director change – the CEO is thanked for the "great contribution" he has made, whilst being shown the door – stepping down in June 2019.
My opinion – as you've probably gathered, my long-term negative view on this company is only reinforced by today's lacklustre trading, and deeply discounted placing – which looks like the last chance saloon.
Maybe a new CEO can turn it around? Anyone buying in the market at 9p, when loads of shares have just been issued in a 6p placing, needs their head examining.
---
Superdry
(LON:SDRY)
Share price: 512.5p (up 0.8% today, at market close)
No. shares: 82.0m
Market cap: £420.3m
Superdry Plc ('Superdry'), the Global Digital Brand, today announces a trading update for the 13-week period from 28 October 2018 to 26 January 2019.
"Global digital brand" seems a rather grand description. I would call it a fashion retailer.
Today's update is very clear. The company says it's trading in line with expectations, and then provides this helpful footnote – all companies should do this, it's very helpful for investors, particularly those who might struggle to find out consensus forecasts;
The Board considers market expectations for the financial year ending 27 April 2019 are best defined by taking the range of forecasts published by analysts who consistently follow the Company. The consensus of underlying profit before tax forecasts as at 4 February 2019, of which the Board is aware and which have been published on the Company's corporate website, is £58.4m with a range of £54.3m to £63.0m.
Forecasts have been reduced a lot in the last year, due to well reported problems with product ranges, and mild weather until recently (fair enough in this case, as SuperDry relies heavily on winter sales of coats).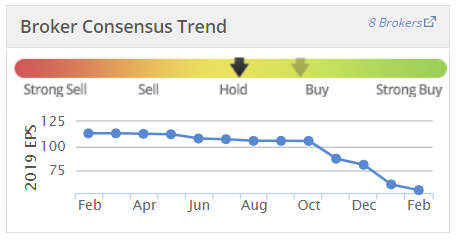 When it comes to share price, as you can see from the chart below, you would had to demonstrate exquisite timing to have caught it at the right time.
I reported on the last profit warning here in Dec 2018, and was tempted to catch the falling knife at 380p, but bottled it unfortunately, as that would have been a very nice entry point.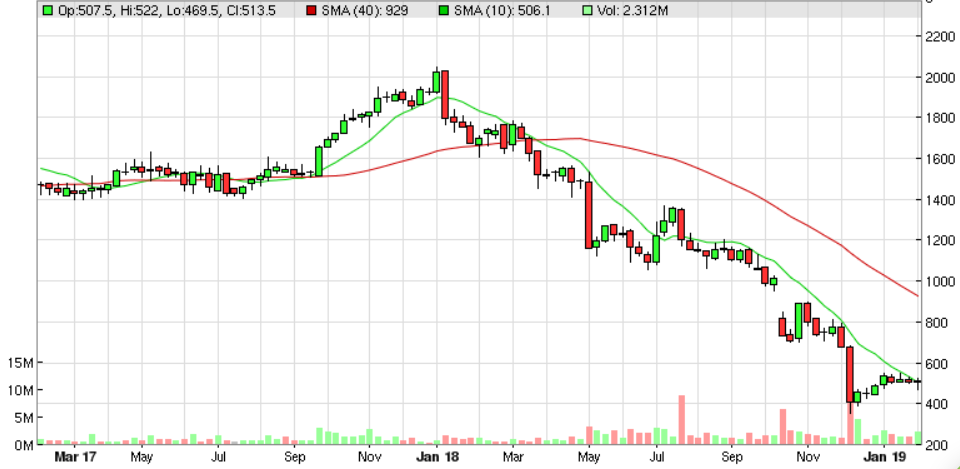 My opinion – this is still a desirable brand, and it sells a decent % online – although growth there has stalled in Q3 vs LY.
It looks as if LFL store sales are more of a concern, being down over 10%, if you combine the -8.5% drop in store sales, with the 2.6% increase in store space. Therefore, the main problem driving profits lower, is heavily negative store LFLs, combined with fixed costs of the store network. If negative sales trends continue at that pace, it wouldn't take long for the whole group to become loss-making, in a few years' time.
The upside potential is if managements turnaround plan is effective, and the brand zooms up again as being more desirable to fashion-conscious customers.
It's a well-financed group, and the valuation is currently quite modest. So if the product does get back on track, then there could be decent upside from here.
On balance, it's probably not something I'd want to get involved with. The current share price is probably about right for now.
---
Quick comments to round off.
Gattaca (LON:GATC) – trading update for 6m to 31 Jan 2019, from this staffing business.
It's been a serial disappointer in the last couple of years, reflected in a bombed out share price.
Perhaps surprisingly, today's update says the outlook is in line with full year (July 2019) expectations. That makes the PER of just under 5 look rather tempting.
Net debt has come down, but this is assisted by seasonality. I've never seen the debt here as a problem, since it's just partially supporting a huge receivables book. However, that management are talking about the need to get debt down, then maybe it is a problem?
Gattaca previously paid out big divis, but those have been slashed. Given its wobbly track record, I think I'll pass on this one. Mind you, the valuation metrics look astonishingly cheap now.
Investor sentiment towards this sector won't have been helped by Staffline (LON:STAF) shares being suspended, following something untoward having been discovered in its books recently. This share tends to be very illiquid too.
If the company manages to successfully continue its turnaround, then there could be a nice 50%+ upside on the share price of Gattaca. So it's really a bet on nothing more going wrong.
Potentially worth a closer look?
---
OnTheBeach – up nearly 5% today, to 460p, after an AGM trading update.
The text amp; details all read very positively. However, the conclusion says trading is in line with expectations. So nothing much to get excited about after all.
This share is on my watchlist of things to possibly buy in future. It looks a good growth company, and has established a decent track record.
The valuation looks reasonable too, for a growth company. Overall then, a thumbs up from me.
I see that Thomas Cook (LON:TCG) is up 9.4% today, so that must have posted reassuring results.
---
I'll leave it there for today. Thanks for tuning in!
Best wishes, Paul.
Source:
https://www.stockopedia.com/content/small-cap-value-report-thu-7-feb-2019-fdev-irv-acso-dpp-sdry-gatc-otb-444823/
Check out the life changing BeforeitsNews natural health products! Join our affiliate program to earn with them too!
APeX
- Far superior to colloidal silver in destroying viruses, bacteria and other pathogens. See the videos and 50 page report!
Ultimate Curcumin
- Most powerful natural pain relief you can buy. Reduce inflammation, depression, arthritis and so much more!
Supreme Fulvic
- Nature's most important supplement! Read our amazing testimonials and experience vivid dreams again!
MitoCopper
- First bioavailable copper cleans up your blood from pathogens and gives you more energy! Watch all videos on our website!

Prodovite - The Secret To Healing is in the Blood! Our nutrition is absorbed in 5 minutes! See the proof!