Story Views

Now:
Last Hour:
Last 24 Hours:
Total:
GOD'S WARNING TO MECCA!
Monday, January 14, 2019 20:13
% of readers think this story is Fact. Add your two cents.

Whether you call onto God by any name it makes no difference, your God is the God of Abraham and this warning is for you too…
---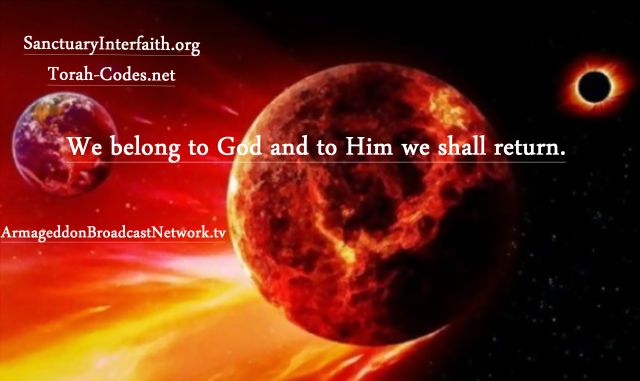 ---
Allah loves his people, his love is so great he sent Isa son of Mary (Yeshua ben Miriam, aka Jesus Christ) to give them guidance and redemption unlike anything that they could receive by any other means. But before we discount Muslim beliefs or before we presume Islam through Prophet Muhammad is superior to anything that preceeded it, let's put aside our differing opinions and expectations, let's look to the commonality between us.

Allah does as he wills!
God will fulfill prophecy not necessarily as we may expect, but as God intends. Think to that fact and humble yourself in your expectations, because when you answer to God for your disobedience, your unfulfilled expectations of him and those he sends will be no excuse for you on the last day.
---
And [mention] the Day when We will resurrect from every nation a witness. Then it will not be permitted to the disbelievers [to apologize or make excuses], nor will they be asked to appease [Allah].
(سورة النحل, An-Nahl, Chapter #16, Verse #84)
---
Christ has returned, his name means the word of God, all according to prophecy. Is every Christian expectation of him fulfilled? NO, the only expectations that need to be fulfilled are his. Is every Muslim expevtation of him fulfilled? NO, the only expectations that need to be fulfilled are Allah's. Not what we think was interpreted or written by men, but those things God has ordained whether it is wirtten or not, signs proofs and revelations are the foundation of those facts in science and religion.
PROOF IS PARAMOUNT.
---
And when Isa brought clear proofs, he said, "I have come to you with wisdom and to make clear to you some of that over which you differ, so fear Allah and obey me.
(سورة الزخرف, Az-Zukhruf, Chapter #43, Verse #63)
---
Yet dispite this proof, the people have turned away towards their own misguidance.
---
And when their messengers came to them with clear proofs, they [merely] rejoiced in what they had of knowledge, but they were enveloped by what they used to ridicule.
(سورة غافر, Ghafir, Chapter #40, Verse #83)
---
Allah loves his people, and he is known to give warning correction and punishment to those he loves. It should be no wonder why we are seeing these things occur in Mecca.
---
But yes, whoever fulfills his commitment and fears Allah – then indeed, Allah loves those who fear Him.
(سورة آل عمران, Aal-i-Imraan, Chapter #3, Verse #76)
---
They serve as a warning, a lesson that Muslims and the rest of the God-fearing world must learn from. What purpose does this serve, what is the lesson?
---
Of course the lesson to all of God's servants is obedience, time and time again we see examples in written scripture that God gives warning and punishment to those who do not obey. So we must conclude with a rationaly pious mindset that God is telling Muslims to obey.

It is no coincidence that there are so few public sources that have publicly revealed Christ Yeshua's birth was actually on September 11th and not December 25th. That same group who has revealed to the world the identity of the Messiah since his return, has made just such a proclomation and explained the sickening display of pagan sacrifice which occuring on his birthday before his expected arrival.
---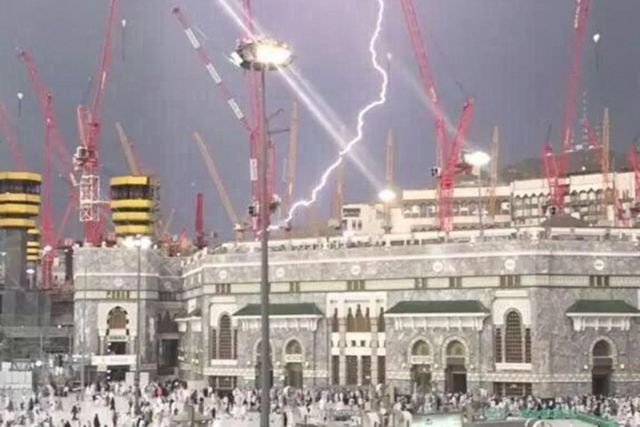 By no coincidence, September 11th 2015, after sending a bolt of lightning to the base of a large crane at the Mecca, God brought this same large crane down upon the heads of hundreds of people at the Kabba, killing 107. One of the engineers who is intimately familiar with the crane's construction said it had been 'installed in an extremely professional way' and saying about the death of 107 people in Mecca that day, 'It was an act of God'
---
https://www.dailymail.co.uk/news/article-3232175/Pictures-devastating-aftermath-Mecca-crane-disaster-killed-people-world-s-largest-mosque.html
---
Have no doubt, it truly was an act of God.
A lesson to those who have disobeyed. God has control over all things, and anything that is noteworthy occuring on Heaven or Earth should be equally attributed to the will of God…
---
Do you not see that Allah drives clouds? Then He brings them together, then He makes them into a mass, and you see the rain emerge from within it. And He sends down from the sky, mountains [of clouds] within which is hail, and He strikes with it whom He wills and averts it from whom He wills. The flash of its lightening almost takes away the eyesight.
Allah alternates the night and the day. Indeed in that is a lesson for those who have vision.
Allah has created every [living] creature from water. And of them are those that move on their bellies, and of them are those that walk on two legs, and of them are those that walk on four. Allah creates what He wills. Indeed, Allah is over all things competent.
(سورة النور, An-Noor, Chapter #24, Verse #43-45)
---
Now we have a pestilence of locusts swarming the Islamic Holy City of Mecca, serving as a warning to all Muslims… Do not defiantly disobey.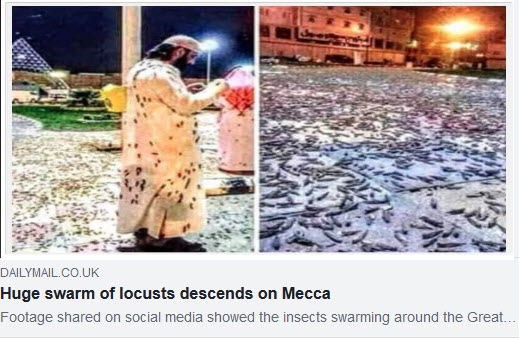 ---
https://www.dailymail.co.uk/news/article-6577871/Huge-swarm-locusts-descends-Mecca.html
---
But those who wronged changed to a statement other than that which had been said to them, so We sent down upon those who wronged a punishment from the sky because they were defiantly disobeying.
(سورة البقرة, Al-Baqara, Chapter #2, Verse #59)
---
A secret within the Torah has described events long before they'd occured, this Locust plague is a part of God's plan, more proof is available…
---

---
https://steemit.com/torahcode/@prime-cleric/plague-of-locusts-in?fbclid=iwar1tdi91n8irfs846s2u1vkv2gpj7obf-icv31ql3bowmwp4msy7k3cncsw
---
YOU MUST OBEY!
---
Or else you will be punished.
Give yourself to Allah!
Submit to him and obey those sent to guide you on behalf of Isa Ra-El, the returned Messiah.
---
Check out the life changing BeforeitsNews natural health products! Join our affiliate program to earn with them too!
APeX
- Far superior to colloidal silver in destroying viruses, bacteria and other pathogens. See the videos and 50 page report!
Ultimate Curcumin
- Most powerful natural pain relief you can buy. Reduce inflammation, depression, arthritis and so much more!
Supreme Fulvic
- Nature's most important supplement! Read our amazing testimonials and experience vivid dreams again!
MitoCopper
- First bioavailable copper cleans up your blood from pathogens and gives you more energy! Watch all videos on our website!

Prodovite - The Secret To Healing is in the Blood! Our nutrition is absorbed in 5 minutes! See the proof!