Story Views

Now:
Last Hour:
Last 24 Hours:
Total:
X22Report: The Rats Are Leaving The Sinking Ship: Rob Kirby Spotlight Video
Wednesday, June 26, 2019 10:01
% of readers think this story is Fact. Add your two cents.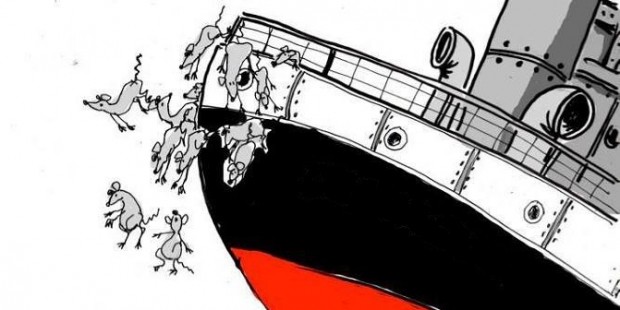 Published on Jun 26, 2019
***Support BeforeItsNews by trying APeX (far superior to colloidal silver) or any of our
four other great health products at www.mitocopper.com ***
---
Comments:
Those rats needs to be HANGED. No escape from treason!!!!
BoobooJonez3 hours ago (edited)
The rats need to hang including the ones in control of social media and their controlling corporations engaging in trying to manipulate and plan to manipulate the outcome of the 2020 election through propaganda…
Muler was all choked up reading 9 minutes….. he worried about july 17… obviously… the worst day of his criminal life…. his faust bargain has come to a close
Thanks Dave great interview.
Excellent Video … Rob knows his stuff ! Glad to see him back, he's made a great recovery !
Important interview thanks Rob and Dave.
Freedom From Stuttering1 hour ago
Nobody has before even had the ear of the Reserve Bank, you ask if POTUS has any power in the FED, well I know this if POTUS talks about the FED they are listening. So yes POTUS does have power at the FED, just not as you may expect. POTUS has the Magic Wand.
Rob Kirby really needs to be more prepared. And his views are regurgitations of others in the alternative media. He offers nothing original, imo.
HANG 0BAMA BY THE NECK UNTIL DEAD!🔥
Gerard Coutu3 hours ago (edited)
Hey Dave we never received the x22report for yesterday June 25th part a or part b
Gold 1330. Why the lag in release of this interview?
Bárbara Herda1 hour ago (edited)
Why can Kriby not give names of key bad players leaving Fed Res system? Can't or won't?
One of your best informed guests Dave thxu.
Jordan will rip muler a new a hole gohmert will penetrate it
This is a fantabulous interview, thank you for all you do.
Thanks Dave for interviewing such an expert. I hope Rob is doing well health wise
BUG OUT BAG TIME=ITS COMING,,
I always look for Rob Kirby and John Williams videos. Thank you for the news hour.
Anecdotally, the USA 🇺🇸 debt situation via the [CB] is a SH!T SHOW!
Thanks for the straight talk!
I agree with Rob Kirby Trump and the entire government talk with forked tongue.
Ray MyeyesRopen11502 hours ago
I love when guest completely disprove everything dave says.. Trump does not have control of the Fed so what else is not true that Dave is saying, things that make you go hmmmm!!!!
What makes you think that money/currency is the only thing on which to base an economy? Get your mind out of the box.
Renee Abou halaka20 minutes ago
Trump has the Federal Bank in his cross hairs they are Globalists
Another great video highlighting what is going on…. Thanks mate But Dave can I ask if you could do a spotlight session on the Executive Order regarding Genetically Modified Food…. I am struggling to see why this was signed and if it is what it appears to be I think it highlights what Rob said in this video on that people close the our president are actually working against him…? Thanks again WWG1WGA
Read more
Tony Butcavage3 minutes ago (edited)
Consider [] I will sell you my valuable token in exchange for your worthless paper and ink [] I will sell you my valuable gold in exchange for your worthless paper and ink ===== Think about it
Read more
Kirby seems to challenge a lot of the assessments that you have been making, Dave. How do you respond to those challenges?
Does anyone know the executive order number that they are referencing in this interview? Would like to research this myself(for credible specifics)before I push it over social media. Need sauce on it.
Jean Michel Letennier1 hour ago
There is no such thing as :FIAT" CURRENCY.. these are playing in a sandbox ..
Rob hasn't focused on world events like Dave has, and is missing the big picture. He is a gold expert and it has his full attention.
'SPYGATE'🔥
3
View reply
The swamp criminals are not accumulating gold fools!!!! China, India and Russia are!!!!
why posted so late?
2
So pissed they've knocked You, IPOT1776, Justinformedtalk,Stroppy me,and BCP not to mention SGTreport off my list, when I go to find you'll it's a 2day to 2week pervious podcast..😡 RAT BA$$TARD$ #230
1
To me Pompeo going to visit with the Bilderburgers says it all
Trump IS a 'globalist'.. Clearly.. He's an actor on a stage..a great pretender
The fed is influenced and controlled by the now external bankruptcy of the world central banks. The IMF, the U.N. i.e. 'Globalists, are creating US$ at will through their debt creation at US Govt expense. Thus, undermining our control of 'our' monies. We need a domestic USA CENTRAL BANK. Thus, abolish the FED now. Tie our money to gold and silver or whatever and let's get control. Meanwhile, if trouble is in our future, learn about the 2nd Amendment, especially your obligations to yourself and your communities. We are literally at war.
Read more
Excellent Program. I believe we will eventually end up with a "non-reciprocal" digital currency, based on gold,& that many Government programs, such as social security, will be "Bought Out" With this currency, in a "one time deal"! I Don't Like it, but, I think it will happen.
you toob is screwed, no one gets any choice anymore; same old lame crap no matter how many times it is refreshed..welcome to hitlers 4th reicht. All the cavalry has been deleted by these stinking fascista.
Gold is Truth
3
While Kirby gets many things correct, most of his assumptions about Trump and some of the examples he provides are fundamentally false.
Why is it, that whenever someone talks about what the globalist want in their One World thing, nobody even mentions the One fact that should scare the shit out of anyone that wants to see it, is the 90$ population reduction to make all the slaves manageable.
7
View 3 replies
They're never going to get to do that. This is God's agenda right now
Man, this poor guy can barely put a sentence together, sorry to say. Takes forever to get a point across with all the fancy phrases and unnecessary extras he uses. Just say it, Rob!
Rob Kirby sounds like a Debbie Downer…POTUS really has no power with the Feds? He's like all the other DEBBIE Downers….they forget about the MAGIC WAND OR IN OTHER WORDS PRESIDENT DONALD J TRUMP 🇺🇸🇺🇸🇺🇸🇺🇸🇺🇸🇺🇸
1
As long as I can build a website and throw it on a server then the internet is still free.
Opinion scare opinion scare…buy this!!!
interesting.. the height of money laundering
1
There's always been little voice in the back of my head whenever someone brings up cryptos…"Its a trap!" Spot on. Works in theory with the block chain. I get that. But Gold and Silver have been used since the beginning of time by multiple cultures as money. No functioning electrical grid or internet required.
2
Crypto is a fictional asset. And all that A.I. Crap is just bringing those terminator movies to life.
1
Thank Q Dave!
1
I heard the same title 8 years ago, you guys just recycle the same shit every few years
Freedom From Stuttering2 hours ago
Good to see YouTube monetise you again. 🍿
Gold gold gold. Stop it. Gold salesmqn.
Stop winning year after year go live in China and tell us how great it is!
Watch what they do not what they say 🤦
Paula Tuttle23 minutes ago (edited)
I'm a big fan Rob, but I have to dispute your opinion of the cryptos being reliant on the internet, but not gold. EVERYTHING is reliant on the internet! Most experts such as yourself & Jim Willie suggest people send their precious metals to a 3rd party vault off shore! Cryptos are transactable from my phone! I'm my own bank! Furthermore, the internet will never go down world wide even in an EMP. Somewhere people will still be transacting over the internet. And one more thing, true crypto currencies are DeCentralized. XRP, Tether, EOS and now Libra are 100% Centralized. The PTB are trying to convince people to invest in their Centralized coins, but for the 1st time in history, we have a choice. They can't stop people from using the DeCentralized block chain. All they can do is try to pull people into their Centralized tokens. We don't have to comply! Crypto currencies are the most efficient system we've ever seen on this planet!
Read more
Why do I find Rob so believable? When he said that he doesn't think we will get to the 2020 elections without some major financial repercussions I felt a sense of dread that I normally don't when listening to other pundits.
1
The negative analysis on Cryptos is due to an old ideology that has run our financial infrastructure for eons less the technology that our world has today! The opinion was of one who doesn't understand Cryptos & their true technology & how they will integrate a new and more fair financial system.
Carroll Baltimore37 minutes ago
Excellent interview
India beware these rats are running towards India with their blood stained money for investments and blowing the trumpet that it's going to be century of India.
And everyone will get away with what they did
1
View reply
Rob Kirby – BEST guest you can have! It is because no Fat Rat has been taken down in DECADES that we are in this mess. And it's going to get worse – much worse! Why? Because the Fat Rats continue to have immunity for their crimes. I have long and loudly been voicing that unless and until Fat Rats are taken out – some even hanged for their crimes – we will NEVER see a resolution of our problems. Trump, whom I voted for and I had hoped would be the person to take such actions has done NOTHING — not a single Fat Rat has been taken out under Trump and it doesn't look like it's going to happen. It is now day # 887 of the Trump presidency and NOT ONE Fat Rat has even been indicted, let alone imprisoned or hanged. Trump appears to be a friend to the Fat Rats — it's either that or Trump has been cowed into doing nothing against them. In any case, Trump is a L-O-S-E-R in this area.
Read more2
For now they have but I don't believe it's gonna stay that way
Oh gawd, when he said, "crypto is dependent on a free and functioning internet, and gold is not contingent upon anything" except storage, transport, protection, space, you know what, never mind…. Somehow i think he still lives in the 18th centtury… The whole world runs on the freaking internet….
Read more
View reply
The swamp is controlled by bagelville dave, get a clue. trump is owned by this tiny illegal so called nation who claims ownership of the samson option should they not get their way.
View reply
like gold, have gold, and question kirby's rational… Who has the vast majority of gold?: banks, big big banks, governments. ' Who has screwed up the financial system? big banks and government. Who has racked up debt so big that it can never be repaid? big banks and government. Who likes big banks? government. Who likes or trusts government? (don't think anyone) Sooo Kirby, other than maybe a very tiny fraction of the public that has a small stash of gold, who is going to benefit if gold goes moonshot? The only possible hope for PMs is if the FRN dollar is ditched and replaced with a PM backed US dollar. Proly same for other countries national currencies also. That might provide some restriction on deficit spending, maybe. And yet, the banks will be flush, the govt will be flush, you and me? Who will still control the gold backed money? Big banks and government. The pendulum swings the other way but the hand holding the pendulum remains the same. HaHa, fooled again.—————-Maybe a fully decentralized, fixed quantity crypto, or cryptos, will be able to absorb the debit money and provide a appreciating currency for you and me to use freely. Kirby says, well if the internet doesn't work then your crypto won't work….. Ask him how well his credit and debit cards will work in same scenario? Uh, no answer…. hmmm.
Read more
all i am getting is ad after long ad-no skip option and no video of yours.
1
View 2 replies
whydotheheathensrage28 minutes ago
Indeed Mr. Kirby and that One World Religion will be inextricably linked to the economy. You will either worship their god satan and participate in the global economy or you wont. And if you don't, they will kill you, welcome to the new world order.
I like Rob, but I think his viewpoint on cryptocurrencies is misguided and off base. You cannot conflate the actions of Google, Facebook, or Twitter with the internet as a whole. They are private companies who just happen to have a presence on the internet. All these tech giants could disappear tomorrow and the internet will still be here in all its glory. Nobody owns the internet. And try carrying your life savings in gold on your person when you travel out of country. It'll get confiscated. Not so with cryptos.
Read more1
Get a rope !!!!
Gregory Mathers2 hours ago (edited)
Bitcoin is different than all the other cryptos, so I am speaking only of Bitcoin. Because the amount of Bitcoin put into circulation is set and can not be changed, the Globalist can only affect volatility and not the underlying value as compared to fiat. Fiat can be printed to infinity which enables them to manipulate both the precious metals and Bitcoin. With volatility being so high it makes Bitcoin appear to be a poor substitute for fiat currency (at this time) but it can be used a storage of value. However if the dollar collapses the volatility will go away since the Globalist will no longer have the leverage to manipulate the buying and selling of Bitcoin. I have heard the internet argument before, and Bitcoin would be very difficult to trade, though not impossible. Gold on the other hand could be traded and also confiscated as it has happened before. Bitcoin would be much harder to confiscate. To put Bitcoin in perspective, if everyone that had assets over 1 million dollars had an equal amount of Bitcoin each of those people could not have as much as one half a Bitcoin. I believe the best solution is diversity, that is to have Gold, Silver, and Bitcoin.
Read more
👍
We better develop and create money that is sustainable to life – MINES are not sustainable to life – that includes gold mines – ALL MINES ARE DESTROYING FERTILE LAND and polluting the water- promissory notes created locally by local communities is the way to go – allow people to creatre their own promissory notes -
🎯
1
Jason Bourne48 minutes ago (edited)
once again when the hard questions get asked …no names again no names get mentioned did say no names ….about who controls the ESF…. seriously …can people please answer the F….. question……we all know what a bloody globalist is …. nammmmmmmmmmeeeeeeeeessssssssssssssss please …….
James the Ponderer44 minutes ago (edited)
Nobody will be taken to task except for some scapegoats. Everything is about re-election and always is. At this point, we are living in a complete fantasy and manipulated world. When the veil is dropped, most people will be at a loss to even function. Hard times are coming for us all. Just give it some time.
I'm not seeing any of this. I'm losing faith.
1
View 7 replies
I wanted to listen to what he had to say, but the stuttering and super slow talking was tedious and unnecessary. He's got good info, he just doesn't seem to be a very good speaker.
The most stagnant irrelevant channel on youtube!!! ZZZZZZZZZZZZZZZZZZZZZZZZZZZZZZZZZZZZZZZZZZZZZZZZZZZZZZZZZZZ
The most stagnant irrelevant channel on youtube. With clickbait titles.
3
World leaders were murdered for rejecting the petro dollar. It's no surprise people hate America.
Dave, will you please take note of the fact that Angela Merkel still has plenty of time to ruin Germany and all of Europe until she's forced to step down?! And will you please also acknowledge that she now wants to become head of the whole bloody EUSSR?!!! -.-
View reply
I don't think that's what PRESIDENT TRUMP is doing. The central bank maybe of course, but not PRESIDENT TRUMP need to get rid of the fed
when are you people going to wake up to the obvious? None of the money is issued by us, we the individual natural persons. We have a right to issue our own money which has been stolen from us by the bankers! They would have us go back to gold and silver which is their oldest brand of money. Remember folks, they own all the gold mines, they control the mints, and they control the markets for prices and all the rest of their brands of money. But all the money is theirs not ours. This is the fundamental that is missing from everyone's perspective. Until we get our fiat back, we will have no economic freedom! So, we need our own money and here is the proposal : ecriegel.blogspot.com Be seeing you
Read more
Enough with the commercials.
1
Kirby is calling POTUS a liar. There is a reason Kirby is wearing sunglasses indoors.
6
View 2 replies
Thanks for Rob, respect for this man, god bless him
2
View reply
Cryptocurrencies are just more of their money. None of us issued any of it! It is just other brands of their money. All their money is operated as Commodities speculation schemes. There is no fixed frame of reference for anything. They make money on their money without work whether prices go up or down. Isn't the average person ever going to wake up to the fact that he's been had since before he was born? But people are waking up. We need our own money back. That doesn't mean the government should issue it and leave us with endless taxes. That doesn't mean a bank issues at with endless interest taken out of money that was never issued, hence guaranteeing that there is never enough money to settle all debts and guaranteeing a musical chairs economy. We need our own money : ecriegel.blogspot.com Best
Read more
Of course, everything will be promoted that contains the greatest uncertainties. Crypto helps against gold, and overpriced stocks too. This is sold to idiots at the most expensive prices. Buying gold has never been a risk, but it is the Barometer of confidence in the government. That is why it must not rise.
Read more2
Iran is attacking us with cyber warfare right now. Prayers for President Trump . Speculation….deep state using Iran as proxy to attack U.S. citizens on OUR soil with energy weapons like they did under Barry's administration.
5
View 2 replies
THOMAS the RAM58 minutes ago (edited)
We don't have a treasury or a president! Trump is president of the Vatican owned governmental service corporation known as the United States. Look up articles of incorporation! These people are really misguided and misinformed. FDR changed every American status from a living soul on the land jurisdiction of a sovereign state to a legally dead corporation in the incorporated untied States!we must take back our status. Not keeping voting for a corporation.walmart isn't going to save us so why would anyone believe this corporation would?
Read more
You gotta get away from Q he's killing belief in YOU
5
View 11 replies
BOOM BOOM POW POW (((TRUST THE PLAN))) "Sessions Activated!!" "Red Wave" any Day Now! BOOM BOOM.."Trust Wray" Buy MUH FLASHLIGHT
1
Wake up Dave, Trump is a Zionist tool.
4
View reply
TULIP S = bitcoin
Support BeforeitsNews by trying our natural health products! Join our affiliate program
Order by Phone at 888-809-8385 or online at www.mitocopper.com
Get our Free Ebook, "Suppressed Health Secrets" THEY don't want you to know!

APeX
- Far superior to colloidal silver! Desroys Viruses, Bacteria, Pathogens!
Ultimate Curcumin
- Natural pain relief, reduce inflammation and so much more.
Supreme Fulvic
- Nature's most important supplement! Vivid Dreams again!
MitoCopper
- Bioavailable
Copper destroys pathogens and gives you more energy.
Oxy Powder - Natural Colon Cleanser! Cleans out toxic buildup!
B-12 - Supports healthy metabolism, brain function, hormone balance!
Nascent Iodine - Promotes detoxification, mental focus and thyroid health.
Never Wax Your Car Again -
Protects vehicles for years with dazzling shine!
Smart Meter Cover - Reduces Smart Meter radiation! See Video!

Prodovite - The Secret To Healing is in the Blood!