Story Views

Now:
Last Hour:
Last 24 Hours:
Total:
Recently indicted prosecutor, Angela Corey believes self defense from domestic violence is not a Second Amendment right
Monday, July 8, 2013 15:50
% of readers think this story is Fact. Add your two cents.

You know this story has a good twist when Zimmerman Prosecutor Angela Corey Indicted for Allegedly Falsifying Arrest Warrant and also criminalizing a Mom for
firing warning shots in self defense from her abusive husband. It seems as those our government in the court of law can and has put the constitution of the united states second IE (The God given right to bear arms and protect ones self and property) over the law. I am discussed think how distructive our leagle system is to our constution and how the constution can be "Interperted" by any judge the way he or she sees fit in effert to promote there own policies or ideals on how justice should be served.
The George Zimmerman defense has recently gotten a lucky break. Angela Corey, Florida's state attorney and the prosecutor against Zimmerman, has been indicted by a citizens' grand jury for allegedly falsifying an arrest warrant and the complaint that led to Zimmerman being charged with the second-degree murder of Trayvon Martin.
Angela Corey, the state attorney who oversaw the case against Alexander, said that justice was indeed served and that Alexander was angry and reckless, not fearful, on the night of the shooting. Just because no one was harmed in the incident doesn't make the shooting any less a punishable crime, Corey said.
"I feel like when someone fires a loaded gun inside of a home with two children standing in the direction where the bullet was fired, we have to have tough laws that say you don't do that," Corey told HuffPost. "Justice, with the laws of the state of Florida, was served. But I don't believe her supporters will ever believe that."
The Jacksonville courtroom in which Alexander was sentenced was packed with Alexander's family and supporters. At one point, according to news reports, a group of young supporters stood up and sang or chanted, "We who believe in justice will not rest!"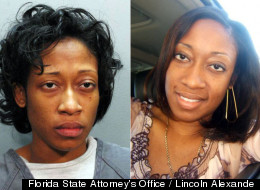 Please voice your concerns to your goverment if you think this is wrong.
Source:
http://www.huffingtonpost.com/2012/05/11/marissa-alexander-sentenced_n_1510113.html
http://www.opposingviews.com/i/society/guns/zimmerman-prosecutor-angela-corey-indicted-allegedly-falsifying-arrest-warrant
http://www.cbsnews.com/8301-201_162-57433184/fla-mom-gets-20-years-for-firing-warning-shots/