Story Views

Now:
Last Hour:
Last 24 Hours:
Total:
WW3 Is Here - US Government Is Preparing the World For WAR and US Financial Expert Says Economy Collapse Imminent! Don't Believe It? Watch This! (Videos)
Tuesday, October 28, 2014 23:00
% of readers think this story is Fact. Add your two cents.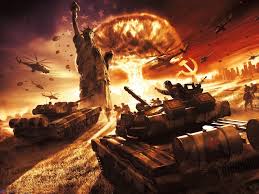 Is the United States of America preparing for war, or are we already in it? Watch these videos… Is it possible both of these videos are true? Or, is it one or the other? What is going on in the USA? Wasn't it once said it was the home of the free and the land of the brave? Funny, that line has a haunting, eerie ring to it as I think of it now.
This is not the same USA that I grew up in. It is not the same USA of the 1980′s, a time when people still had 'some' amount of morals, and valued God and family. No! These are the end times, the very days that were foretold in the Bible. If there is any doubt in your mind whatsoever, take a look in the Bible itself, and then sort through the various news over the past few years alone. Watch the videos below and think about it. You will see that time is not on our side.
One thing is for certain, there is definitely a hellish and relentless spiritual battle taking place in this world, each and every day.
Face of Satan Has Arrived In USA-the Most Traumatic, Gut Wrenching Report-It's Just About To Happen!
WW3 – US Government Is Preparing The World For WAR
URGENT WARNING: ISIS Coming to America – The "Gate of Hell" has been opened
Financial Expert US Economic Collapse imminent!