Story Views

Now:
Last Hour:
Last 24 Hours:
Total:
A Masonic Pyramid That Is 33 Dekameters High Is Being Built in North Korea, With Money From Bill Gates - To Be Destroyed on October 1st
Monday, September 4, 2017 11:53
% of readers think this story is Fact. Add your two cents.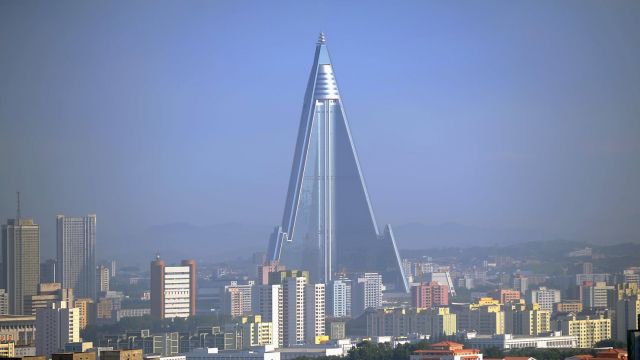 North Korea is just one more puppet state of the Masonic-Occultist-Illuminati elites, one that they use for playing their games of "New Egypt".
And I can prove it with facts.
That's the reason why FREEMASONRY is building a 330 meters high PYRAMID there, through an EGYPTIAN contractor.
WHAT?
What pyramid are you talking about?
I'm talking about Ryugyong Hotel, in Pyongyang, the capital of North Korea.
Read the Wikipedia article about Ryugyong Hotel: [link to en.wikipedia.org]
Ryugyong Hotel is a 330 meter high, pyramid shaped hotel that is being built in Pyongyang, and that is expected to be ready by mid-2013.
Here is a view of the building, still under construction, in 2011:
Ryugyong Hotel is being built by an Egyptian company called Orascom Group.
Well, well… Here we have already significant evidence of the Masonic nature of this building…
Besides being pyramid shaped, it is 330 meters high. Everyone knows about the obsession of Freemasons with the number 33.
So, it's a pyramid (a Masonic obsession) and it's 330 meters high (Masonic obsession with the number 33)
But it has yet another element of Masonic "fetish": it is being built by Egyptians. The company that is building it is from Egypt. The "builders of the pyramid" are Egyptians.
What to say now about the suspicious obsession of people aparently connected to Freemasonry in Western countries about this pyramid in North Korea?
There is a very strange website whose domain is Ryugyong.org:
The website is totally dedicated to the Ryugyong Hotel in North Korea, and it always refers to the building as "the pyramid", and has strange graphics that show the building as having internal chambers similar to the internal chambers of the original Egyptian pyramids…
Making a quick Whois lookup for that domains, we can easily find that the website is owned by someone in Graz, the second largest city of Austria, in the hearth of Europe.
Why would someone in Austria be that obsessed about an ugly hotel in North Korea, if this person wasn't a freemason, who knows that the hotel is an important international project of Freemasonry?
But there is more…
Look at this video that was uploaded to YouTube in 2008, by someone called Wendy Dunham (same surname as Obama's white mother):
The very "mysterious" video has a length of exactly 3:33
Here is 33 again. Here is the Masonic "signature" again.
So, it's probably someone connected to Freemasonry.
But if you still has doubts if this is really a project of the Masonic-Occultist-Illuminati elites of the world, check this information now…
In December of last year (2012), the CEO of Google, Eric Schmidt visited North Korea:
Just one month later, in January 2013, another Silicon Valley tycoon, Bill Gates, announced that he was leading a group of U.S. investors investing ONE BILLION DOLLARS in the Egyptian company Orascom Group, the company that is bulding the pyramid in North Korea:
Believe it now?
North Korea is the "New Egypt" in the games of the elites.
That's why Freemasons are building a pyramid there, and are very obsessed about it. The pyramid will be ready in mid-2013.
That's proof that North Korea is OWNED by the Freemasons, and all threaths of "nuclear war" come directly from Freemasonry. Maybe they are thinking about ordering their puppet Kim Jong-un to start a nuclear war, in order to achieve their "depopulation" plans.
Beware!
UPDATE:
This masonic pyramid is set to be destroyed on October 1st
The building to the right in this shirt sold online by the guys of Ryugyong.org IS Ryugyong Hotel:
[link to ryugyong.spreadshirt.com]
Ryugyong Hotel was not destructed YET, but that shirt seems to show that it's marked to be destructed on October 1st of some give year (maybe 2013).
this shirt was created by the people behind the website Ryugyong.org, that was registered by someone in Graz, Austria.
Chernobyl, World Trade Center, and Ryugyong Hotel…
The three buildings in the same shirt, with respective dates of destruction.
They couldn't be more explicit…
Source GodLikeProductions.com