Story Views

Now:
Last Hour:
Last 24 Hours:
Total:
Nostradamus Trump Quatrains (Video)
Tuesday, June 12, 2018 19:42
% of readers think this story is Fact. Add your two cents.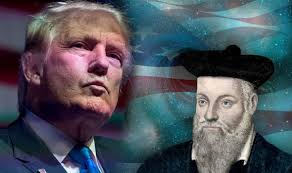 Where's Donald Trump in the Nostradamus Quantrains?
is trump in nostradamus's prophecies

— spooky e-mails (@sarahjeong) February 27, 2016
He's mad, he's bad, and he's on track to be the Republican nominee for U.S. President in the 2016 general election—to the horror of everyone not already supporting him, including his own party.
I took a quick poke around the Internet and it seems troublingly light on "Nostradamus predicted Trump" stuff, so I figure we could start a collection here. Now, I'm no Erika Cheetham, but I've done some preliminary searches and found the following. (Yes, I'm searching English translations off the Internet for the word "Trumpet" and "Orange". Hey, if "Hister" is Hitler, it'll do.)
My findings are quite disturbing!
Century I: 40

The false trumpet concealing madness

will cause Byzantium to change its laws.

From Egypt there will go forth a man who wants

the edict withdrawn, changing money and standards.
If you ask me, Nostradamus is pretty much nailing it right out the gate here. Donald Trump ("the false trumpet") is concealing his own madness. As U.S. President, he will cause Byzantium, i.e. Greece — a key entry point into the west for refugees! — to change its laws. The president of Egypt will "want the edict withdrawn," presumably because if the displaced millions are not going north, they're going south. As a result of all this, the Euro collapses.
Century I: 57
The trumpet shakes with great discord.

An agreement broken: lifting the face to heaven:

the bloody mouth will swim with blood;

the face anointed with milk and honey lies on the ground.
If the first example was the sort of quatrain that shows off the Nostradamean illusion of specificity, this one shows off why he's so goddamn scary. Trump, here, is enraged: someone or something has betrayed him. In the name of religion, he talks blood and he ends up swimming in it. The land of "milk and honey" is, of course, Israel—the last line perhaps means he makes a big show of friendship and eating dirt for his efforts.
Trump has described his intention of being a 'neutral broker' between Israel and Palestine—the sort of hubris that could make things much worse when he learns everyone is smarter than he expected and not giving an inch. What options would President Trump then have, given a $700 billion military budget and a desperate, narcissistic need to solve whatever problem is making a fool of him?
Century III: 50

The republic of the great city

Will not want to consent to the great severity:

King summoned by trumpet to go out,

The ladder at the wall, the city will repent.
Such vague Nostradamus metaphors tend to have established interpretations. But for the purposes of blogging, this looks to me like Trump being unable to get America (the republic) to go on some expensive military adventure. So he tells Britain (the King — sorry, Liz, times up!) to do the work. As it begins (ladder at the wall!) America realizes it needs to do its part. Trump looks like a fool and must repent.
This could be some kind of risky humanitarian thing that reeks of more immigrants, perhaps — evacuating Tripoli from an ISIS siege would be ultra-Nostradamean.
Century X: 76

The great Senate will ordain the triumph

For one who afterwards will be vanquished, driven out:

At the sound of the trumpet of his adherents there will be

Put up for sale their possessions, enemies expelled.
This one's easy but boring. The U.S. Senate makes a show of supporting Trump, but stabs him in the back: he's impeached or ditched after four years. But then "at the sound of the trump his adherents will be there", selling their possessions and expelling enemies. The final apotheosis of Trumpism: the personality cult of a one-term loser.
(In a good Nostradamus book, there'd be a wargames-esque picture of Europe here with arrows flying this way and that to indicate where the invasions and refugees are going, which Middle Eastern countries end up frozen in a tranquil seas of glass, what year and month Jesus turns up, etc.)
Alright, I'm already going to have nightmares. I'm done! Check out the complete text of Nostradamus in English and French for more juicy Nostradamus Trump Prophecies, and post your findings in the comments.
Source Boing Boing
I host the Church of Mabus radio show and it is going on 8 years. I've been in the paranormal community for 20 years. I provide content from a network of sources and guests and allies. Ranging from Politics to the Paranormal and the Spiritual. You can check out my other articles here at my BIOGRAPHY at BIN and you can check out my free radio show at this link HERE. Thanks for showing your support and stopping by.