Story Views

Now:
Last Hour:
Last 24 Hours:
Total:
Pole Shift: Africa Cracks! Will it Lead to the Plates Shifting Again? (Video)
Saturday, July 14, 2018 8:07
% of readers think this story is Fact. Add your two cents.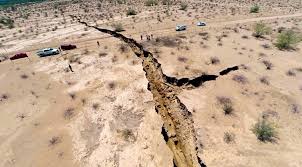 A large crack, stretching several kilometres, made a sudden appearance recently in south-western Kenya.
The tear, which continues to grow, caused part of the Nairobi-Narok highway to collapse and was accompanied by seismic activity in the area.
The Earth is an ever-changing planet, even though in some respects change might be almost unnoticeable to us. Plate tectonics is a good example of this. But every now and again something dramatic happens and leads to renewed questions about the African continent splitting in two.
The Earth's lithosphere (formed by the crust and the upper part of the mantle) is broken up into a number of tectonic plates.
These plates are not static, but move relative to each other at varying speeds, "gliding" over a viscous asthenosphere.
Exactly what mechanism or mechanisms are behind their movement is still debated, but are likely to include convection currents within the asthenosphere and the forces generated at the boundaries between plates.
These forces do not simply move the plates around, they can also cause plates to rupture, forming a rift and potentially leading to the creation of new plate boundaries. The East African Rift system is an example of where this is currently happening.
The East African Rift Valley stretches over 3,000km from the Gulf of Aden in the north towards Zimbabwe in the south, splitting the African plate into two unequal parts: the Somali and Nubian plates.
Activity along the eastern branch of the rift valley, running along Ethiopia, Kenya and Tanzania, became evident when the large crack suddenly appeared in south-western Kenya. – KTLA
Description Reza Afshar and Chris Bridgen (Friends) known as "The Two Preachers" servants of the Lord Jesus Christ and the Holy Spirit We would dearly love to be a full time ministry, we are getting closer but monthly partners/support will make this possible. We are committed to advancing the gospel on YouTube but also with people on the ground in the Middle East and Pakistan, we will buy 10000′s of bibles and win as many people as possible with your help. Thank you all so much for your support, we really, really appreciate it – God Bless you
I host the Church of Mabus radio show and it is going on 8 years. I've been in the paranormal community for 20 years. I provide content from a network of sources and guests and allies. Ranging from Politics to the Paranormal and the Spiritual. You can check out my other articles here at my BIOGRAPHY at BIN and you can check out my free radio show at this link HERE. Thanks for showing your support and stopping by.