Story Views

Now:
Last Hour:
Last 24 Hours:
Total:
"Worst Storm In US History Set To Break All-Time Records; Forecasters Fear Harvey Flood Redux
Wednesday, September 12, 2018 7:16
% of readers think this story is Fact. Add your two cents.

By Tyler Durden / ZeroHedge
The latest computer forecasts from Tuesday afternoon have predicted that Hurricane Florence, still a Category 4 yet growing larger and more powerful, may shift and hit somewhere near the border between North and South Carolina as coastal residents flee what may be the most powerful hurricane to hit the state in 64 years, according to Bloomberg.
"Florence is expected to stall and wander near or over the coast for as many as four days, dumping prodigious amounts of rain," said meteorologist Jeff Masters of Weather Underground, who added "If a significant portion of the storm's circulation remains over water, as occurred last year with Hurricane Harvey's stall over Southeast Texas — or even if Florence were to move into the higher terrain of western North Carolina and then stall — the rain may break all-time state records for rainfall from a hurricane or tropical storm."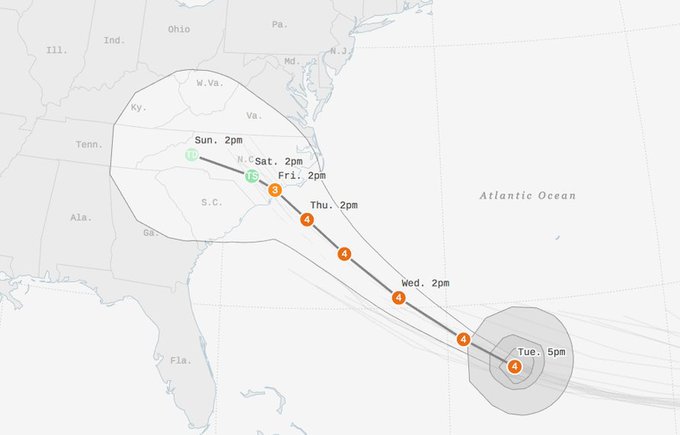 Evolution in @NHC_Atlantic track maps for Hurricane #Florence , visualized by the @axios viz team. Updates on the hurricane here: https://www.axios.com/hurricane-florence-north-south-carolina-catastrophic-848f2414-50e1-49b8-9f2d-24ce59b0b78d.html …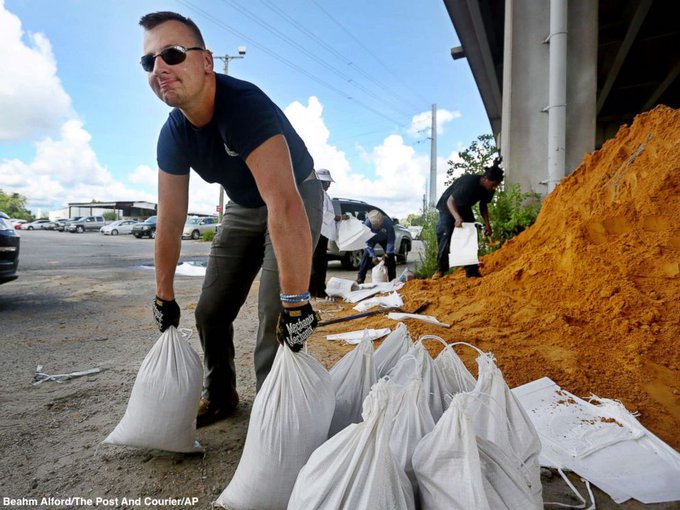 "We don't want to gamble with a single South Carolina life."

Southeast braces for Hurricane #Florence: https://abcn.ws/2N39hJ4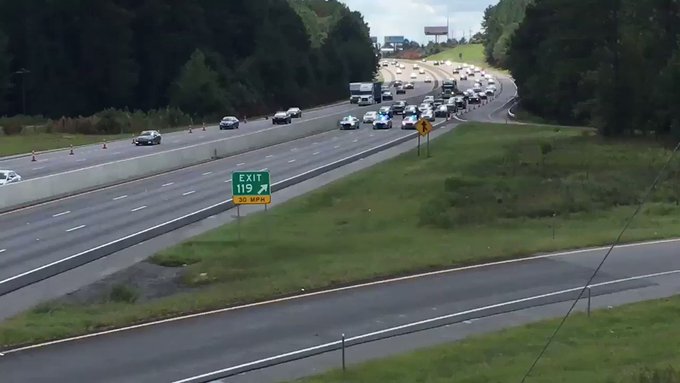 SCHP flush cars leading traffic from Charleston to Columbia in the reversed lane. #Florence

"It's really a dicey forecast right now," says National Weather Service meteorologist Mike Emlaw.
Landfall is expected late Thursday or early Friday, while mandatory evacuations are in place in preparation for a 12-foot storm surge which could affect over 750,000 homes, according to property analytics firm CoreLogic, while causing up to $27 billion in damages.
President Trump, meanwhile said he expects Hurricane Florence to be among the worst storms ever to strike the US, but that the federal government is prepared to respond to the disaster.
"We're as ready as anybody's ever been," Trump told White House reporters during a Tuesday briefing with officials from the Department of Homeland Security (DHS) officials and the Federal Emergency Management Agency (FEMA).
"It's going to be a very large one," said Trump, adding "It's tremendously big and tremendously wet."
WH/ABC: Pres. Trump approves Virginia emergency declaration ahead of Hurricane Florence landfall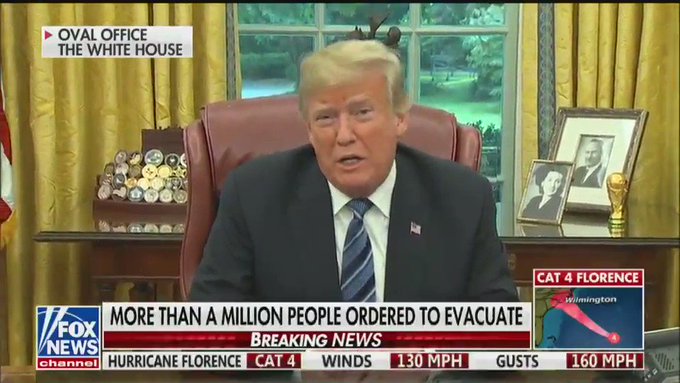 President Trump on Hurricane #Florence: "They haven't seen anything like what's coming at us in 25, 30 years, maybe ever. It's tremendously big and tremendously wet."
View videos here: https://www.zerohedge.com/news/2018-09-11/florence-may-break-all-time-records-trump-predicts-among-worst-us-history
More great articles here: https://www.zerohedge.com