The Magnitude of Martyrs
Tuesday, August 4, 2020 13:56
% of readers think this story is Fact. Add your two cents.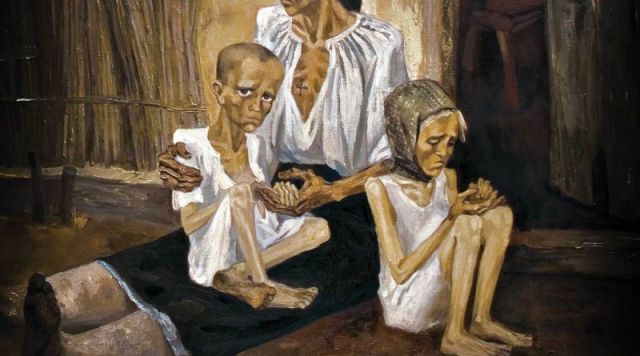 THE CARING PEOPLES PAPER Please publish our stories and share them on social media. We are dependent upon donations. Never miss a story: Follow My Blog right-hand column scroll down Visitors welcome to visit BOOKS or BUY FROM AUTHOR [email protected]
Honest historians who focus on the fabled six million sing to the swindler's hymn sheets. By adding to the debate they keep the fraudsters holohoax on the front pages. Simultaneously, they fail to use their skills to bring to public attention multiple and verifiable holocausts committed by Communism and Capitalism.
The six million supposedly gassed Jews pales into insignificance when set against the 170 million butchered by the Communist and Capitalists. The fabled six million would be of no more interest than the verifiable genocide of the Armenians, the Tatars or the Cossacks. It would become a 'mere detail of history'.
The question is how to respond to those who re-write or censor history.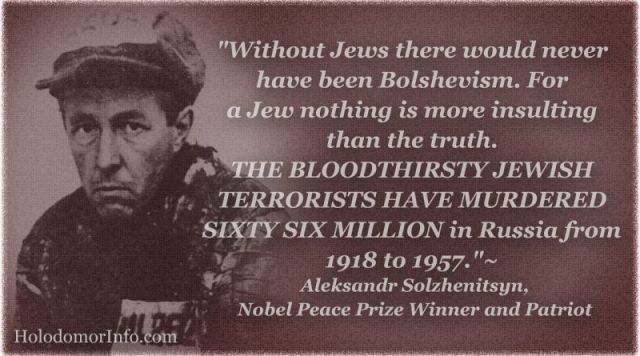 Firstly, it must be recognised that the public mind-set is manipulated by media. Newspaper columnist, Joseph Alsop, was primarily responsible for getting the US into the Vietnam War. Rival columnist Walter Lippmann, a confidant of Soviet Premier Nikita Khrushchev, brought the conflict to an end. This is the power of the Press at work. Mainstream media that starts and stops wars can make or break presidents and premiers.
Media is the swamp that decides what pond-life thrives and what dies in their cesspool. German Minister of Information, Dr Joseph Goebbels:
Think of the Press as a great keyboard on which the government can play."
According to independent research, the US has been directly or indirectly responsible for the deaths of an estimated 30 million people since WWII. Yet, the only mantra in the public mind is the centuries-old recycled six million cliché that is as fanciful as is the concept of Santa Claus.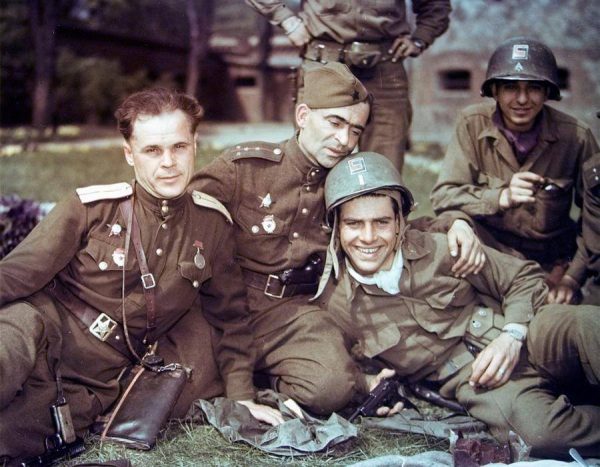 R. J. Rummel is a respected independent analyst based at the Journal of Peace Research in Hawaii. According to his Power Kills: Genocide and Mass Murder, 170,000,000 people have been 'murdered by government' during the last 100 years. Yet, thanks to the manipulative mainstream media the public are wholly unaware of this 'Magnitude of the Martyrs'.
The power of media can never be underestimated. There is still a universal belief that the 1917 American-backed coup that delivered Imperial Russia to US corporate and banking interests was a Russian revolution. Because media has censored, collaborated in or laundered Bolshevism the public are unaware that 70 to 100 million Christian martyrs were slaughtered during Josef Stalin's tenure of terror.
The media has convinced a gullible public that Hitler's Germany was a despotic regime whilst Joseph Stalin's Bolshevik Occupied Russia was benign, a great ally and even a workers paradise. Because of the media's lying and censorship, most people hold Hitler responsible for World War II. They remain blissfully ignorant of International Jewry's responsibility for a brother's war that led to the deaths of 55 million martyrs and the enslavement of 23 great European nations.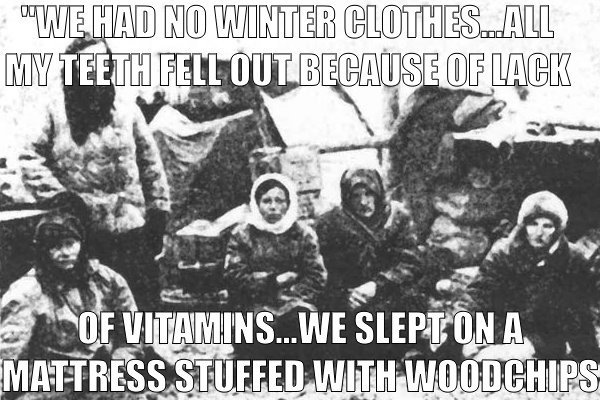 Media never challenges the West's multiple wars or NATO's highly inflammatory provocations against Russia, China and North Korea. Media never publicly challenges the aims of government. Media ring-fences NATO and US conflicts in the Middle East. Media describes the Satanic cult ruling Israel-occupied Palestine as the only democracy in the Middle East; a transparent lie.
Without a shred of evidence acceptable to a magistrate's court, media has convinced the incredulous public that half the world's verifiable Jews population were killed in just three years in a country smaller than the state of Texas. Yes, sadly, the people are that simple-minded.
Media achieves this by constantly recycling what Adolf Hitler identified as the Big Lie strategy practiced by Jews and their Shabbos goy mercenaries. The success of the Big Lie is proved true by it being used to keep in the public mind the holocaust hoax.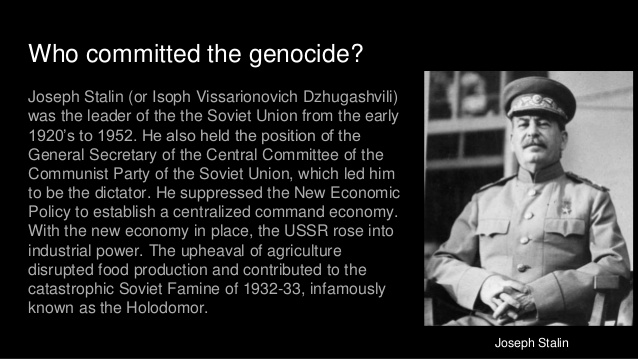 Revisionist historians ~ I include myself ~ sing to the media's hymn sheet by keeping their focus on the huckster's holocaust hoax. This distraction plays the media's game of convincing the public that the only holocaust worthy of debate and criticism was the Nazi one.
For my part, I intend to turn the spotlight on the multiple proven holocausts committed by what Hitler described as Capitalism and Communism being two sides of the same coin.
MICHAEL WALSH is a worldwide journalist, broadcaster and author of 64 book titles with 36 years experience. Like other journalists of integrity, he no longer writes for corporate media, opting instead for true journalism.
Like this story? Share with friends!
NEVER MISS ANOTHER STORY: Home Page right-hand column scroll down and click FOLLOW. PLEASE LIKE US and SHARE.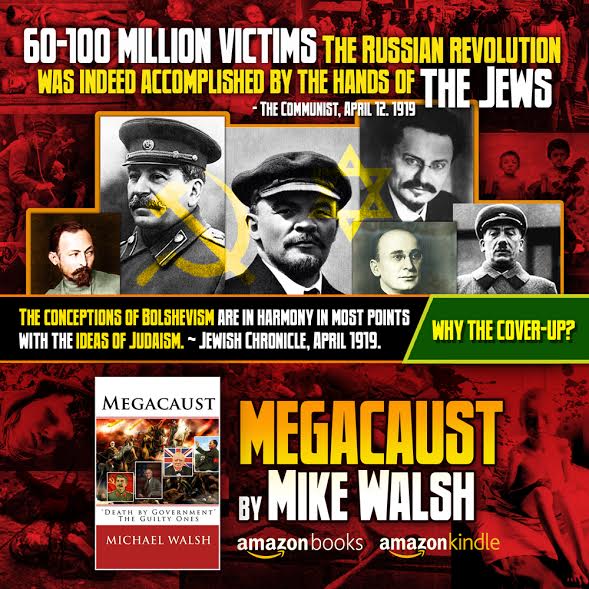 MICHAEL WALSH is a journalist, broadcaster and the author of RISE OF THE SUN WEEL, EUROPE ARISE, TROTSKY'S WHITE NEGROES, MEGACAUST, DEATH OF A CITY, WITNESS TO HISTORY, THE BUSINESS BOOSTER , THE FIFTH COLUMN VOLUME I and II, FOR THOSE WHO CANNOT SPEAK, IMMORTAL BELOVED, THE ALL LIES INVASION, INSPIRE A NATION Volume I, INSPIRE A NATION Volume II , SLAUGHTER OF A DYNASTY , REICH AND WRONG, THE RED BRIGANDS, RANSACKING THE REICH , SCULPTURES OF THE THIRD RIECH: ARNO BREKER AND REICH SCULPTORS , SCULPTURES OF THE THIRD RIECH: JOSEF THORAK AND REICH SCULPTORS , The Exiled Duke Romanov Who Turned Desert Into Paradise , THE DOVETAILS and other book titles. These illustrated best-selling books are essential for the libraries of informed readers.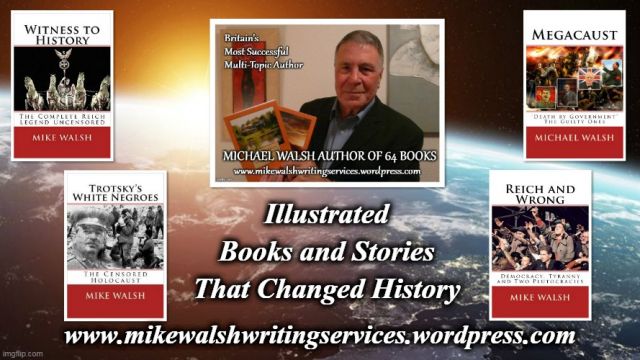 MICHAEL WALSH BOOK CLUB: Set up a Standing Order minimum of €25 (£25) to my UK bank account each month to receive every 3-months a FREE SIGNED copy of any book from our BUY FROM AUTHOR LINK.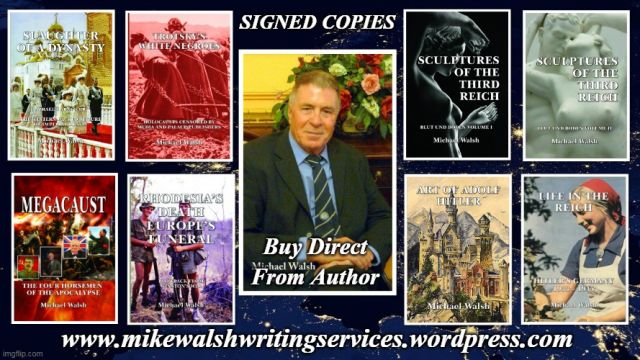 THE BARNES REVIEW is considered by historians as the world's most prestigious source of bona fide essays and information. Michael Walsh is a key member of the periodical's Board of Contributing Editors. See www.BarnesReview.com https://barnesreview.org/
THE LIVERPOOL TETRALOGY
The revenge of a predator is a city-vigilante epic better than Death Wish A LEOPARD IN LIVERPOOL , 30 lavishly illustrated first-hand stories by a Liverpool sailor BELIEVING OF LIVERPOOL, Latest Killer-Thriller From Michael Walsh the City Vigilante Supremo The Stigma Enigma , A powerful thought-provoking paranormal romance The Soul Meets, How to form a naughty ménage a trois THE DOVETAILS.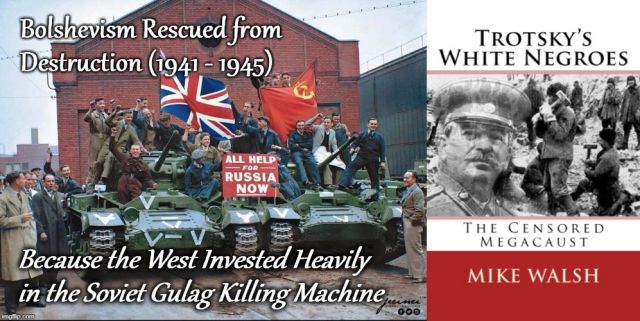 Latest Michael Walsh bestsellers: Those who fall victim to the taxman, banks and moneylenders are victims of legalised mugging DEBTOR'S REVENGE, The Business Booster shows you how to double your profits not your workload THE BUSINESS BOOSTER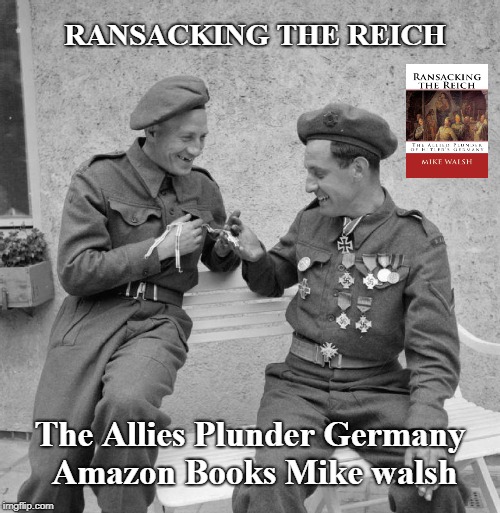 MICHAEL WALSH is a journalist, author, and broadcaster. His 64 books include best-selling RHODESIA'S DEATH EUROPE'S FUNERAL, AFRICA'S KILLING FIELDS, THE LAST GLADIATORS, A Leopard in Liverpool, RISE OF THE SUN WEEL, EUROPE ARISE, FOR THOSE WHO CANNOT SPEAK, THE ALL LIES INVASION, INSPIRE A NATION Volume I, INSPIRE A NATION Volume II , and many other book titles. These illustrated best-selling books are essential for the libraries of informed readers.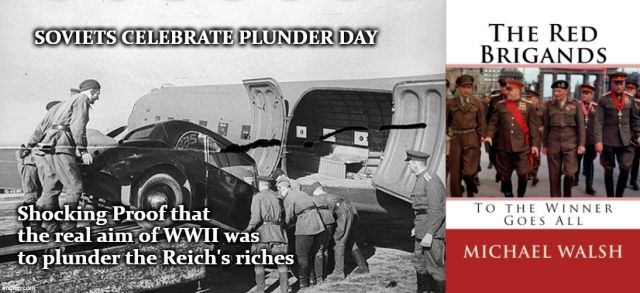 The dissident author's books available for purchase by visiting his website BOOKSTORE, BUY FROM AUTHOR and POETRY links.
We are in debt to our donors (click ESPRIT DE CORP) who finance the distribution of spin-free real news and fearlessly expressed views.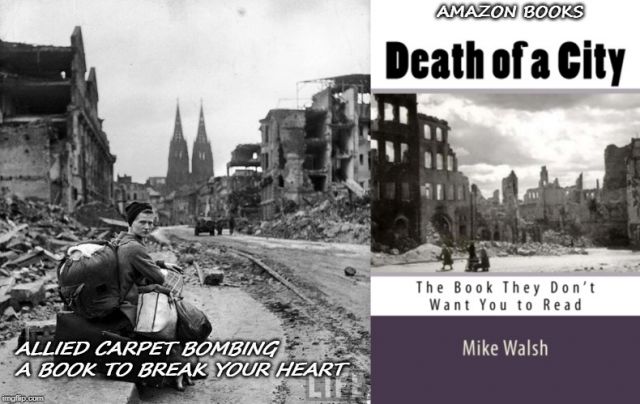 KEEP REAL NEWS OPEN: Donate by using Western Union, MoneyGram, Ria, registered mail or contact Michael Walsh: [email protected] or [email protected] 2) Follow our blog. 3) Share our stories and 4) buy our author-signed books. 5) Receive free newsletters by writing subscribe to [email protected]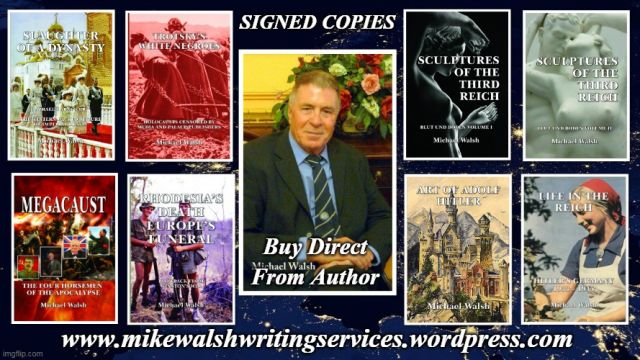 Michael Walsh currently has eight books listed under BUY DIRECT. Royalties will be ploughed into adding further popular titles declared taboo by the treacherous troika; Amazon, Facebook, and Mainstream Media. When ordering the book contact Michael Walsh by email [email protected] to receive your signed copy.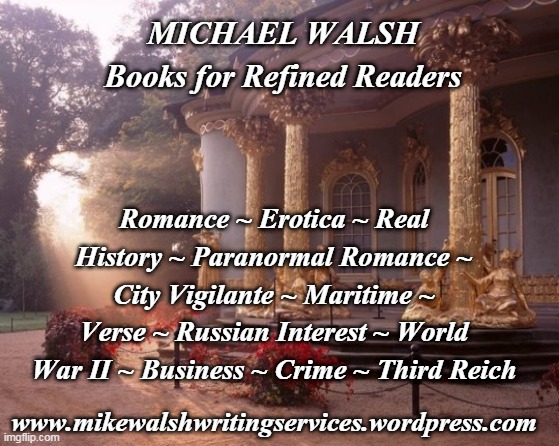 www.mikewalshwritingservices.wordpress.com
BOOKS THAT CHALLENGE, INSPIRE, INFORM Michael Walsh, 'Writer of the Year' with a strong global following. Nearly 64 interesting Amazon book titles famed for changing and improving lives. CLICK TO VIEW www.mikewalshwritingservices.wordpress.com
New stories every day!
THE ETHNIC-EUROPEAN
The Voice of Ethnic-Europeans Worldwide
https://europeansworldwide.wordpress.com/
https://ethnic-european.blogspot.com/
Before It's News®
is a community of individuals who report on what's going on around them, from all around the world.
Anyone can
join
.
Anyone can contribute.
Anyone can become informed about their world.
"United We Stand" Click Here To Create Your Personal Citizen Journalist Account Today, Be Sure To Invite Your Friends.