Clinton thugs beat and almost murdered Gary Johnson during 1992 campaign –
and stole key videotapes of Bill
Try this link: http://www.freerepublic.com/focus/f-news/2804988/posts
Google Clinton Chronicles: "Gary Johnson's Savage Beating Saved Bill Clinton in 1992″
Hillary and Bill use violence to cover up their wildly dysfunctional Jerry Springer lifestyle. Hillary, Bill, Buddy Young or someone in the Clinton organization sent 3 goons to beat up and almost murder Gary Johnson, who was Gennifer Flowers' neighbor. Gary Johnson had a security camera installed at his condominium and by chance he had many tapes of Bill entering Gennifer's condominium while governor (and obviously, "married" to Hillary). Bill felt free to live life as a sex maniac, but he was paranoid that anyone would get pictures or videos proving his lifestyle. Gary Hart, in 1988, had his presidential campaign sunk because of pictures of him and Donna Rice sitting in his lap, on the yacht Monkey Business, were printed by the National Enquirer.
In my opinion, Hillary and/or Bill Clinton personally sent thugs who beat up Gary Johnson and left him for dead on June 26th, 1992, right in the middle of the 1992 presidential campaign. Both of Johnsons' elbows were dislocated, his collar bones broken and his spleen and bladder were ruptured. Johnsons' nose and sinus cavities were crushed. Johnson says that these 3 big, beefy men with crew cuts "looked like [Arkansas] state troopers" and they savagely beat him, nearly killing him, after Gary handed over his videotapes of Clinton entering Flowers' apartment.
Bill and Hillary had appeared earlier in '92 on the show 60 Minutes (right after the Super Bowl on 1-26-92), pretending to be a happy family and Bill said he had only talked to Gennifer twice and saying he had never been to her condominium and, of course, did not have an affair with her. Videotapes proving that he had been frequently to Flowers' condominium would have imperiled his '92 presidential campaign. In fact Bill was screwing Gennifer from 1977, the year he got her pregnant, until 1989. Not only did Bill helped pay for Gennifer's abortion (in Jan. 1978) after she told him she was pregnant in December 1977, but Bill later told his close aide, Arkansas state trooper Roger Perry, that Gennifer "could suck a tennis ball through a garden hose." (Boy Clinton, p. 278)
=========================================================
VaginaGate: Pete Santilli Will Apologize To Hillary Clinton; Then Demand Her Indictment for Treason
Please share this information by clicking the "Recommend this Story", "Recommend Contributor" button, as well as share on Facebook and Twitter by clicking the share buttons below.
The Pete Santilli Show broadcasts live on The Guerilla Media Network. Please join us on the Guerilla Media Network broadcasting your favorite talk shows, political art and news 24/7.
Pete Santilli has recently made some controversial statements within the past few days about Hillary Clinton's history of criminal intimidation, drug trafficking which fueled her (the Clinton's) political career, and her recent betrayal of Americans in Benghazi on 9/11/12.
Santilli has loudly called for Hillary Clinton to be brought to justice, and has publicly stated on his show that we should call for her criminal indictment and prosecution for treason.
As publicized by the mainstream media, Pete has asked for indictment, trial, conviction and although the penalty for treason is "death", Pete has suggested that she be kept alive and receive the lesser penalty: "shot in the vagina"
TREASON AGAINST THE UNITED STATES By Section 110 of Article III. of the Constitution of the United States, it is declared that:
"Treason against the United States shall consist only in levying war against them, or in adhering to their enemies, giving them aid and comfort. No person shall be convicted of treason unless on the testimony of two witnesses to the same overt act, or on confession in open Court. The Congress shall have power to declare the punishment of treason."

In 1790, the Congress of the United States enacted that:

"If any person or persons, owing allegiance to the United States of America, shall levy war against them, or shall adhere to their enemies, giving them aid and comfort within the United States, or elsewhere, and shall be thereof convicted on confession in open Court, or on the testimony of two witnesses to the same overt act of the treason whereof he or they shall stand indicted, such person or persons shall be adjudged guilty of treason against the United States, and SHALL SUFFER DEATH; and that if any person or persons, having knowledge of the commission of any of the treasons aforesaid, shall conceal, and not, as soon as may be, disclose and make known the same to the President of the United States, or some one of the Judges thereof, or to the President or Governor of a particular State, or some one of the Judges or Justices thereof, such person or persons, on conviction, shall be adjudged guilty of misprision of treason, and shall be imprisoned not exceeding seven years, and fined not exceeding one thousand dollars."
Pete Santilli believes, based on the prepoderance of evidence that Hillary Clinton has committed treason against the United States, and she must be held accountable. His words were passionate. His choice of words have offended some. But most importantly, his words are being distorted by the Hillary Clinton propaganda machine so as to concel the information which will be presented in this episode.
Although Pete will offer his sincerest apologies to those who have taken him out of context, and who were offended, he will also address the concerted effort by Hillary Clinton to stifle the evidence which has been mounting for 25+ years. Hillary Clinton is a criminal who shoulfd not be immune from prosecution.
Pete has literally been subjected to thousands of articles, emails, hundreds of death threats and hundreds of hate-filled telephone calls by people who have threatened to keep information away from the American people. Pete and Team GMN will not be deterred by such a communist threat, Pete will reveal the most damning, explosive an comprehensive case ever levyed against Hillary Clinton. Tune in and you will witness history. The potential exists to shut down Hillary Clinton's 2016 Presidential Campaign.
Here's a preview of the compelling evidence which will be presented by Pete and his very special guest, the foremost expert and activist in the world about the Reagan / Bush / Clinton / Obama drug cartels.
The Hillary Clinton Chronicles
Hillary Clinton Thugs Beat and Almost Murdered Gary Johnson on 6-26-92 http://youtu.be/8-jt8em-GJI?t=53m30s
Join us Monday May 20, 2013 @ 11am PST / 1pm CST / 2pm EST
If you would like for Pete to address your questions, opinions or concerns, please leave a comment below or call the live show at (218) 862-9829
Be sure to tune in to the Pete Santilli Show daily at 11am PST / 1pm CST / 2pm EST. Pete & Susannah Cole broadcast daily for 3 hours to discuss breaking news headlines, and interview some of our nation's most interesting patriots & controversial guests.
Fair Use Notice: This article contains some copyrighted material whose use has not been authorized by the copyright owners. We believe that this not-for-profit, educational, and/or criticism or commentary use on the Web constitutes a fair use of the copyrighted material (as provided for in section 107 of the US Copyright Law. If you wish to use this copyrighted material for purposes that go beyond fair use, you must obtain permission from the copyright owner. Fair Use notwithstanding we will immediately comply with any copyright owner who wants their material removed or modified, wants us to link to their web site, or wants us to add their photo.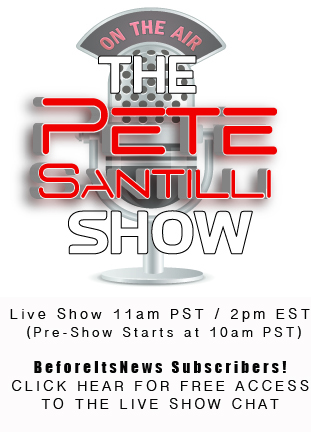 The Pete Santilli Show on The Guerilla Media Network. Please join us on the Guerilla Media Network broadcasting your favorite talk shows, political art and news 24/7.
We encourage you to Share our Reports, Analyses, Breaking News and Videos. Simply Click your Favorite Social Media Button and Share.