by Pete Santilli, The Pete Santilli Show & The Guerilla Media Network
Millions of dollars are being spent on either side of the impending Scottish Independence vote. To stop the people who are rising up saying "enough-is-enough", the UK establishment will employ every tactic to sway votes just enough to make the election too close to call, and that's when the battle is won.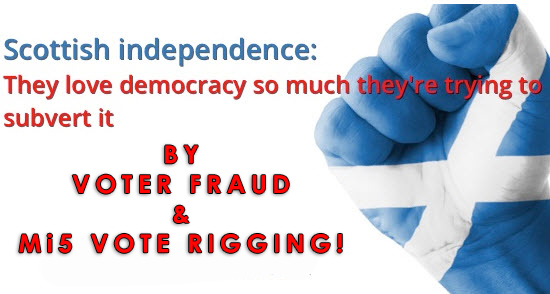 All the establishment has to do is push the vote to a "too-close-to-call" scenario, and that's when they take control. There's a little known yet very corrupt system already in place which houses ballots to be hand-counted, and once the establsihment can press a close election, all they have to do is rig the vote, and destroy the evidence of the formal re-count. The intelligence services of the United States and United Kingdom; CIA and Mi5 respectively; know exactly how to rig elections because that's how they've maintained their killing & enslavement machine's powers for centuries.
Here's what to watch for: A CLOSE VOTE. ALL THEY HAVE TO DO IS PUSH THE ELECTION TO A MANUAL COUNT, AND THE Mi5 (The UK's CIA) SYSTEM KICKS INTO GEAR
Once this is achieved, a corrupt if not criminal, manual count will sway the election in favor of the Bank of England, of course with the help of their secret servants called the Mi5. That's when the voter fraud and rigging begins, and in the end, all questions about the legitimacy of the vote cannot be settled once the evidence is destroyed. The process is already in place. The ballots are thrown away. Easy-peazy.
See Guardian article: What happens to the voting slips used in British elections after they have been counted?
From Zero Hedge Scottish Independence: Politicians Love Democracy So Much They're Trying To Subvert It:
British politicians are scared to death that Scotland will file for divorce. So they're doing everything they can to influence the outcome of this supposedly impartial democratic process.

They've spent an incalculable amount of money trying to influence the outcome, effectively subverting a democratic election.

Their claim is that the government knows better than you do. They say they're doing this for your own good. If Scotland breaks away, your children and grandchildren will suffer immeasurably as a result.

In other words, you NEED US TO TAKE CARE OF YOU. You cannot function without us being in charge of you.

The British government is spreading untold fear, paranoia, and propaganda to drive this point home, all in an effort to influence the outcome of a supposedly free and fair election.

It's incredibly hypocritical. And the government's desperation drives home how fragile this system really is.

They know how much weaker and impotent they'll be if Scotland becomes independent. And they're terrified of it.

But here's the thing– this isn't even the real story. The outcome of the election is irrelevant.

The real issue here is that this election is even happening at all.

Bear in mind that human nature is highly resistant to change. This is the way of the universe.

Sir Isaac Newton told us that an object at rest tends to stay at rest unless acted upon by an external force of sufficient enough to overcome the object's inertia.

In chemistry, activation energy is defined as the minimum energy needed to be input in order to produce a chemical reaction.

A wooden log in a fireplace doesn't spontaneously combust. You must first add sufficient energy (heat) to the system before the wood will burn.

Until that activation energy is reached, no reaction will occur.

Humans are the same. Our natural state is to remain at rest. Overcoming our inertia is incredibly difficult. Doing so requires tremendous energy. And motivation.

The fact that millions of people in Scotland are even considering rocking the boat and radically change is very telling.

It shows there is a deep, deep dissatisfaction with the status quo. People are sick and tired of the way things are. The system has completely failed them. And they want change.

This is huge. And it's a sign of things to come.

The dissatisfaction is growing worldwide. As I reported yesterday, the latest Gallup numbers show that only 23% of Americans are satisfied with the direction of the country.

Change is coming. And not just any change. Deep, radical change– a fundamental reset in the way we do business, the way we organize ourselves as societies, and the way we view money.

There's tremendous opportunity for people who understand this trend and stay in front of it. And frankly I think this makes it a very exciting time to be alive.
The Pete Santilli Show broadcasts live on The Guerilla Media Network. Please join us on the Guerilla Media Network broadcasting your favorite talk shows, political art and news 24/7.
If you would like to express your opinions or concerns on the air during the live broadcast of The Pete Santilli Show, please call (218) 862-9829
Please go to our donate page and show your support by contributing as much as you can. God bless and Semper Fi!!
Be sure to tune in to the Pete Santilli Show daily at 10am-2pm PST / 12pm-4pm CST / 1pm-5pm EST. Pete & his co-host Susannah Cole broadcast daily for 3 hours to discuss breaking news headlines, and interview some of our nation's most interesting patriots & controversial guests.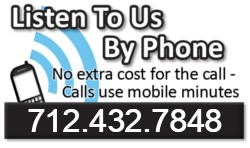 Please "LIKE", share and recommend this story..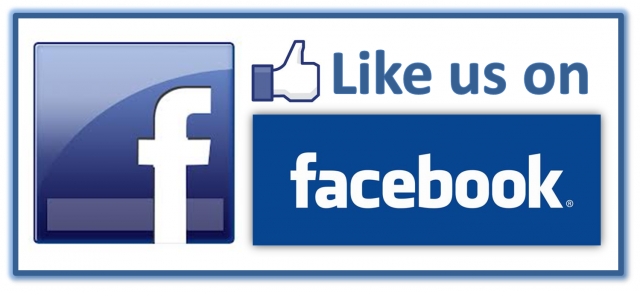 We welcome your comments in our Facebook comment thread!
Fair Use Notice: This article contains some copyrighted material whose use has not been authorized by the copyright owners. We believe that this not-for-profit, educational, and/or criticism or commentary use on the Web constitutes a fair use of the copyrighted material (as provided for in section 107 of the US Copyright Law. If you wish to use this copyrighted material for purposes that go beyond fair use, you must obtain permission from the copyright owner. Fair Use notwithstanding we will immediately comply with any copyright owner who wants their material removed or modified, wants us to link to their web site, or wants us to add their photo
We encourage you to Share our Reports, Analyses, Breaking News and Videos. Simply Click your Favorite Social Media Button and Share.