Party Wedding D.J. Tallahassee , Breaking News ,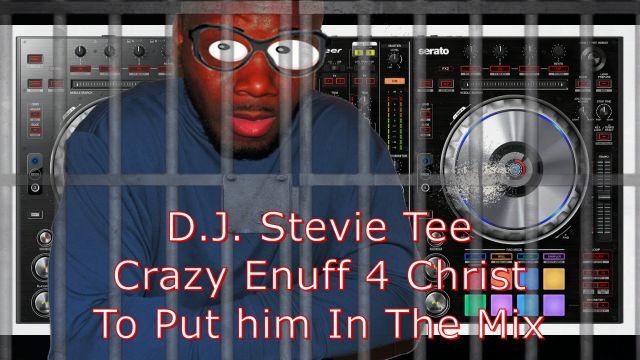 Some are crazy enough to put things in their pockets while the cop is right there, many will lie when the blood is on their hands and D.J. Stevie Tee of Party Wedding D.J. Tallahassee Jacksonville will put Christ right in the mix while D.J. ing a Rock or Rap Party / Concert.
And that is just what he does and many sinners know it and thank God for him. D.J. Stevie Tee who has been spinning Eecords, CD's and MP3′s since age 15. And rock and rap music was what he grew up off of but now these days he still spins it but with a twist. He is a born again Christian who does things the way Christ did but except it is with the wisdom and greater works that Christ passed on to us all.
D.J. Stevie Tee says he still loves rap and rock but only clean inspirational, love and motivational music. He told sources that music has changed so us as Christians must do the same in order to win souls and keep God's name in front of people even when it is not their time to hear it. He says that they have to be reminded of Christ and God so he finds the songs that speaks of them like in love and motivational songs. Many songs today and yestyerday mention our heavenly Father but it's the called and chosen's job to use the wisdom God gave us to find ways to interject that. And since Satan is so called prince or king of the airwaves we have to go on enemies territory and tear it down. D.J. Stevie Tee who also is known by king Stevian a Christian Rapper says that he mixes songs from Lecrae, Toby Mac, Casting Crowns and even his own ministry's music to put life into crowds and his following/fans.
.
Many might say that his way might not win souls but he says that Jesus told us "They that are whole have no need of the physician, but they that are sick: I came not to call the righteous, but sinners to repentance". And on that note he hits a high one. Recently I watched a video of Tyrese who spoke to a Pastor in Atlanta telling him to come to the streets and to come out of the church. Looks like D.J. Stevie Tee is doing just that but is he crazy? Is he putting his money he makes at risk? Increasing his chances of being fired? Well some say yes but that might be the carnal who say it because he lost a bog job this past June with a major corporation injecting Gosp[el to the playlist roster. But his team says it wasn't a setback and that it was a setup for more success. He mentioned that his ministry is in preparation for legal action for that situation as it went against his religous rights and that he couldn't tell us anymore but to stay tuned.
Well to us it seems like a liability to his team to do such but we know his reward is in heaven for making that sacrifice in obedience to god in Jesus. We wish D.J. Stevie Tee and Party Wedding D.J. Tallahassee well as they move forward in injectiing music that lifts up people because we need it. It's about time we got a little more than just music about sex, killing and drugs, we now have life with these guys. Thank You!
To reach Party Wedding DJ Tallahassee visit them on the net here:
http://party-dj-tallahassee.weebly.com/
Christian Cartel PR
We encourage you to Share our Reports, Analyses, Breaking News and Videos. Simply Click your Favorite Social Media Button and Share.