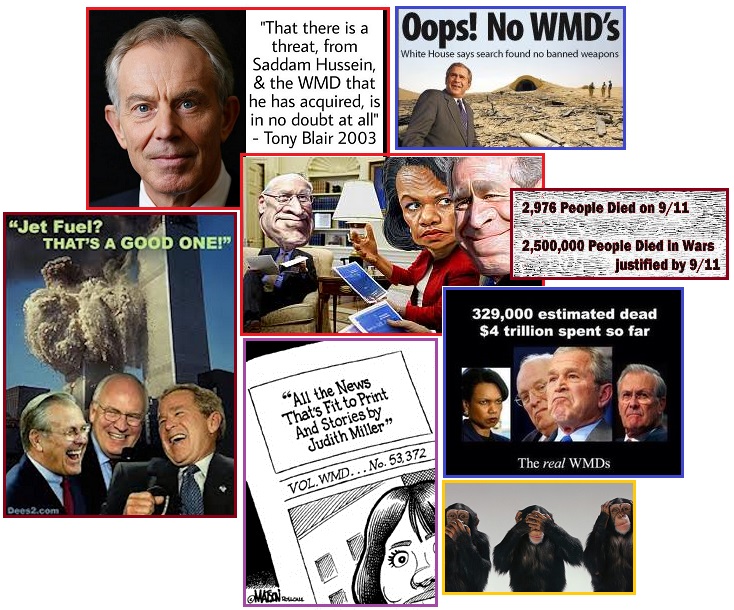 "Fake News" Is Now Exposing Their Own Programming, Crimes Against Humanity, And Guilt, As Explained By Zetas
"In the Fake News uproar, the accusers are also the perpetrators! They are trying to point the finger at the Drudge Report and InfoWars, which are legit. They are attempting to explain the Hillary loss without conceding that they too tried to dupe the public with weighted polls and with their constant hostility toward Trump. They are attempting to point the fingers elsewhere so the public does not become aware of their guilt. Catch a child with cookie crumbs on his chin and ask him who took the cookies, and he points at the dog!"
"Truth' Politics? What about those Iraqi WMDs?
November 21, 2016
https://www.rt.com/op-edge/367625-fake-news-post-truth-iraqi-wmds/
Without a doubt the best, or rather the worst example of 'fake news' in the last 25 years or so, was the neocon lie that Iraq had WMDs in 2002/3. That wasn't peddled by 'obscure bloggers' and 'new media,' but by mainstream Western politicians, from 'mainstream' political parties, establishment-approved 'experts' on the BBC/ITV/CNN, etc., and Op-ed columnists in 'serious' and 'respectable' media outlets."
ZetaTalk Comment 11/26/2016:
http://www.zetatalk.com/ning/26no2016.htm
Fake news is nothing new, and to view the media as being fair and objective is to be naïve. All media has a spin, depending upon the preferences of the editors and owners. Money buys cooperation and where this does not succeed, threats are used. In many countries, the media is not allowed to operate, or in such a limited manner it is frankly described as being the state channel. The current shouting about fake news is due to the confessions that some in the media are making about the degree to which the media was skewed in a direction favoring Hillary. The guilty are now trying to point fingers at the innocent.
CNN was so pro Hillary it was called the Clinton News Network. The Washington Post reportedly assigned 20 journalists to dig up dirt on Trump, yet the worst they found was a lawsuit by disgruntled Trump University students (who got their money back), comments about some women being fat, and typical locker room talk about how to make out with women. This received endless press while Hillary's pay-to-play examples and careless treatment of highly classified email was buried. Hillary was giving away hundreds of millions of taxpayer funds and US weapons in exchange for riches for she and Bill. And no, the Clinton Foundation is not about doing good, as 95% of the funds went to the Clintons. It was a front, not a charity.
Hillary was having seizures on camera, yet this was not allowed as a subject of discussion in the pro-Hillary media. She was fed the debate questions by a CNN insider. She had an obvious ear phone during a debate. The polls were cooked, the methodology adding so many Democrats to the mix that they showed Hillary winning. All these polls were presented with a straight face by the pro-Hillary media, so that when the anticipated election fraud stole the election for her, the public would not be surprised. Google arranged for pro-Trump articles to drift to the bottom of any search, while pro-Hillary articles would be perched at the top.
Even after the 2016 election, this media bias against Trump continued, with hostility and snarking toward Trump but a total lack of interest in all the Clinton crimes. While the media wailed that Trump had not had a press conference since winning the election, while apparently having plenty of time to tweet, Trump called a closed door meeting with the press and laid down the law.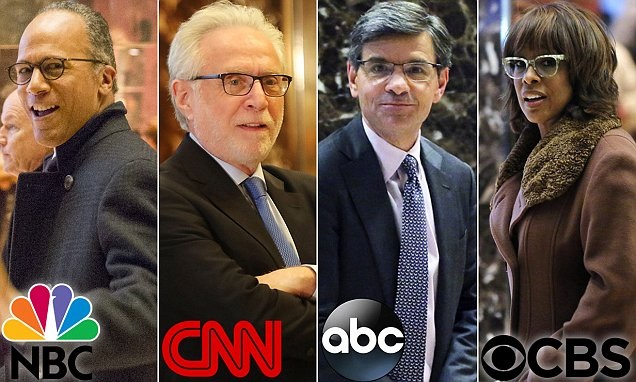 Trump Reams Execs and Anchors from 'the Dishonest Media' at 'Candid' meeting at Trump Tower
November 21, 2016
http://www.dailymail.co.uk/news/article-3958098/Trump-s-TV-summit-President-elect-summons-network-executives-anchors-dishonest-media-Trump-Tower.html
The meeting felt 'like a f***ing firing squad.' Some of those in attendance also got a 'Trump-style dressing down', most notably CNN president Jeff Zucker and ABC's chief global correspondent Martha Raddatz. Representatives from CNN, Fox News, MSNBC, Fox Business Network, NBC, ABC, and CBS were present at the meeting. It's expected that the Trump team would make a cease-fire overture to end his campaign's war on the press. Trump referred to America's political press corps as 'the dishonest media, 'the most dishonest people' and 'unbelievable liars' while he ran for president, often drawing sternum-rattling boos and storms of shouted insults from his rally crowds.
http://beforeitsnews.com/alternative/2016/12/zetatalk-newsletter-as-of-december-1-2016-3445729.html
Peeps… it's worth knowing that the satanic network, consists of millions of people, who protect each other's crimes against humanity. They no longer educate the public. They no longer have much influence. They are programmed. They are fallen. They are walking karma itself, to it's own grave… they want to take as many with the as possible to the grave of the fake new world order.
I will not let any corporation or human or ET, tell me what is 'fake news'… the wisdom of my heart suffices.
Is it Godly to judge them and condemn them? No.
Is it Godly to not accept their bullshit? Yes
We encourage you to Share our Reports, Analyses, Breaking News and Videos. Simply Click your Favorite Social Media Button and Share.