2-21-17
**BREAKING NEWS**: NWS is reporting a dam failure in EadsDayton Nevada and emergency evacuations are underway! Flood Imminent!
This flood water is heading to California as well! Pray for all who are this pathway!
---
From MrMBB333
NWS is reporting a dam failure in East Dayton Nevada and emergency evacuations are being advised! Flood is Imminent!
URGENT WARNING: Emergency – East Dayton Retention Dam is going to break – ASAP please evacuate now,
East Dayton Nevada
From BP Earthwatch
URGENT: Retention basin above East Dayton, NV failing! FLASH FLOOD WARNING UNTIL 6:40PM. THIS IS NOT A DRILL
Older photo
---
Flash Flood Warning Issued For Nevada Town Due To Retention Pond Failure
12:59 p.m.
Authorities are warning residents of a Nevada town to get to higher ground due to a dam emergency.
The National Weather Service says a retention basin above East Dayton is failing.
A Flash Flood Warning has been issued until 6:40 p.m. About 2-4 feet of water could inundate the area in about 2-3 hours, NWS says.
The retention basin is northeast of Rawe Peak.
Authorities stress this is not a drill and everyone in the affected areas should immediately get to higher ground.
Dayton is about 13 miles east of Carson City and about 40 miles east of South Lake Tahoe. SOURCE
---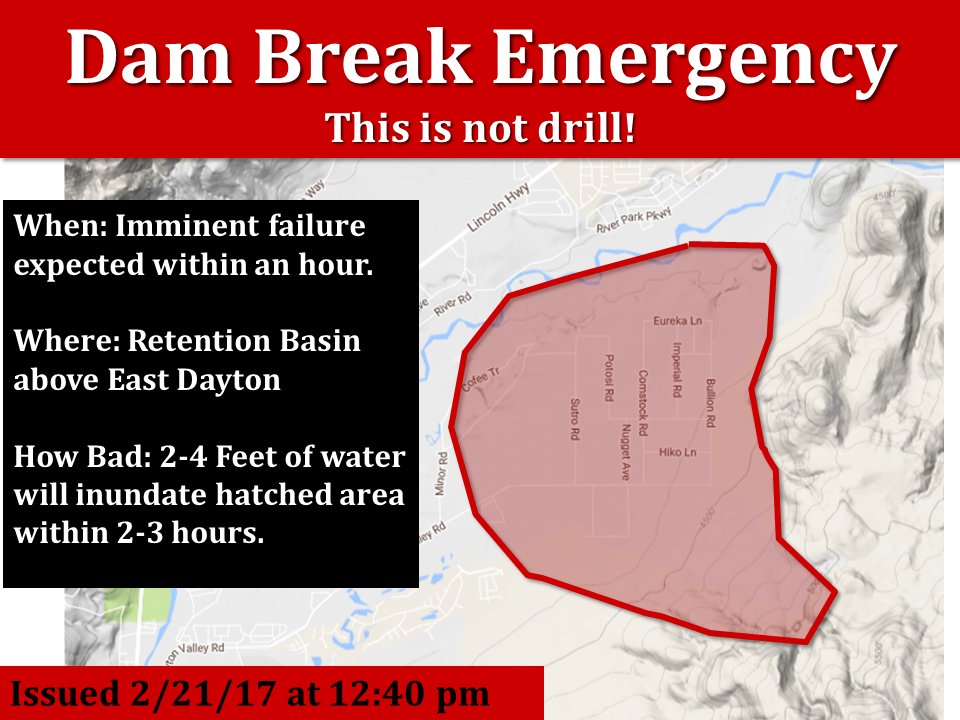 ---
The National Weather Service in Reno has issued a flash flood warning for a dam failure in central Lyon County in west central Nevada.
NWS Reno says at 12:33 p.m. Tuesday, Feb. 21, emergency management reported the imminent failure of the South Dayton Retention Pond in the next 30 minutes to one hour.
Officials say between 2 and 4 feet of water could inundate areas of east Dayton within two to three hours of failure.
The areas affected include east Dayton including the following roads and streets: Comstock, Pottassi, Nugget, Sutro, Rancho, and Dayton Valley Road.
NWS Reno says "this is an extremely dangerous and life-threatening situation" and advises those in the area to move to higher ground now, though Lyon County officials say there are no homes or property threatened at this time.
There is, however, potential that it could change in the next few hours.
The flash flood warning is in effect until 6:40 p.m.
Lyon County officials said crews are assessing opportunities to move water to more open areas. SOURCE
---
The area was already dealing with a Winter Storm Warning.
According the Reno NWS office, the South Dayton Retention Pond in Central Lyon County, Nevada, could break by 5pm EST. Between two and four feet of water could rush in to the areas of East Dayton Nevada.
It's unclear how many people live in the affected areas, but according to a 2010 census, more than 50,000 people reside in the region.
The NWS is urging people to immediately seek higher ground.
We'll continue to monitor the situation in Lyon County, Nevada. Check this site for further developments. SOURCE
---
If you like the articles that I share, be sure to click the 'Recommend' Button near the top of the page & I thank you in advance. Please leave your comments below!
#beforeitsnews #jonathanlee #viral #trending #followme #christianteaparty #deplorable #alternativenews #altnews#2a #askWL #1a #currentevents #fakenews #proisrael #trump #conservative #watchman
#flood #emergency #nevada
We encourage you to Share our Reports, Analyses, Breaking News and Videos. Simply Click your Favorite Social Media Button and Share.