God sending a warning to LA for that area allowing Paramount Pictures and Director Darren Aronofsky in Hollywood to blapheme Noah's character in Scripture that is the same as Jesus Word (John 1).
A 5.1 earthquake was reported at 9:09 p.m.March 29,2014.
See the Report below.
http://losangeles.cbslocal.com/video?autoStart=true&topVideoCatNo=default&clipId=9998069
As we reported in this BIN article Must Watch!!! Noah Movie Deception. Pastor Joe Schimmel Blessed Hope Chapel Good Fight Ministry put out two days ago this expose, but as Drudge Report reported "AUDIENCES FLOCK TO 'NOAH'…"
The distance from earthquake (A on map) to Joe Schimmel Blessed Hope Chapel (B on map), that produced "The Noah Movie Deception" video is on the map below. Total 66.2 miles from point A to B.
God is using Good Fight Ministry to warn America and Paramount Pictures.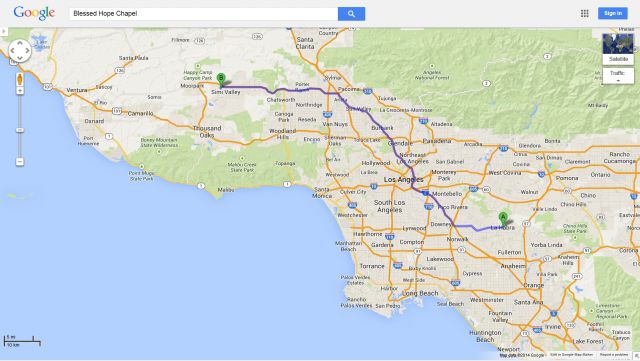 Next. . . The map below is the distance from the 5.1 earthquake (A on map), to Paramount Pictures Studios the producer of the blasphemous Noah movie (B on map). 26.9 MILES FROM LA HABRA 5.1 EARTHQUAKE TO PARAMOUNT PICTURES MELROSE AVENUE!
Do not be deceived (Paramount Pictures), God is not mocked; for whatever a man sows, this he will also reap.
Galatians 6:7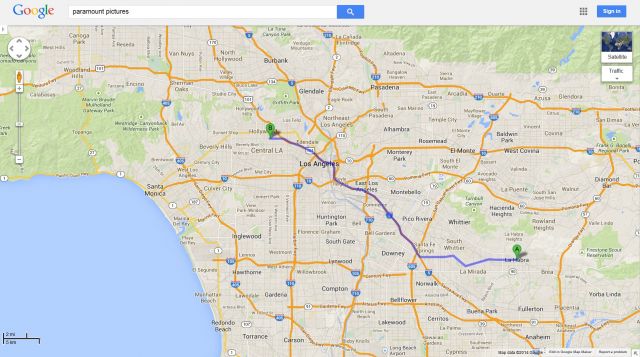 It's important to note that the typological example in the Old Testament concerning the Cities of Refuge says.
"You shall not defile the land in which you live, in the midst of which I dwell (or Christians dwell); for I the LORD am dwelling in the midst of the sons of Israel." Numbers 35:34
Why will God send judgement to LA or any other place? We tend to think man is good. Why would God judge the land like He did in Noah's day.
Let's see how our land is polluted and defiled.
Below is a defiled and unclean pagan Masonic Lodge of the Masons in the same location of the 5.1 earthquake in LA, and right next to it is a polluted apostate Lutheran christian church.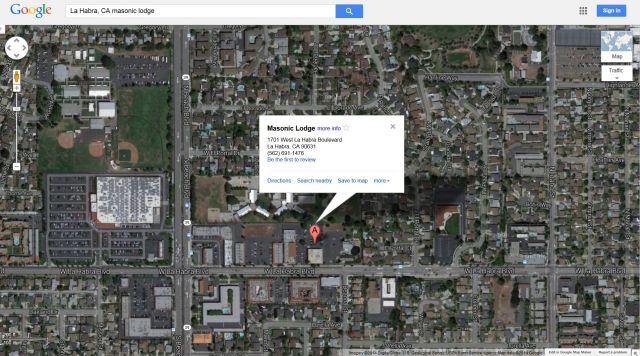 Street view. . .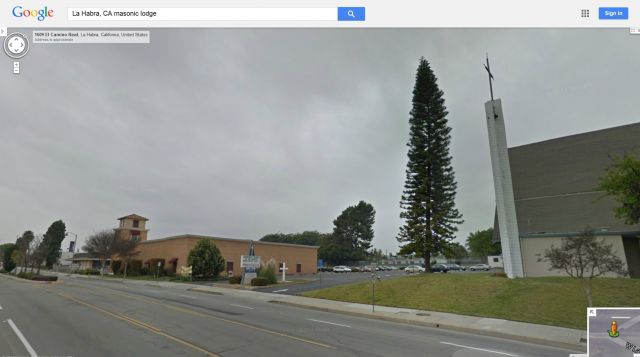 See it at Google map here. Zoom in to see the Lutheran church and Masonic lodge next to each other. . . Note how the windows are completly covered on the first floor of the Masonic lodge to hide the secret oaths and Satanic proceedings that go on in there.
We know that these Gnostic Luciferian Masons facilitate the Global Agenda of the false flags that produced the fraud War on Terror mass killings worldwide, and the coming false flags Gnostic Archon Alien invasion agenda that's soon to be attempted.
The typological understanding about polluting the land is also addressed also in Numbers 35:33
'So you shall not pollute the land in which you are; for blood pollutes the land and no expiation can be made for the land for the blood that is shed on it, except by the blood of him who shed it. Numbers 35:33
The Mason "God" of blood in the United States is Satan / the Devil / Lucifer that pollutes the land and kills for…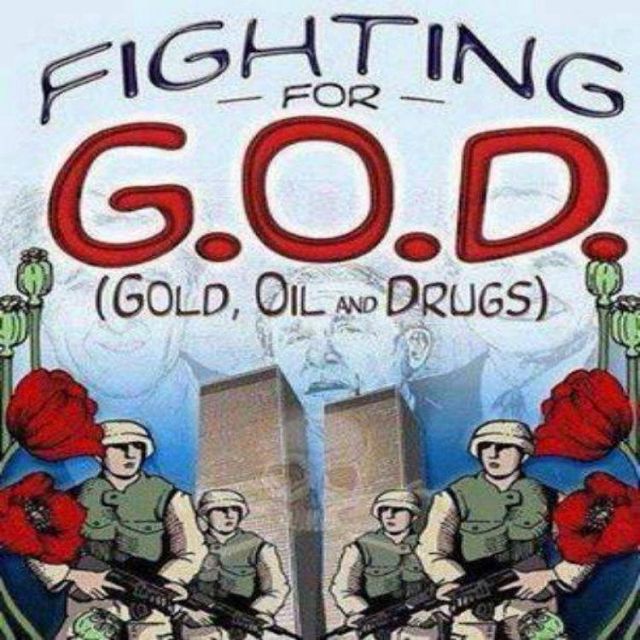 Google map reports approximately 8138 Devil worshipping Gnostic Masonic Lodges that pollute the land. That's juding if google map has them all?…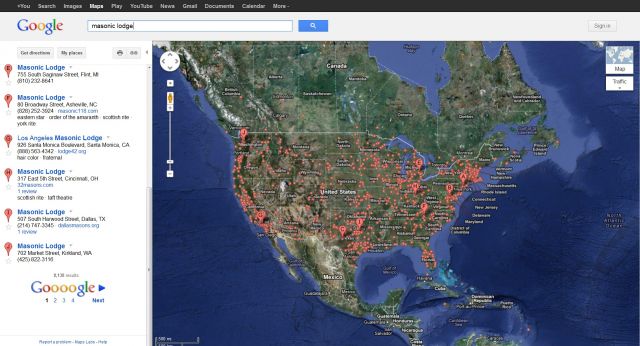 America must repent and clean house for God not to judge it for being polluted and defiled in the land. Is it possible? Probably not with man, but may the Lord Jesus Christ have mercy on America and allow the blessings of repentance that is possible with God.
Blessed is the nation whose God is Jehovah, the people He has elected for His inheritance.
Psalms 33:12
This article is brought to you by Edifying Others Ministry.
http://edifyingothers.blogspot.com/
We encourage you to Share our Reports, Analyses, Breaking News and Videos. Simply Click your Favorite Social Media Button and Share.