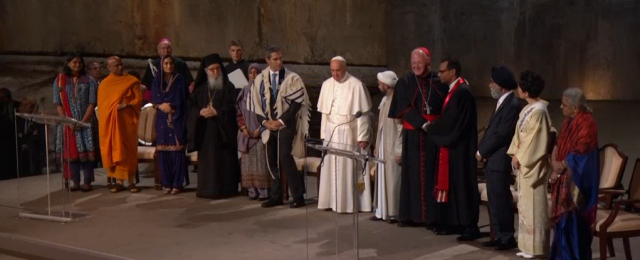 By Lisa Haven
As I woke early this morning, I grabbed my favorite cup of coffee and turned on the television to see the latest news on Pope Francis's visit to Ground Zero, where they had planed an interfaith prayer ceremony. As I placed my bottom in the chair and flipped to the appropriate channel, I was quickly awakened by the images I witnessed on the screen.
To my surprise multiple religious had gathered in their religious garb to commemorate the events that transpired on September 11th, with Pope Francis leading the way. As each representative approached to give their call to "god", I couldn't help but feel as if I was living out the Book of Revelation and witnessing a cult ceremony.
In the video below I delve through the true meaning behind this ceremony and even suggest that the United Nations Sustainable Development meeting that will be in session later today, and attended by 80 different nations around the world, just may be the kickstart of the New World Order.
Please don't miss this breaking report…
More Critical Reads You Need to Hear by Lisa Haven! Click Here!
Subscribe to My Website at:
www.LisaHavenNews.net or www.VineOfLifeNews.com
Check Me out On Youtube
Like Me on Facebook/Seen/Twitter:
https://www.facebook.com/pages/Lisa-Haven/194854627280186?ref=hl
https://www.seen.is/profile/34
https://twitter.com/Lisa_Haven
For More Information See:
http://www.c-span.org/video/?328181-1/interfaith-meeting-pope-francis-911-memorial
We encourage you to Share our Reports, Analyses, Breaking News and Videos. Simply Click your Favorite Social Media Button and Share.