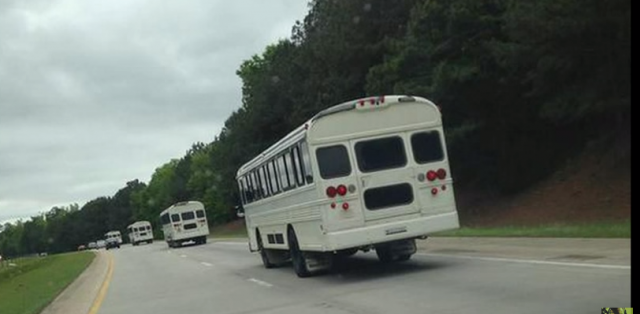 By Lisa Haven
Main Core. That is the name of the government document that has thousands of names of American Citizens who have been targeted for terrorism. If you are a conservative, libertarian, stock food or ammo, Christian, gun owner, homeschooler, veteran, pro-life, or patriot, then you are a terrorist. If you believe in conspiracy theories, the new world order, or end time bible prophecy, then you're are also on that list. I don't know about you but I pretty much fit all of these categories, which makes me not only a terrorist but also adds me to the list of names on Main Core.
So when will this "round-up" of dissidents actually begin? Well that is anyones guess. But if truth be told they are preparing daily for an insurrection of some sort and now white Military "FEMA" buses with tinted windows have been spotted in North Carolina?
Daboo77 brings us the latest…
These are NOT prison buses because prison buses are usually marked and vary in color. See the images below and note the differences, these are marked but the ones above are not…
Now, one could claim that these "unmarked" buses are on their way to be "marked" but there is no way to say that with 100% certainty and I believe unlikely. Here's why.
They are military vehicles. I found almost an exact match of one of the buses on this website: http://www.simthetiqestore.com/wheeled-vehicle-military-bus-p-331.html. A website that sales "unmarked buses" to the U.S. Military. Here is the image:
Spot on match if you ask me! Therefore these buses are owned by the military and can be used to transport anything they deem necessary. Including military personnel, FEMA victims and more.
Either way, we still have Main Core to worry about—the list of thousands of people who they are planning on rounding-up at the word of their commander. Below is a list of all those who are targeted on Main Core and the supporting documentation to prove it– a list of 72 types of Americans that are considered to be "extremists" and "potential terrorists":
The following information comes from Michael Snyder, at www.thetruthwins.com :
The round-up of Citizens is closer than you think.
More Critical Reads You Need to Hear by Lisa Haven! Click Here!
Subscribe to My Website at: www.LisaHavenNews.net
We encourage you to Share our Reports, Analyses, Breaking News and Videos. Simply Click your Favorite Social Media Button and Share.