On June 28th 2014 Edifying Others called out Mason Pope Francis and His Masonic Evilgelical Frauds he met with as the Gnostic cultist's frauds that they are. As a result, Mason Pope Fraudcis responded two days later by declaring the pure Antichrist doctrine of popery as supreme over the souls and conscience of believing Christians. The counterfeit Masonic Christians that met with the Mason pope, are who the Pope would like to see American believing Christians submit to. As the religious fronts for the illuminati control.
See the details below of Edifying Others highly descriptive passionate commentary that scared the Mason pope into his antichrist statements of fundamentalist Gnostic masonic luciferian wickedness; along with the exposure of mind controlling Catholic slaves invading America as their year 2020 agents.
Mason Pope Francis responds:
According to Mason Pope Francis, a "personal relationship with Jesus is dangerous". See the video below.
Edifying Others has been one of the few voices declaring the Masonic Catholic agenda to enslave all men to Masonic Gnosticism. The Masonic Pope's new antichrist statements are PROOF and the global masonic intentent to enslave all religions, and peoples to the Masonic controlled Catholic hierarchy at the Vatican as one controlling front. (Watch out for the false flag psyop attempt to destroy the Vatican, to enable it's fundamentalist gnostic false masonic authority).
Edifying Others documented in their previous post that the agenda of open borders from 'poor' Roman Catholic invading children being trained at military bases to become the next illuminati mind controlled agents, for the Masonic illuminati hierarchy, is now taking place. Unless protestant and other patriotic Americans stand against this illegal Masonic Catholic mind control invasion, America will perish into this mind controlled slavery at the hands of the Masonic Vatican under the control of the American branch of the illuminati and global Masonry.
See the article below that reported the historic illegal Masonic Catholic inspired invasion for the purpose of synthesizing Americans with mind controlled illuminati slaves.


http://beforeitsnews.com/christian-news/2014/06/pope-drudge-headline-what-it-telegraphs-flooding-catholic-mind-control-slaves-for-the-illuminati-rushed-into-the-us-2498388.html
---
This article now further documents how the illuminati will use the Military refuge housing, and socially train Roman Catholic illegal children to become "educated" undetectable mind control slaves, for the illuminati purpose to destroy all freedoms by 2020. Enslaving to socialistic gnosticism by 2020 worldwide. If the US falls to this Gnostic enslavement then the world has no hope, not to be enslaved also.
Use the time stamped link below to save time and go directly of Dr of Sociology Darrell Hamomoto Exposing The Plan for 2020!
http://youtu.be/-wBIZC4buGU?t=13m23s
Why was the Oklahoma Congressman refused entry to the refugee military base?
Oklahoma Congressman was refused entry into the illuminati mind control Federal Reserve banker re-education facility, where the illegal poor children are undergoing mind controlling brainwashing into the hierarchal gnostic illuminati as slaves. See Congressman Jim Bridenstine press account from his website below.
These children are being screened for potential candidates for the illuminati's next leaders, as Barack Obama was programmed into an illuminati mind controlled slave from childhood. They are looking through the crop of illegals for new willing mind controlling candidates, for future leadership begining in the year 2020.
California governor Jerry Brown hints at these latino mind controlled slaves as coming to take over. See article link from breitbart below.
http://www.breitbart.com/Breitbart-California/2014/06/28/Jerry-Brown-Concedes-to-Latino-Group-You-Never-Keep-Control-Forever​

http://bridenstine.house.gov/media-center/press-releases/congressman-Bridenstine-denied-access-to-UAC-housing-at-ft-sill
The illegal relocation of Latin American child slaves to Military bases is were the illuminati mind control brainwashing will begin the sorting out of potential willing slaves for 2020 re-education and beyond leaders, (as Jerry Brown stated), if not stopped.
Remember the military has been purged of it's Patriotic Officers for this purpose of using these military bases, and making sure no one snitches…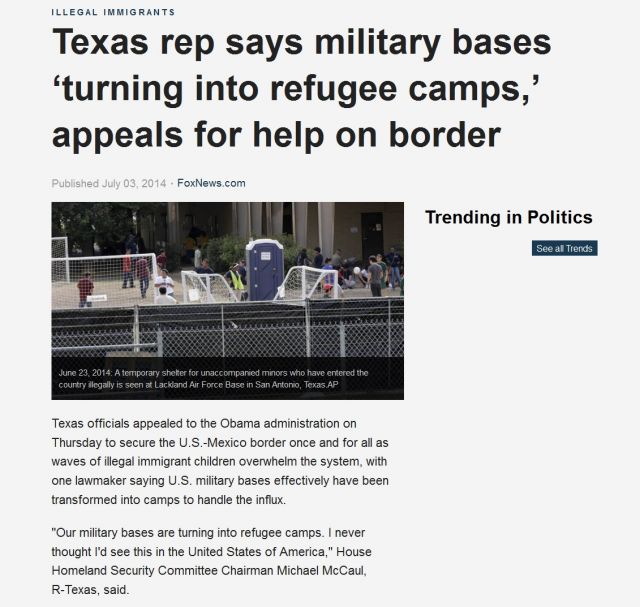 We encourage you to Share our Reports, Analyses, Breaking News and Videos. Simply Click your Favorite Social Media Button and Share.