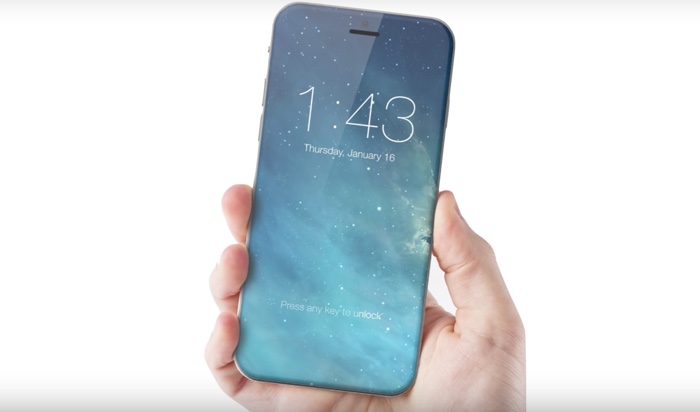 News about the much awaited Apple's 10th anniversary iPhone are on the rounds as we gear up to witness the most expensive iPhone of all times i.e. the iPhone 8 or the iPhone X –as it is likely to be named. As expected, the newest iPhone will push the technological boundaries as well as that of your budget to a considerable extent.
Apple is supposedly considering the new iPhone to feature a curved OLED display instead of the ordinary OLED. According to Fast Company, iPhone 8 will sport a suave glass body of 5.8 inches height with the latest curved OLED technology which will guarantee better field of view, lightness, thinness, contrast and lower power consumption. Inside, this phone is expected to have a 10-nanometer A11 chip which will guarantee both speed and efiiciency.
The special edition 10th anniversary iPhone will substantially cost around a whooping $1000 or more, given the fact that OLED displays, especially the curved ones cost about twice as much as LED displays to produce.
Much like iPhone 7, Apple is looking to embed the home button and the touch ID sensor, directly into the display of the latest handset. This high-end water resistant 5.8-inch iPhone 8/X is expected to appear alongside the updated versions of the old 4.7-inch iPhone and 5.5-inch iPhone Plus. However, none of these updated phones are expected to sport OLED.
While OLED looks smarter and better than LED LCD in most of the ways, there are a few aspects where LED LCD outshines it. Apart from the production yields (i.e. OLED has a graver selection process which results in more manufacturing panels being thrown away) and the cost factors where LED LCD wins, OLED displays have a shorter lifespan and are prone to water damage.
While it is being said that Apple will test 10 iPhone prototypes before finalizing on the latest handset, rumour has it that they might simply drop the idea of incorporating a curved OLED and instead chose the flat LED display panel. We will have to wait and watch until Fall 2017 and the months ahead in order to gain clearer perspectives.
We encourage you to Share our Reports, Analyses, Breaking News and Videos. Simply Click your Favorite Social Media Button and Share.