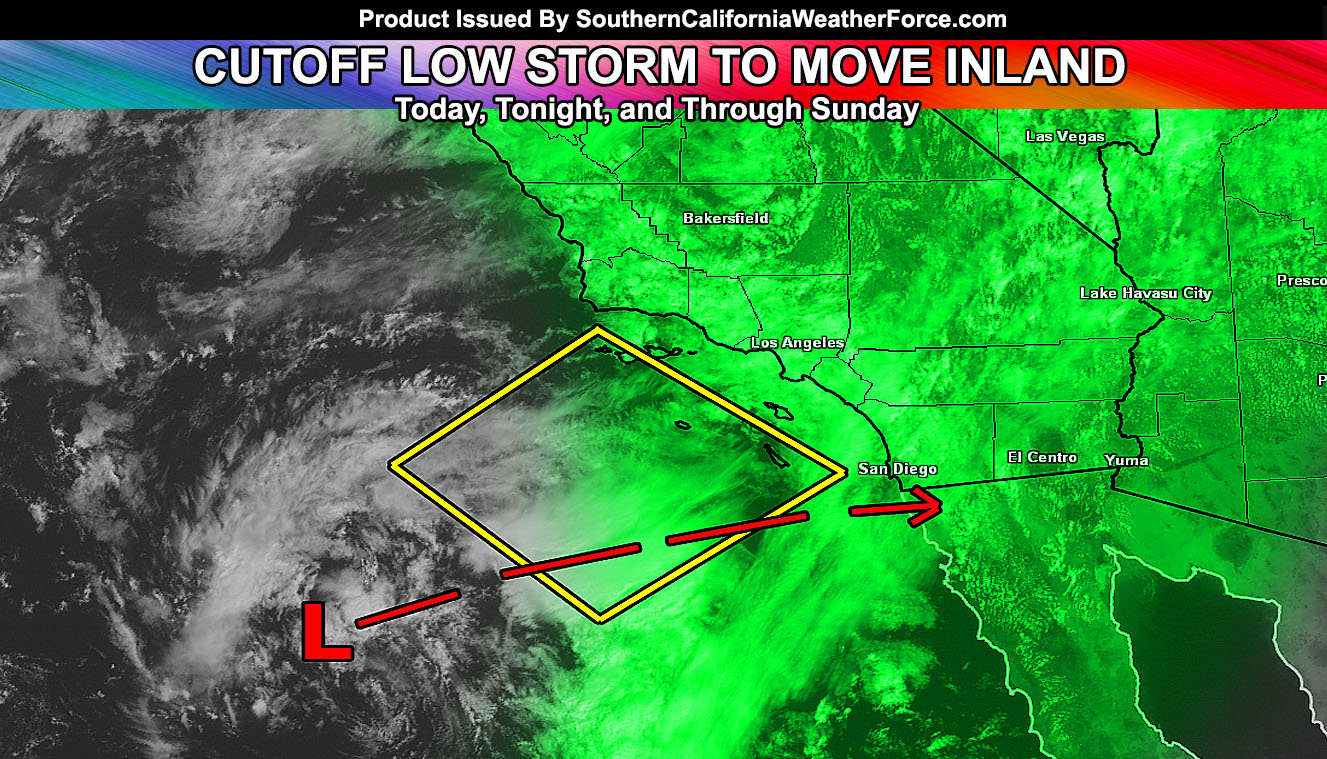 With the bulk of the cutoff low coming in later today, tonight, and into Sunday, the forecast area will see an increase in rainfall and a risk for isolated thunderstorms so read on for the details and watch the video included.
At the current time the storm system is center just southwest of the Martin storm diamond. The Martin storm diamond is a location southwest of the forecast area that the center of an upper level low must cross in order for thunderstorms to breakout across most of Southern California. The thunderstorms right now are in the Eastern Deserts. Where the Flood Watch did expire from the previous two days. Photos coming in from Imperial from a couple viewers shows the verification of the Southern California Weather Force Flood Watch with some flooding in the area.
Through today our Thunderstorm Watch was issued this morning for the inner Northwest forecast area surrounding the Pine Mountain Club areas and expanding outwards from there. Developing instability and topographical lifting will bring a round of thunderstorms through there. Movement will be slowly north and because of the expanded area, have included areas as far north as Bakersfield as a result so you'll either see them overhead, hear thunder in the distance, or be close enough for that 10 mile error I given during these alerts.
Later today, during the Angel game, increasing showers and isolated thunderstorms may be possible. Given the center of the storm's movement versus what is happening now, do think the increase in convective activity will be through tonight and early Sunday morning for the metros of the LA, OC, SD, and Inland Empire areas, north into the high desert at times and along the neighboring mountain zones. Thunderstorms will not be the primary issue with a lack of widespread upper dynamics, however good amounts of rain will hit, mainly in the OC/IE/ and San Diego forecast zones.
On Sunday, the flow shifts and instability developing mainly inland will keep any activity in the inland valleys, deserts, and mountain areas.
The snow level with this cutoff will remain high, above 7,000 FT.
Any changes or upgraded alerts in the forecast area will be taken care of for members of the website. Trial versions are out till Sunday morning.
Click here for details
We encourage you to Share our Reports, Analyses, Breaking News and Videos. Simply Click your Favorite Social Media Button and Share.