A leaked document from George Soros' Open Society Institute (OSI) is a blueprint for overturning democracy in the United States and making the 2016 election the last one. The document shows what will be done, how the media will be controlled, and what kind of Agenda-21 society will be set up in the aftermath.
This involves a direct attack on the fabric of society, the creation of riots, currency, collapse, and power-outages in order to system-shock America into accepting a new rule under a central power. This document appears to be extremely sensitive information leaked at great personal risk by people inside the halls of power. The globalist Agenda 21 conspiracy has a plan–and around fifty days to make it happen.
Below is the plan for the NEW "presidential palace" that will house the entirety of the post-Agenda government. Look at the pictures of the father (Obama) and Mother (Hillary Clinton) on the mural and the massive gender-neutral statue of a bronze angel.
Look at the "American Flags" decorated with the Obama-symbol in middle of the ring of stars.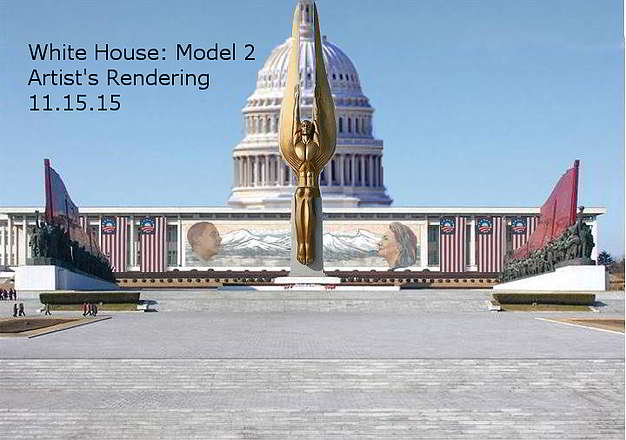 READ MUCH MORE AT REAL-TRUE-NEWS.ORG
We encourage you to Share our Reports, Analyses, Breaking News and Videos. Simply Click your Favorite Social Media Button and Share.