Please share this information by clicking the "Recommend this Story", "Recommend Contributor" button, as well as share on Facebook and Twitter by clicking the share buttons below.
The Pete Santilli Show broadcasts live on The Guerilla Media Network. Please join us on the Guerilla Media Network broadcasting your favorite talk shows, political art and news 24/7.
Based on indisputable facts surrounding the Benghazi murders of American citizens, Pete Santilli has recently called for the indictment, trial, conviction and if convicted, the ultimate penalty for treason against the USA.
Pete has used controversial terminology along with his lawful and constitutional demands which immediately propelled him into the national spotlight. As a result of the artificially enhanced firestorm by liberally bias media, supporters of the Hillary Clinton 2016 presidential campaign began threatening sponsors of the Pete Santilli Show, threatening to take down ThePeteSantilli Show.com, as well as threatened all of their affiliates and volunteers of the Guerilla Media Network. ( VaginaGate: Rabid Female Hillary Fans)
Essentially, Radio Show Host Pete Santilli has blown the whistle on Hillary Clinton, demanded she be brought to justice, and during one of the most revealing chronologies of the Clinton crime family on The Pete Santilli Show with special guest Robert Morrow, the U.S. Secret Service coincidentally shows up on Pete's doorstep and leaves a message that they want to " interview" him.
While on the air on Monday May 20, 2016, Pete was notified by neighborhood watch that 2 casually dressed individuals (male and female) parked in a "government looking vehicle" in front of one of several of his undiclosed residences. The individuals approached the front door of the residence with a yellow notepad and began to bang on the door several times. They returned to their vehicle after many attempts to bang on the door, and returned to the front door with a message directed to Pete Santilli. The door hanger was left on the exterior of the front door:
Pete immediately contacted his attorney, renowned Constitutional Attorney and founder of The Rutherford Institute John Whitehead. Upon completion of the confidential telephone call between Pete and his attorney, Pete expressed on-air that his attorney aggress that he has committed no crime, believes that the mere presence of the U.S. Secret Service is intended to intimidate him, and he swiftly decided to assert his 5th amendment rights (as he always recommends to ALL of his listeners: NEVER TALK TO LAW ENFORCEMENT wthout an attorney present, especially if you are innocent — their job is to trick you into saying something to give them cause to arrest you.)
==============================================================================================
Please visit Guerilla Media Network to view the most comprehensive compilation fo evidence that Hillary Clinton has not only committed treason against the Unitd States of America, but there is over 30 years of documented criminal intimidation and cover-up perpetrated by Hillary Clinton herself. The Hillary Clinton Chronicles
In Episode #425 – Clinton Indisputably Aided AlQaeda And Must Be Indicted For Treason during the time that the U.S. Secret Service was sent by Clinton's goons to intimidate him, Pete and Robert Morrow spend an entire 3 hours detailing the most comprehensive case for not only ending Hillary Clinton's political career and cutting off her drug trafficking income, Pete presents the most indisputable facts surrounding Benghazi which justify the indictment of Hillary Clinton for treason against the Untited States.
From Pete Santilli: (GuerillaMediaNetwork.com/hillaryclinton)
We will lawfully and constitutionally demand — at minimum —that Hillary Clinton be indicted for treason against the USA; brought before an appropriate and competent judiciary for trial; convicted by a jury and punished according to U.S. Constitutional law.
TREASON AGAINST THE UNITED STATES By Section 110 of Article III. of the Constitution of the United States, it is declared that:

"Treason against the United States shall consist only in levying war against them, or in adhering to their enemies, giving them aid and comfort. No person shall be convicted of treason unless on the testimony of two witnesses to the same overt act, or on confession in open Court. The Congress shall have power to declare the punishment of treason."

In 1790, the Congress of the United States enacted that:

"If any person or persons, owing allegiance to the United States of America, shall levy war against them, or shall adhere to their enemies, giving them aid and comfort within the United States, or elsewhere, and shall be thereof convicted on confession in open Court, or on the testimony of two witnesses to the same overt act of the treason whereof he or they shall stand indicted, such person or persons shall be adjudged guilty of treason against the United States, and SHALL SUFFER DEATH; and that if any person or persons, having knowledge of the commission of any of the treasons aforesaid, shall conceal, and not, as soon as may be, disclose and make known the same to the President of the United States, or some one of the Judges thereof, or to the President or Governor of a particular State, or some one of the Judges or Justices thereof, such person or persons, on conviction, shall be adjudged guilty of misprision of treason, and shall be imprisoned not exceeding seven years, and fined not exceeding one thousand dollars."
THE BIGGEST QUESTIONS HILLARY CLINTON MUST ANSWER UNDER OATH BY INDICTMENT FOR TREASON:
Why Benghazi is so important – Ask yourself, in all of the media hoopla and recent Congressional testimony, when was Hillary Clinton asked to answer important questions about the following important facts? :
Is it true that Ambassador Stevens was in Benghazi to negotiate an arms deal between Libya and Al Qaeda in Syria. Per our source within the Central Intelligence Agency/State Department who was on the ground 3 days after the Benghazi tragedy, Ambassador Stevens was reportedly spearheading an arms deal. On September 14, 2012, 400 tons of arms arrived in Turkey "over 400 ton cargo included "SAM-7 surface-to-air anti-craft missiles and rocket-propelled grenades (RPGs)" destined for Al Qaeda in Syria. The compound where Ambassador Stevens negotiated this deal was attacked on 9-11-13, and Hillary Clinton ordered special forces to stand down. Why? After the event, she lied about why the compound was attacked. Why?

These actions are treasonous, as it is levying war against the USA, adhering to our enemies, and giving them aid and comfort.

Is it true that on September 21, 2012, just days after the Benghazi massacre, Hillary Clinton removed "Mujahedin-e-Khalq, or MEK" — Al Qaeda of Iran — from the list of terrorist organizations, thereby allowing them funds and sanction immunity in the war on terror? If so, Why?

These actions are treasonous, as it is levying war against the USA, adhering to our enemies, and giving them aid and comfort.

Is it possible that Hillary Clinton could be attempting to cover-up her treasonaously criminal actions in Beghazi? She has a 30+ year track record of criminal intimidation, attmepted murder, and criminal concealment of Bill Clinton's numerous sexual assaults. Additionally, we must have the answers to the following questions asked under oath so that she can be held criminally liable for perjury based on the overwhelming evidence which exists:
Does Hillary Clinton have knowledge of the heroin and cocaine trafficking by the United States & C.I.A. in Afghanistan?
Has Hillary Clinton ever been involved in, or have knowledge of cocaine trafficking in and out of Mena, Arkansas?
Why have so many U.S. Navy Seals died on her watch, namely Job W. Price? What Really Happened to Hillary Clinton and US Navy Seal Commander Job W. Price? SEAL Team 4 Commanding Officer Job W. Price commit suicide. He was best known for finding and then killing Osama bin Laden. Cmdr. Job W. Price, 42, died Saturday, Dec. 22, of a non-combat-related injury while supporting stability operations in Uruzgan Province, Afghanistan. Suicide of the Officer of this grade raises many questions among the media, as the team was best known for killing Osama Bin Laden that assaulted his compound in Abbottabad, Pakistan on May 1, 2011.
Overwhelming Facts & Skeletons in Hillary Clinton's Closet
FACT: Hillary Clinton Thugs Beat and Almost Murdered Gary Johnson on 6-26-92 http://youtu.be/8-jt8em-GJI?t=53m30s
To this day, Clinton thugs, and her network of thugs continue to harass and intimidate. Clinton Call Audio of rabid feminist and Clinton supporter to Pete Santilli on 5/20/13
FACT: For over 25 years, Hillary Clinton (alleged victim of sexual abuse herself) has done everything in her powers to cover-up her husband Bill Clinton's sexual abuse.
SEE ALSO:
Pete will be discussing this topic in his next episode; Tuesday May 21, 2013 @ 11am PST / 2pm EST. If you would like for Pete to address your questions, opinions or concerns, please leave a comment below or call the live show at (218) 862-9829
Be sure to tune in to the Pete Santilli Show daily at 11am PST / 1pm CST / 2pm EST. Pete & Susannah Cole broadcast daily for 3 hours to discuss breaking news headlines, and interview some of our nation's most interesting patriots & controversial guests.
Fair Use Notice: This article contains some copyrighted material whose use has not been authorized by the copyright owners. We believe that this not-for-profit, educational, and/or criticism or commentary use on the Web constitutes a fair use of the copyrighted material (as provided for in section 107 of the US Copyright Law. If you wish to use this copyrighted material for purposes that go beyond fair use, you must obtain permission from the copyright owner. Fair Use notwithstanding we will immediately comply with any copyright owner who wants their material removed or modified, wants us to link to their web site, or wants us to add their photo.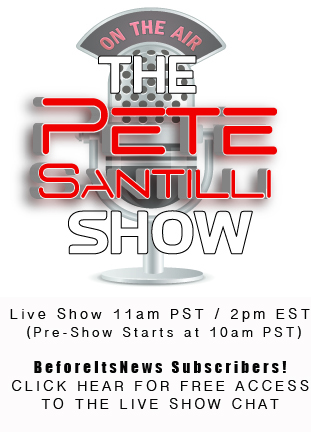 The Pete Santilli Show on The Guerilla Media Network. Please join us on the Guerilla Media Network broadcasting your favorite talk shows, political art and news 24/7.
We encourage you to Share our Reports, Analyses, Breaking News and Videos. Simply Click your Favorite Social Media Button and Share.