Rangers suspended their attempts on Wednesday to recover the body of a man who wandered from a designated boardwalk and fell into an acidic hot spring at Yellowstone National Park, another in a string of incidents raising concerns over visitor behavior.
"They were able to recover a few personal effects," park spokeswoman Charissa Reid said. "There were no remains left to recover."
Colin Nathaniel Scott, 23, of Portland, was with his sister and had traveled about 225 yards off the boardwalk on Tuesday when he slipped and fell into the hot spring in the Norris Geyser Basin, park officials said.
After Scott's sister reported the fall, rangers navigated over the highly-fragile crust of the geyser basin to try to recover his body. They halted the effort Wednesday "due to the extreme nature and futility of it all," Reid said, referring to the high temperature and acidic nature of the spring.
The death occurred in one of the hottest and most volatile areas of Yellowstone. It follows high-profile incidents at the rugged park in which tourists got too close to wildlife or went off designated pathways onto unique landmarks, sometimes leading to injuries.
"It's sort of dumb, if I could be so blunt, to walk off the boardwalks not knowing what you're doing," said Kenneth Sims, a University of Wyoming geology professor and member of the Yellowstone Volcano Observatory.
"They're scofflaws essentially, who look around and then head off the boardwalk," he added. Sims said he was speaking generally and had no direct knowledge of the circumstances of Scott's death.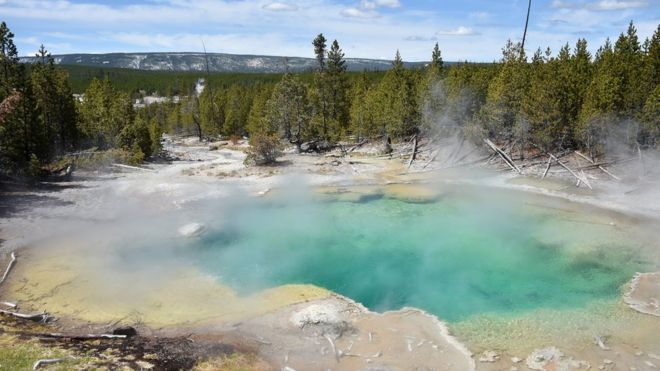 Man Falls Into Yellowstone Hot Spring
Thanks for taking your time to check out this information. Love to hear what YOU think in the comments section below!
If you find that you liked this story, don't forget to hit the "RECOMMEND CONTRIBUTOR" and "RECOMMEND STORY" button at the top of the page it means a LOT!
If you enjoyed this, consider sharing it with others.
And before ya go…let's stay connected:
We encourage you to Share our Reports, Analyses, Breaking News and Videos. Simply Click your Favorite Social Media Button and Share.