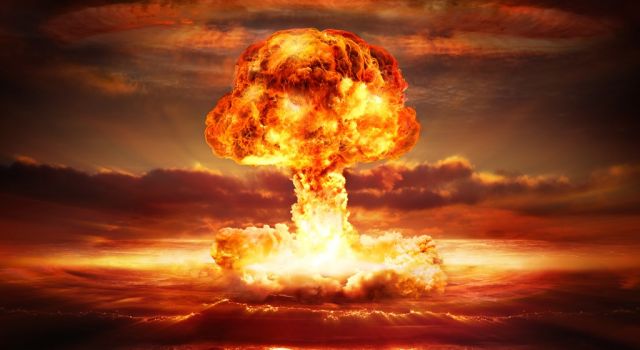 Do you know why a nuclear World War 3 CAN NOT HAPPEN?
Everybody is talking about World War 3, to be more precise nuclear war. Russia has prepared 40 million citizens for a disaster, not nuclear war. America is preparing citizens for a disaster as well but without the reassuring bunkers. Following a survey of the American army, it was decided that US troops would not readily turn on the population if martial law was declared, which explains the UN troops seen around the country. You might be interested in the similarity of the US Patriot Act and the WW2 Nazi Germany 'Enabling Act' that turned Germany into a dictatorship here http://www.rense.com/general58/diff.htm
It all sounds pretty bad if you read the MSM or alternative media headlines regularly. Understand that everything is upside down in society. Governments who are supposed to look after you and be the most honest upholders of justice are literally the mafia, historians who should reveal our rich cultural past lie and rewrite our history stealing our most precious knowledge. The Vatican should help us get closer to god (if you are Christian) and could solve world hunger with their money, but they don't and somewhat quietly act like Satanic sun worshipers (google Church of St Lucifer Italy, Pope Lucifer, satanic cross pope and black pope for more info).
As per usual, the main stream media is banging on the war drums to terrify anyone that will pay attention. World war is not going to happen any time soon nor is the stock market going to crash either. They can't crash the markets or it would blow the election for Clinton. Do some research into the stock market circuit breakers, the bottom can't fall out of the market any more. It can step down and correct itself, accounting for any bursting bubbles, but we won't see it implode overnight. It can get ugly but it won't be like the old days, this one is going to be much slower. Bank bail-ins and failed economies like Venezuela are already a reality.
To understand the situation, you need to be aware of the narrative or the storyline that is playing out. Imagine the Elite / Illuminati / Globalists / Jews / Neo-cons / Zionists / Banksters, whatever you want to call them trying to steer a gigantic ship, the turning circle is huge and any changes take a very long time to happen. When people are aware of this plan, they can set back the course change by years. By their estimation the game was won at the turn of the 20th Century and they were set to finally win in the 1980's. The plans have changed somewhat but not the direction and they are at least 30 years behind schedule.
Don't underestimate their patience to stick to plans over decades, even hundreds of years. With some research you can chase the methods they use back more than 5000 years into ancient Sumeria. Writing on clay tablets was used by the Sumerian proto-banksters to keep tally of who owed money. Then came merciless usury that decimated early populations, when the 'locals' couldn't pay the interest and ran out of money, the proto-banksters took their property. They encouraged large scale immigration and made generous loans to the new victims to buy the repossessed land (at interest of course). Eventually the indigenous populations became a minority in their own land then were completely erased. Those who survived the immigration moved to new lands and started new colonies, when they built the land up the parasitic banksters infiltrated their society and the same destruction eventually came. They encouraged low morality, sexual deviation, pleasure seeking and greed. Languages and cultures changed as this cycle repeated, if a King or leader was against usury or the banksters, a war would be financed and the King replaced with a rival leader who was more desirable, it sounds familiar now doesn't it?
The banksters have always worshiped the Moon god Nanna (Sumerian) named Sin (Akkadian) particularly in Ur (south Iraq) and Harran (Syria). His title was al-ilah (the deity) it meant he was the chief or high god among the gods. The god Il or Ilah was a phase of the Moon God shortened to Allah in pagan pre-islamic times. Bel, in Babylon became Baal, Belial, Beelzebub, Satan or the Devil.
Round and round the hamster wheel of building and destruction the human population went, never seeing that usury (the old Babylonian money magick) and one group of people who were responsible for all the wars and destruction. They blamed it on the gods and threw themselves at the mercy of the priests who helped the poorest of them, they willingly accepted slavery just to survive. Every time a population accepts usury and the banksters who control their money supply, it is only a matter of time until they are reduced to slaves in their own land.
We are still in a bankster war, Syria, Iran and North Korea are the last 3 standing without a Rothschild Central Bank. Iran told its trading partners who owe it billions of dollars that it wants to be paid in euros rather than U.S. dollars. Gadhafi wanted to mint a gold dinar to replace the petrodollar in 2009 so he had to go. A Rothschild bank was setup in Benghazi while the country was still at war. Saddam Hussain got Iraq into trouble in the same way in 2002 and we know how that turned out. Putin has been trying to oust the Rothschild's from Russia (CBR) and nationalize it. So 'get the Rothschild Central Bank or Get a War'. The crosshairs are pointing at Syria, Russia, Iran and North Korea.
Islam forbids the charging of interest, a major problem for the Rothschild banking system. Until a few hundred years ago, charging interest was also forbidden in the Christian world and was even punishable by death. Now we know why…
The banksters have realized with all the good land owned now by a few individuals, there is nowhere for the survivors to move to and re-build. Their only route is to move into any and all remaining populated areas with their banks. Their system is now full, there can be no more cycles. There was never enough gold in the world to pay back all the debt at interest so they made money from nothing (fiat currency) to continue the system. Interest rates are reducing to zero and are even going negative, they can only repossess westerners' homes and businesses now, making loans to immigrants (the new victims) as they always have done to survive a while longer.
*new edit*
Note that the next section opens a door to the possibility that Nuclear Weapons may be fake. It is not intended to be a convincing explanation by any means, but take it as an invitation to go and look into it for youself, if you are interested. I will add that fake or not, our smart parasites can't and won't kill the host they live off. World destruction would be their own undoing. If you consider the massive corruption and outright criminality in this world then it doesn't seem like an outrageous leap to consider that if someone sells you a weapon that you can't use becuase your enemy also has one, it is not beyond the realm of possibility that there may be some deception involved – especially when acompanied by a continuous extraction of money! Remember these are the same group of people that run the criminal governments and own the media that lies to you everyday. This doesn't mean that there are no missiles or devices that cause huge explosions, just specifically the Nuclear very large explosives that would destroy everything in the world multiple times over if they all went off. There are stories of Nuclear weapons only working in specific locations at specific times that could explain the 'tests', but either way you have no idea what is actually making the explosion – you just have to take the proven liars at their word. Thats why the underground / underwater fixed location nuclear test is the most popular, you don't see the size of the explosive they planted. What possible advantage would you have over your enemy if they thought you had the ultimate weapon, that could fly long distances and instantly vaporize their entire country? You could extend the idea; as long as your enemy believes you are all powerful, you don't need the weapon in the first place, your enemies won't look behind the curtain like in the wizard of oz and find out the truth. The weapon of fear is a firm favorite for our 'parasites', as long as you feel like they are unbeatable they win.
*end edit*
Back to Global Thermo-Nuclear War, if you look in to the Manhattan project in any kind of detail you get the feeling that it wasn't going to work (read the letters). To make matters worse, there is a video of the military stacking boxes of dynamite to make a big explosion as plan B (google Nukes are fake to open up that rabbit hole if you have not been there before). Hiroshima and Nagasaki, the only places to have ever been nuked show signs of carpet bombing, note the lack of the crater and also fire-proof brick buildings in the epicentre still standing. Most of the buildings were made of wood, the bridges and roads survived. People returned there in a short time and plant life recovered (compare with Chernobyl and notice the guy who wouldn't leave fukushima – who is mysteriously unharmed by the apparent killer radiation).
Nukes are the weapon of bullshit, fantastical ingenuity as your enemy can never develop one until they realize they just have to fake a test. Why spend the money on an army at all if they worked, just use a nuke and you get an instant win. Strange how that never happens? Stranger perhaps of the story that ET's disabled nuclear weaponry – nice story to lean on as an excuse for not being able to launch your expensive weapons.
With Japan they had to drop leaflets on the population to tell them they had been nuked as nobody believed them (google japan nuke leaflets then click images) the devastation looked like firebombing as seen in other cities during the war. It might have been a noble intention to liaise with the Japanese prime minister of the day to stop the Japanese people fighting the drawn out losing war to their deaths and never giving up. They got to keep their emperor in the deal so it all worked out for the Japanese but the americans had to hold on the nuclear weapon idea even though it was false. Try to feel the indoctrination into the idea, you have never seen one go off so you only have the media to believe and government propaganda, we know how hard they lie to you so is it that hard to believe that this is a lie too?
So no nuclear war, but other nasty false flags are planned to increase government control. While the American population looks at the boots of the controllers (Clinton and Trump who are cousins) the fist is swinging towards your face. Presidents get elected in America without the popular vote (google presidents winning without the popular vote) it has happened 4 times, the last one in 2000, in the UK about half the Prime Ministers assumed office without the popular vote over the last 100 years. All United States presidents are related to each other, Clinton and Trump being 19th cousins are part of the family. Don't think for a minute you are getting off the hook if either one gets elected, both of them are just more bad news. Lots of talk but no change, it is down to us to fix the problem.
Your vote doesn't matter but your feelings actually do, the elite are afraid of losing control and getting caught by an angry mob. That's why they keep testing the people with ever increasingly bad scenario's. The presidential election clearly shows the mood of the people but the final result is a choice to either shoot yourself in the left side of your head or the right. It is not outside the realms of possibility that the choices are designed to divide the population more than ever. Maybe a civil war will occur if Trump does not get elected…
I'll paraphrase Aldous Huxley who said "the real hopeless victims of mental illness were those who appear to be the most normal. They don't develop symptoms as the neurotic does. They are only normal in relation to a profoundly abnormal society. Their perfect adjustment to that abnormal society is a measure of their mental sickness. These millions of abnormally normal people, living without a fuss in a society to which, if they were fully human beings, they ought not to be adjusted".
So however far down the rabbit hole you are dear reader, the world is upside down. Fine tune your BS detector, the game is playing out in "story mode" – this has all happened before but we are on the last lap.
Perhaps the only solution to this age is that evil will inevitably win – if only for a short time. Humans don't learn, it always takes a massive disaster before anybody makes a change. Hidden Evil will keep trying until it finally wins, everybody will see and feel it when the final moves are made. Freedom is never given, it is Won.
Until things get bad enough for people to wake up and see how their destruction is caused, we will plod through the last lap seeing events taking place on larger and larger scales. Larger and larger countries will see their assets stripped by the banks, their currencies debased and their people left homeless and starving.
Collect all your intel offline and share it with as many people as you can before the lights go off.
Maybe 2023 or 2030 are the big dates to watch out for the final showdown.
Capitalism eventually eats everything it touches, it brings crime greed and corruption.
Every form of government tried has eventually failed.
Interest eventually destroys every society and culture that allows it.
Money has been and always will be the root of all evil.
Resetting a broken corrupted evil system just doesn't work, we have done it before too many times. Just because we think it has always been this way doesn't mean it has to continue.
The next age will be something completely different that doesn't allow greed, evil and corruption to become its own downfall.
Are you awake and open to an answer to the question yet?
We encourage you to Share our Reports, Analyses, Breaking News and Videos. Simply Click your Favorite Social Media Button and Share.