Lorie Kramer
Three reports from Portland today. The first is a combination of John Lamb's and Kelli Stewart's live streams this morning. The second video is Matthew Deatherage's report after court today. The third is John Lamb's report after court.
The Defense continued to press for identification of the remaining 13 not identified informants. One of the was identified today and testified Know as John Killman on Facebook, Favio Minooggio. He testified that he was asked to oversee the firing range and gave training in firearms safety and proficient use. Kelli makes a good point that the informant, not the occupiers, was the person "overseeing" the firing range.
Judge Brown also had closed chambers session with the appointed public defender given to Minooggio before his testimony.
Go to Kelli's Facebook page for her live streams and some additional posts regarding "John Killman" https://www.facebook.com/profile.php?id=100011813922844
Matthew Deatherage gives a court update after today's seesion of the US Governemnt vs. Bundy et all.
The big concern when court opened was if Judge Anna Brown was going to allow the release of the names of the remaining 13 unidientified FBI informants. The motion was denied.
Agent Jones took the stand and claimed Duane Schrack never said Duane didn't want to talk to the Agent when the agent came to his home after they had learned he was going to be a witness for the Defense.
Discussion came up about why there are no records available between Sheriff Ward and his Deputies available. Lots of objections, few answers.
The 3rd named informant "John Killman", Favio Minooggio testified. Matthew talks about his personal experience with this person at the refuge. "Clearly he was there to provoke us." Very interesting, indeed.
Harney County Judge Steven Grasty – his brother works for the BLM. Mumford questioned him about a meeting of Citizens for Constitutional Freedom, Grasty denied knowing anything about the group. The denial of allowing people to meet and talk about happenings at the refuge and the Committee of Safety was talked about as well.
The Defense has rested. The Fed has completed their rebuttal. Court continues tomorrow.
Matthew's petition to impeach Judge Anna Brown is at 2571 signatures at the time of this writing. It can be found here https://www.change.org/p/u-s-house-of-representatives-impeach-judge-anna-j-brown
John Lamb gives us his report from after court today.
"The terrible immoralities are the cunning ones hiding behind masks of morality, such as exploiting people while pretending to help them."
Vernon Howard
See my "More Stories" for … more stories related to this ongoing case.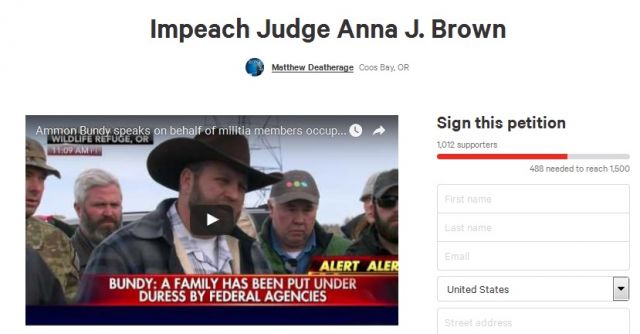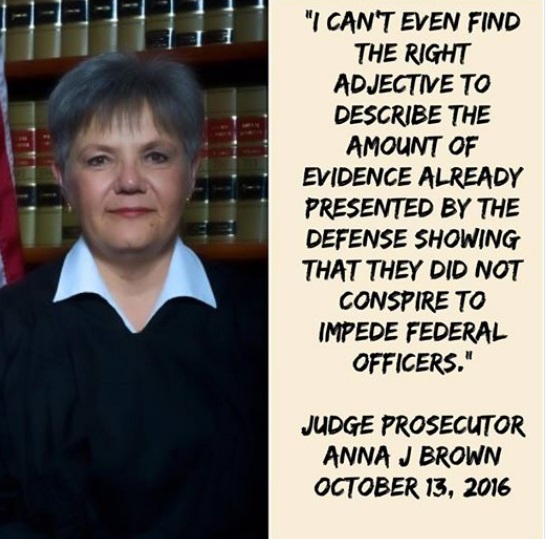 We encourage you to Share our Reports, Analyses, Breaking News and Videos. Simply Click your Favorite Social Media Button and Share.