The Russian Defense Ministry says that it dispatched a drone to analyze the site of Wednesday's alleged bombing of a school in Idlib, Syria. The ministry says that the aircraft spotted no evidence of airstrikes, and accused the White Helmets of faking digital images of the attack.
"On Thursday, a Russian UAV was directed to the area, to conduct detailed digital photography," said a statement from Defense Ministry spokesman Major General Igor Konashenkov. "As can be seen from the photos taken by the drone, there are no signs of damage to the roof of the school, or craters from airstrikes around it."
"We have analyzed the photo and video 'evidence' of the supposed attack. The video published in a range of Western media outlets appears to consist of more than 10 different shots, filmed at different times of the day, and in different resolutions that were edited into a single clip," continued Konashenkov.

"The photograph published by AFP shows that only one wall of the school is damaged, and all the desks inside the classroom are in place. The outer fence seen through the hole has no traces of damage from bomb fragments. In a genuine airstrike this is physically impossible – the furniture would have been swept away by the blast wave, and there would have been damage marks on the classroom wall and the outer fence."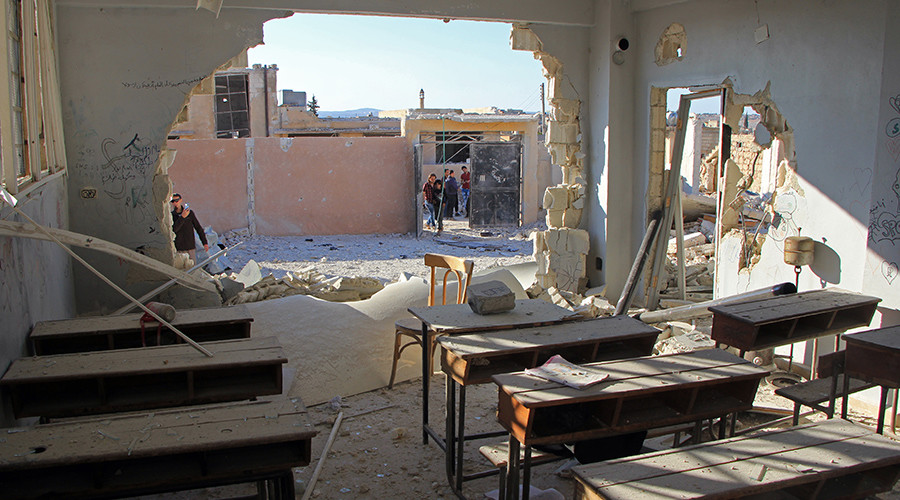 The Moscow official said that the findings of the Russian drone could be verified by the American side, as during its photo mission, a US MQ-1B Predator UAV was in the same area.
Konashenkov also added that it is an "indisputable fact" that no Russian Air Force plane was present in the airspace in the vicinity of the school on the morning of the supposed attack.
The evidence produced by the Russian Defense Ministry and the photos of the alleged "bombing site" themselves are sufficient to say that "none of these buildings were affected by an aerial bomb attack," believes former Pentagon official Michael Maloof.
"I've reviewed the photos and the Defense Ministry is absolutely correct, that if it was an airstrike … the roofs would have been blown off, also you would've found collateral damage in other buildings that were in the area," Maloof told RT. "There's no damage to the roofs, of either the school or adjacent buildings. And as I said, I looked for a crater in the middle of them all and there was none. … It's clear that it was not an aerial attack in my opinion."
Philosophers stone – selected views from the boat http://philosophers-stone.co.uk
Source:
http://www.philosophers-stone.co.uk/?p=15277
We encourage you to Share our Reports, Analyses, Breaking News and Videos. Simply Click your Favorite Social Media Button and Share.