Hillary Clinton has been humiliated yet again! Sure she may CLAIM to have the support of the American people, but this video tells a very different story.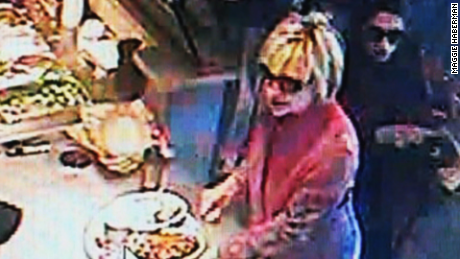 The fact that this video even exists became news after a recent Wikileaks email drop where John Podesta mentioned an incredibly embarrassing trip Hillary Clinton made to a Chipotle in Mamee.
Here's how MSM helps Hillary!
You see, she thought it would be a big deal to people that she was there since she had JUST declare her candidacy that day. The only problem is…
NOT A SINGLE PERSON EVEN RECOGNIZED HER!
"HRC WENT THROUGH THE LINE AND ORDERED A BURRITO BOWL WITH CHICKEN AND BLACK BEANS, GAUC, AND AN ICED TEA. NO ONE NOTICED THAT SHE WAS THERE, WHICH MADE FOR AN AWKWARD ENCOUNTER BETWEEN ME AND THE MANAGER AS I WAS TAKING AERIAL SHOTS OF HRC ORDERING. I THINK HE (THE MANAGER) THOUGHT I WAS FROM THE HEALTH DEPARTMENT.'
Dang! That really is embarrassing. Apparently, the trip just got worse from there.
She went to a Pilot oil (gas station) next to fill up and decided to step out and meet some of her fans…EXCEPT THERE WEREN'T ANY!
According to Podesta, Hillary Clinton actually walked around the Pilot TWICE to find just one person to shake her hand! That's just sad…
And of course, MSM doesn't mention that nobody cared that she was there in their town
Look, these emails speak VOLUMES about Hillary Clinton's entire campaign. Nobody likes her. Americans do not want her to lead. Even Democrats preferred Bernie Sanders of all people to her!
Now let's make her cry over the millions she wasted covering this up by getting it shared all over the internet!
source: http://www.libertywritersnews.com/2016/10/urgent-hillary-clinton-spent-millions-cover-humiliating-video/
We encourage you to Share our Reports, Analyses, Breaking News and Videos. Simply Click your Favorite Social Media Button and Share.