(FORT LAUDERDALE 11-1-2016) HILLARY SNAPS, RAGES AT PROTESTER WAVING 'BILL CLINTON IS A RAPIST' SIGN! THE MAN LEAPS AROUND HOLLERING, WAVES HIS SIGN AT NEWS CAMERAS UNTIL HE GETS HUSTLED OUT.
TO MATCH HIS SIGN, THE PROTESTER WEARS THE ICONIC 'BILL CLINTON RAPE' T-SHIRT. THE ONLY THING THIS PROTESTER FORGETS IS A 'BILL CLINTON RAPE WHISTLE.'
WITH ZEAL AND PERSISTENCE, THIS PROTESTER SHOWS HOW POLITICAL PROTESTING SHOULD BE DONE — VISUALLY HAMMERING NEWS CAMERAS WITH A HUGE FLOURESCENT SIGN EVEN AS HE'S FORCED FROM THE VENUE. WHOEVER THIS MAN IS, HE SUCCESSFULLY HIJACKS HILLARY CLINTON'S FORT LAUDERDALE 'RALLY' AND SENDS HER INTO A MELTDOWN.
IT'S NICE TO SEE HILLARY CLINTON SPENDING THE CASH TO HIRE BETTER CROWDS — SHE WAS RECENTLY SPOTTED HIDING IN MIAMI BARS WITH 5 FANS.
THE BIG QUESTION NOW — CAN HILLARY CLINTON STEAL THE RIGGED 2016 ELECTION? OR DOES HER TANTRUM REVEAL THAT HER CAMPAIGN IS SUNK?
THE CLINTON MACHINE IS A PACK OF RAPISTS
FOR UPDATES, SUBSCRIBE TO 'BARRY SOETORO' CHANNEL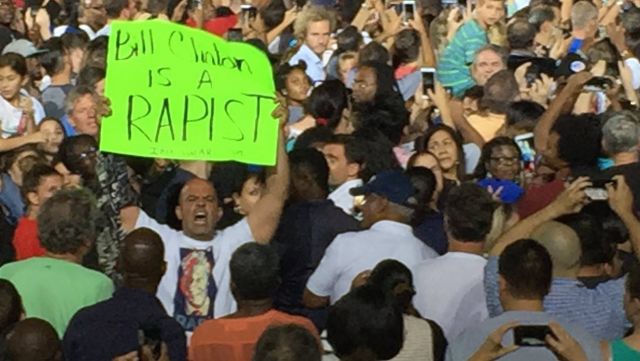 We encourage you to Share our Reports, Analyses, Breaking News and Videos. Simply Click your Favorite Social Media Button and Share.