HILLARY SEEKS RECOUNTS IN SEVERAL STATES — IS SHE TRYING TO STEAL THE WHITE HOUSE, OR TRYING TO 'CLEAN UP' EVIDENCE OF RIGGING THE ELECTION WITH 3 MILLION FRAUDULENT BALLOTS?
HILLARY CLINTON ALMOST STOLE THE PRESIDENCY IN 2016. THE DNC (UNIPARTY) CHEATED ON A MASSIVE SCALE — USING ILLEGAL ALIENS, DEAD VOTERS, FAKE NAMES TO FORGE 3 MILLION FAKE VOTES AND FAKE-WIN THE POPULAR VOTE. THEY CHEATED, BUT STILL LOST.
RIGHT NOW, THOSE PILES OF FORGED PAPER BALLOTS ARE SITTING IN BOXES ACROSS AMERICA — WAITING TO GET EXAMINED. IF THAT HAPPENS, THE ENTIRE USA ELECTION SYSTEM COULD BE EXPOSED AS A TOTAL FRAUD. THAT MEANS HALF THE GOVERNMENT — FEDERAL, STATE, AND LOCAL — COULD GO TO PRISON.
DID HILLARY AND SOROS COMMIT SUCH MASSIVE FRAUD IN 2016 THAT THEY'RE SEEKING URGENT 'RECOUNT' ACCESS TO DESTROY THAT PROOF?
AFTER ALL, HILLARY CLINTON ISN'T THE LAST CROOK THE DEMOCRATS WILL RUN FOR PRESIDENT. WHAT HAPPENS IF FOLKS REALIZE AMERICAN ELECTIONS ARE TOTALLY FAKE? SOMEWHERE IN MICHIGAN (OR PENNSYLVANIA, OR WISCONSIN) THERE ARE THOUSANDS OF "MICKEY MOUSE" BALLOTS WAITING TO LAND JOHN PODESTA — THE WHOLE DNC — IN FEDERAL PRISON.
GEORGE SOROS BETTER GET IN THERE DURING THE "JILL STEIN RECOUNT" AND DESTROY (OR SWAP OUT) THOSE BALLOTS…….. BEFORE TRUMP OFFICIALLY TAKES OFFICE AND GAINS THE POWER TO INVESTIGATE VOTER FRAUD. TRUMP COULD REPLACE FBI DIRECTOR COMEY (HILLARY'S CROOK) AND DIG INTO WHO RIGGED WHICH STATE ELECTIONS AND HOW THOSE STATES WERE STOLEN.
AT THE LOCAL LEVEL, EVEN IF PRECINCT OFFICIALS DIDN'T FORGE BALLOTS, THEY HAVE A RESPONSIBILITY TO ENSURE FAIR AND ACCURATE ELECTIONS. HOW DO YOU PLANT 3 MILLION ILLEGAL VOTES WITHOUT LOCAL AND STATE OFFICIALS TURNING A BLIND EYE — LOOKING THE OTHER WAY WHILE YOU CHEAT?
IS A 'CLEANUP OPERATION' THE TRUE REASON FOR THE 'HILLARY RECOUNT?' IS THAT WHY JILL STEIN IS SUDDENLY INTERESTED IN HELPING HILLARY FUND A RECOUNT — BECAUSE THEY NEED ACCESS TO THOSE BALLOT BOXES TO DESTROY PROOF OF DNC RIGGING?
Most people who use social media have figured out that Facebook and Google are in cahoots with the government, for those who are well aware of the issues it's high time you switched over to Seen.life. It is a website that is similar to Facebook but without all the censorship.
OBAMA TELLS ILLEGAL ALIENS TO VOTE (ON TV)
FOR UPDATES, SUBSCRIBE TO 'BARRY SOETORO' CHANNEL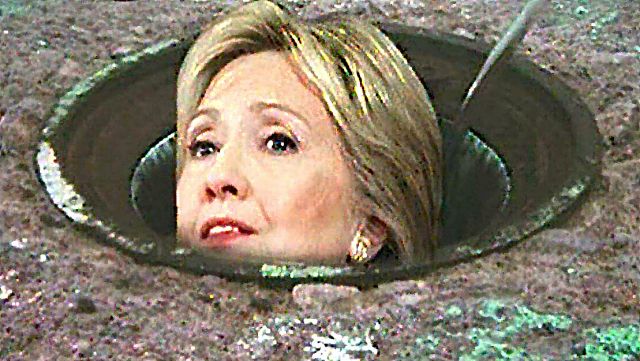 We encourage you to Share our Reports, Analyses, Breaking News and Videos. Simply Click your Favorite Social Media Button and Share.